(Hint: click on labels and photos below for even more information!)
VQA Ontario Better With Every Vintage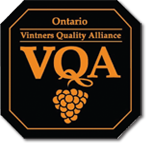 Ontario's VQA wineries, from tiny family operations to huge corporations, are the guardians of quality, unique regional character and authenticity of Ontario's best wines.
The three primary viticultural areas or appellations are the cool bench lands and plains of the Niagara Peninsula with its 10 sub-appellations; Lake Erie North Shore, the sunniest appellation in Canada; and Prince Edward County, the newest region, surrounded by water on the Bay of Quinte.
Membership of the Vintners Quality Alliance has increased to 151 wineries, according to President Brian Schmidt of Vineland Estates, adding that the number of VQA wines has doubled and sales have more than doubled.
Sixteen appellations have been identified, with annual sales of 2.6 million cases.
Europe has recognized VQA standards and opened its markets to VQA wines.
Icewine has been defined across Canada, and in treaties with Europe and eight other wine producing countries.
The VQA appellations play a role in how the wines are valued by customers, says Schmidt. Wines labelled VQA Ontario retail for an average of $13 per bottle, VQA Niagara Peninsula for $19 and wines labelled with a more specific VQA sub-appellation for $26. "While other factors contribute to price, appellation clearly is part of the code we use to communicate value to our consumers," says Schmidt. "That is a testament to the success of VQA and of our industry."
Schmidt is Chair of the VQA board and his fellow officers are Paul Speck of Henry of Pelham, Greg Berti of Andrew Peller and Newman Smith of Strewn.
The VQA was created in 2000 as Ontario's wine authority.
If you're thinking of starting a winery and joining the VQA, remember not to use these label terms without approval: Vintners Quality Alliance, VQA, Ontario, Niagara Peninsula, Niagara-on-the-Lake, Niagara River, Niagara Lakeshore, Four Mile Creek, St. David's Bench, Niagara Escarpment, Lincoln Lakeshore, Creek Shores, Beamsville Bench, Twenty Mile Bench, Short Hills Bench, Vinemount Ridge, Lake Erie North Shore, Prince Edward County, Estate Bottled, Vineyard, Meritage, Icewine, Botrytized, Botrytis Affected, B.A., Totally Botrytized, Totally Botrytis Affected, T.B.A., Late Harvest Wine, Select Late Harvest Wine, Special Select Late Harvest Wine, Vin du Curé, Blanc de Noirs, Icewine Dosage, Dosage of Icewine, Sparkling Icewine.
No alternate spellings or abbreviations allowed and fines are up to $100,000 per count. Call 416-367-2002 to get started!
Just remember that all VQA wines are tracked and verified at every step, from grape to bottle, as well as chemically analyzed and taste tested before being approved. Just sayin'.
---
Smart Bottles Tag Fakes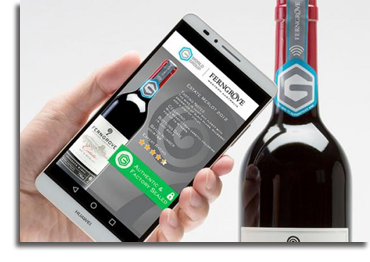 There's already a "smart" Johnnie Walker, a scotch whose bottle can talk to your cell phone – and now there could be smart wines.
Electronics maker Thinfilm and beverage distributor Diageo are working on a bottle to help people detect counterfeit wines.
The smart wine bottle relies on a thin, flexible label with a tag that can detect whether the bottle has been opened. That lets the bottles be authenticated as they make their way through the supply chain and also lets customers verify the wine themselves and get more info by tapping a tag-enabled smartphone to the bottle.
Counterfeit-spotting is the focus, but the company says winemakers could send different messages or promo offers after they've opened the bottle. China is ground zero for the early testing.
---
Land Prices Track Cab, Pinot Noir
In California, land prices are tracking Cabernet prices in Napa, Pinot Noir in Sonoma, and nut crops in the Central Valley, says vineyard appraiser Correia Co. of Santa Rosa.
This matches a dramatic jump in crop value in Napa and Sonoma from 2011 to 2012 – up 100% for Sonoma Pinot and 50% for Napa Cab.
The rise in value of the total California crop has been spectacular for four decades. In 1973, the grape crop was $40 million, plateauing at $1.75 billion in 2010, then soaring again to $3 billion.
Grape tonnage grew from 1 million to 4 million tons, while price per ton rose from $200 to $750 (much higher in Napa/Sonoma).
A major factor was "the great grape shortage of 2012," as Correia puts it. "Wineries returned to the market, aggressively firming up sourcing, buying vineyards and land to plant new vineyards".
Three recent deals underscore the demand for vineyards: Duckhorn bought the famed Three Palms Merlot vineyard in May. The Wine Group bought Benziger and its prime Sonoma land in June, then Constellation bought Meiomi for $315 million from Joe Wagner, who plans to buy 3,000 acres of vineyards.
In 2014, Napa Cab averaged $6,000 per ton, and 67,000 tons were crushed – compared to 33,000 tons at $1,500 in 1995. After averaging $250 million per year from 2005 to 2011, the average jumped to $375 million from 2012 through 2014.
Cabernet acreage grew 87% from 1995 to 2014, with Merlot up 25% and Pinot up 19%, while Chardonnay dropped 21%. Vineyard values track Cabernet and Chardonnay prices have been static since 2001.
Around 2004, the prices of prime Napa vineyards soared – from $75,000 per acre to $300,000. "We've seen over $500,000 per acre for small, special vineyards in top sites," Correia notes. "Everyone wants to be in higher end wines."
Even prime, unplanted land can sell for $100,000-$175,000, though open land outside prime areas starts at $25,000.
Sonoma vineyard values now average $60,000 to $125,000 and have been relatively flat since 2006. "We've seen $150,000 for high-quality Pinot vineyards," Correia adds.
Central Valley almond orchards have risen from $15,000-$20,000 in 2012 to $15,000-$32,000 in 2014. "Grape prices are going down, but land values are going up. People are going nuts".
Water, of course, is a huge factor in vineyard (and nut orchard) value. Having a guaranteed supply is paramount in pricing land. Overall, California vineyard values continue their rise with little expansion in acreage likely to dampen prices – even if replacing vineyards with nut orchards in the Central Valley is one reason.
---
English Wines Flying High
English wines lag British bubblies in prestige but British Airways is giving them a lift.
Bolney Estate's Pinot Gris, a £16 still white, is being poured in first class this summer.
Other wines on the list include Laurent Perrier Grand Siecle, a Meursault and a Chateau Faugeres Bordeaux red, plus Warre's Colheita Port 2000.
The Bolney must be OK: thieves recently hacked their way into the warehouse and stole 5,000 bottles valued at £80,000.
Unlikely to get the nod soon from British Airways is the "undrinkable" first vintage from Scotland's first vineyard, Chateau Largo, apparently massively oxidized, according to entrepreneur and chef Charles Trotter. "Disappointing. It didn't smell very good.
"I set out to prove that it was possible to ripen grapes in Scotland and I've done that. Now I want to make a drinkable wine," he said from his vineyard in Fife.
Grape varieties planted are Rondo, Solaris and Siegerrebe.
Trotter says he's seeking a new investor after his business partner left because of time commitments elsewhere.
Meanwhile, the English wine industry is booming, making £78 million in 2014, and a predicted £100 million for 2015. According to English Wine Producers, there are 22 wineries in Wales and 448 in England. In the past seven years, vineyard area has more than doubled.
"This is a truly exciting time for English wine – our vineyards are rapidly expanding with more people than ever before enjoying our finest English bubbly… helping [to] power our growing economy," said Elizabeth Truss, Environment Secretary.
Interest in English wine outside of the UK is also on the rise, and 'the export market [is] growing in importance for English wines…' according to Julia Trustram Eve, Marketing Director at English Wine Producers. English wine is now exported to 14 countries.
In 2014, production of English wine reached 47,433 hectolitres – the equivalent of 6.3million bottles, up 42% on the record-breaking 2013 production. This was predominantly due to the successful growing season in 2014, with a long, warm spring and summer, with 1427 hours of sunshine across the year and slightly higher than average temperatures.
Around two thirds of the wine is sparkling, and comparisons are drawn between English sparkling and Champagne – particularly as the climate and chalky soil in the South East of England are so similar to Champagne. The two most popular grapes grown in England are the Champagne grapes, Chardonnay and Pinot Noir, followed by Bacchus in third.
---
Lunch-Bags Leads Again
Chateau Lynch-Bages, known traditionally by claret-loving Brits as "Lunch-Bags" – is trying new technology to monitor what's happening to its wine in barrels and vats.
The system uses glass-stainless sensors to take continuous measurements, from the evolution of sugar levels and turbidity to alcohol, temperature and color.
Winegrid, owned by Portugal-based Watgrid, originally created the technology to measure water purity. The company developed the product for Madeira specifically looking to monitor the wine through the estufagem process – a tradition discovered through sea voyages when the wine was repeatedly heated and cooled.
---
Chill Out Icewine Fans
Canada's 2014 Icewine vintage is half what the 2013 harvest was, but winemakers are optimistic on quality thanks to good acidity levels and picking conditions.
The harvest was 43% less than 2013, according to the VQA. 2014 was down 52% from the previous vintage.
Debbie Zimmerman of Grape Growers of Ontario said grapes were picked later, with 3,751 tonnes left hanging for Icewine until January, as opposed to mid-December for 2013.
In BC, Inniskillin reported the earliest Icewine harvest on record at its Okanagan Estate winery, beginning on 12 November.
Harvesting only begins once temperatures dip below -8°C for a sustained period.
Take me back to the top of this page, please!