(Hint: click on labels and photos below for even more information!)
Recalculating! Recalculating!

The local grape growers are used to fending off hungry rabbits and voracious wild boars, but the latest pests were five SUVs.
The new intruders cost the farmers 200 ancient vines.
It happened when tourists from Barcelona misread their GPS en route to a restaurant near El Vilet in Catalonia.
On a dirt road through the vineyards, they got stuck trying to turn around. They destroyed Macabeu vines owned by eight growers and worth €8,000 and took off.
The viticulturists called police, who spotted the SUVs covered in mud at the restaurant.
Compensation has been paid.
The vineyards are in the Vall del Riu Corb subzone of DO Costers del Segre, a Catalonia appellation known for its white wines. It's also a destination for weekenders for its nature, gastronomy and tranquility.
A couple of years ago, winemakers in Germany's Mosel were pretty ticked off when two competitors in a rally crashed out and plowed their cars through the vines at high speed on the eve of harvest.
---
Surreal Price For Magritte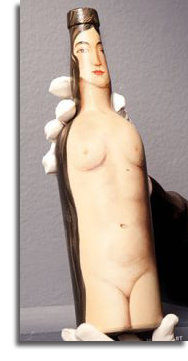 Christie's New York has sold a Magritte painted on a claret bottle for $725,000.
Femme-Bouteille, which features a female nude, is one of a series by the Belgian surrealist sold at Christie's.
The work was painted in 1940 or 1941 when wartime restrictions meant canvas was in short supply and artists began turning to other mediums.
As Christie's specialist, Jessica Fertig, notes: "Many, like Picasso, were working on paper or board. Magritte began to paint on wine bottles because they were available. Those on which he painted nudes have become among his most coveted."
Femme-Bouteille was painted in oils on an empty Bordeaux bottle. Fertig added that the bottle, with its tall straight sides, perfectly suited what Magritte wanted for his painting-cum-sculpture.
She said: "Magritte very purposefully counters the curving forms of the female body he represents. His shading emphasizes the illusion, following the surrealist idea of taking an object and transforming it into something it is not."
The bottle has had illustrious owners, having been the property of Belgian surrealist Paul Delvaux who gave it to painter Olivier Picard who gave it to famous British tailor Hardy Amies who worked as a secret agent for SOE in Belgium.
---
Cops Pop Moët Scam
Italian police seized 9,000 bottles of fake Moët & Chandon worth €350,000 in Padova.
They found a bottle sans serial number. Alongside was a machine for Moët packaging, and 40,000 fake labels.
The Prosecco is worth €350,000 but could have been sold for €1.8m.
"Buying Prosecco for one or two euros, they can put it on the market for 35 or 40 euros," said police.
The bubbles are not going to waste. They've been donated to charitable associations in Veneto, the home of Prosecco.
---
From Sicily With Love
Donnafugata SurSur Grillo is a crisp, refreshing Italian white to beat the heat.
There's been a wine revolution in Sicily the last two decades. The land of bulk wine is now home to fine wines made from native grape varieties, like Grillo, with elegant, lower-alcohol styles achieved through careful vineyard management, picking earlier, and harvesting in the cool of night.
Donnafugata is a leader of this new wave. Fourth-generation winemaker Giacomo Rallo and wife Gabriella inherited wineries in western Sicily, and in 1989 they founded Donnafugata.
Today the winery is managed by daughter José and son Antonio. About 70% of production is solar powered. They champion indigenous Sicilian grape varieties and age their wines in the family cellars dating back to 1851.
The goal is wines that are fresh and elegant.
SurSur 2014, $24.99, offers a bouquet of pear-apple and tropical fruit with notes of grapefruit and wild flowers. The palate is soft and fragrant, echoing the aromatics.
For more info on this and other Donnafugata wines, call Lifford Wine & Spirits (416) 779-4101.
---
Two-Bit Winery For Sale
For sale: Chateau Junding, a 400-hectare estate including golf courses, underground cellars, tasting rooms and shops.
Price: 1 yuan.
That would give you a 55% stake for about 20 cents Canadian.
However, you'd have to pick up debts of about $77 million.
The move, by Cofco, to sell the business in Shandong province comes as the Chinese firm focuses more on imported wines. It also owns huge winemaker Great Wall.
The estate tried to attract luxury consumers but has been hit by China's anti-corruption crackdown and austerity policies.
---
Chilean Wine Pure Dynamite
Pioneer Chilean winemaker Aurelio Montes is using dynamite in his vineyards.
Speaking at a tasting in London of his wines and those made by his son, Aurelio Jr, at Kaiken in Argentina, Montes said: "I'm putting dynamite in the subsoil in some of my vineyards to see what effect it has.
"The explosions will be two metres deep. I don't know if the plants will end up in China. It's a bit of a gamble – I want to wound the subsoil to allow the vine roots to go deeper without the need for irrigation."
Getting the dynamite was tricky. "You need a permit, which took us three months to get from a mining area near the vineyard.
"When we push the button there will be police overseeing it. I've no idea what the result will be but it's important to keep innovating and experimenting.
"I never look at the numbers with these sorts of things – if I did I wouldn't do half the things I do. It's the only way to keep moving forward."
---
Canny Way To Sell Wine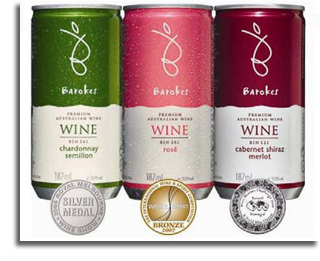 It's still a tin(n)y part of the wine industry – just 0.1% – but wine in a can is on its way and it's opening up a whole new informal approach to drinking.
Canned wine sales have more than doubled, up 125.2% in the 52 weeks ending June 18, according to new Nielsen data.
That translates to $6.4 million in sales.
Wine in a can has been around for a few years, as a $1.9-million industry in 2012.
However, it was mostly sparkling, making up 90% of sales. But that's all changed. Canned table-wine sales increased tenfold, to $6.7 million in 2016, with non-sparkling now double canned sparkling.
"It's more visible, and it gives wine drinkers, especially millennials, something new to try," says Danelle Kosmal, Nielsen North America's VP beverage alcohol.
According to Nielsen, 73% of millennials say easy-to-carry packaging is important, with 49% liking single-serve packaging. Cans fit both descriptions, easily trumping bottles for portability, and cutting the need for openers or glasses.
Millennials demand wines that are more innovative and less expensive. Wine apps, wine slushies, wine ice cream – and they want it presented differently than in than for older generations.
Boxed wine and alcohol in pouches intended to be frozen is also on the rise, according to Kosmal.
Thanks to millennials again, North Americans are drinking at home more than ever, thanks to technology and a thirst for budget-friendly options. Bad news for bars.
Americans' favorite drinking hole is in their own home, according to wine app Vivino. Half of millennials and two-thirds of Gen X and Boomers prefer to drink wine at home than at social gatherings, restaurants or wineries, in a survey of 1,526 consumers.
"Could be they just like to be at home," says Vivino founder Heini Zachariassen. "It could also be ... they are being price conscious."
"People, more and more, want to have good moments with their friends at home," says Gilles Bogaert of Pernod Ricard.
New technology makes it possible to do everything – from finding new music to ordering food to online dating from your own couch – with a glass of wine in hand.
Plus, millennials are budget-conscious. And drinking at home clearly beats an overpriced bar. According to Vivino's survey, bars are the least popular place to drink, with just 3% of respondents naming them their favorite place to drink wine.
---
Who Says?
Thanks to our friends at Ceja Vineyards, the family-owned winery in Carneros, for some great wine quotes:
"Penicillin cures, but wine makes people happy."
— Alexander Fleming (1881-1955), who discovered penicillin
"Wine is the most civilized thing in the world."
— Ernest Hemingway
"Wine improves with age. The older I get, the better I like it."
— Anonymous
"Compromises are for relationships, not wine."
— Sir Robert Scott Caywood
"Beer is made by men, wine by God!"
— Martin Luther
"The wine-cup is the little silver well, where truth, if truth there be, doth dwell."
— Shakespeare
"Alonso of Aragon was wont to say in commendation of age, that 'age appears to be best in four things – old wood best to burn, old wine to drink, old friends to trust, and old authors to read.'"
— Francis Bacon
"I cook with wine; sometimes I even add it to the food."
— W. C. Fields
"Nothing makes the future look so rosy as to contemplate it through a glass of Chambertin."
— Napoleon
"Gentlemen, in the little moment that remains to us between the crisis and the catastrophe, we may as well drink a glass of Champagne."
— Paul Claudel
"Wine cheers the sad, revives the old, inspires the young, makes weariness forget his toil."
— Lord Byron
"I love everything that's old: old friends, old times, old manners, old books, old wine."
— Oliver Goldsmith, She Stoops to Conquer
"Wine … offers a greater range for enjoyment and appreciation than possibly any other purely sensory thing which may be purchased."
— Ernest Hemingway
"My only regret in life is that I did not drink more Champagne."
— John Maynard Keynes
"A bottle of wine begs to be shared; I have never met a miserly wine lover."
— Clifton Fadiman
"When it comes to wine, throw away the vintage charts and invest in a corkscrew. The best way to learn about wine is the drinking."
— Alexis Lichine
"I have enjoyed great health at a great age because every day since I can remember, I have consumed a bottle of wine, except when I have not felt well. Then I have consumed two bottles."
— A Bishop of Seville
Take me back to the top of this page, please!