April 16: California Wine Fair 7-9:30 pm, Fairmont Royal York, Toronto, 905/336-8932, calwine@sympatico.ca;
April 19: Canadian Opera Company's Fine Wine Auction, Crush Wine Bar, 416 306 2306, www.coc.ca; Greek Tasting, Toronto, gathanas@bellsouth.net;
April 21: Ontario Wine Awards Gala, Queen's Landing, Niagara-on-the-Lake, 416/488-8597;
April 25: Austrian Wine Fair, Toronto, 416-967-3348/18, toronto@austriantrade.org;
May 8-12: Santé: Bloor-Yorkville Wine Festival, 416/928-3553, x27, www.santewinefestival.net;
May 14-24: Tour the Loire, Cognac and Bordeaux with Tony Aspler, 519/756-4900, tours@pauwelstravel.com, www.pauwelstravel.com;
May 9-17: Niagara New Vintage Festival, 905/688-0212, vidal@niagarawinefestival.com;
May 12: Ontario Wine Awards Consumer Tasting, Fermentation Cellar, Distillery District, Toronto, 416/398-3335, x2, tickets@forefrontcom.com;
May 17: New Zealand Wine Fair, Design Exchange, Toronto, 705/444-0195, www.nzwine-events.ca (NZ sales in Canada are soaring 34% a year!);
May 17-21: ; Vinexpo, Bordeaux, 2,500 exhibitors, 60,000 visitors under one roof, info@vinexpo.com, +33 (0)5 56 56 00 22;
May 22-24: Niagara Wine Auction, Niagara-on-the-Lake, featuring Dan Aykroyd, In support of Sick Kids Foundation, 1-866/WINE-WKD, www.niagarawineauction.com
June 7: Bacchus at Brock, St. Catharines; science, culture, business with tastings focused on Napa and Niagara and the language of wine (labels, influence of wine writing, linguistics, sensory language, 905/688-5550, x4652, ccovi@brocku.ca;
October 18: Grapes for Humanity Fund-raising Gala, Toronto, 416/488-8597, tony.aspler@sympatico.ca
---
Who Knew?
"When somebody tips back a glass of wine, they should be thanking caterpillars," says Dr. David Wagner, author of Caterpillars of Eastern North America. "You should be raising a toast."
Caterpillars deserve appreciation for their benefits to the world, he adds. They are a dietary mainstay of songbirds, and to defend themselves against caterpillars plants have developed mankind's favorite chemical compounds, including nicotine, caffeine and tannins. And we all know how important tannins are in wine grapes!
Caterpillars may have weird names, like camouflaged looper, orange dog, abrupt brother, horrid zale, curved-lined angle, grape leaf skeletonizer and monkey slug, but they do produce beautiful butterflies, too. Cheers!
---
That's a Lot of Yquem...
Victory is sweet: 150 vintages of Château d'Yquem for £775,000 at a London auction.
That's every vintage since 1860. The Château supplied empty bottles representing years the wine was not produced (1910, '15, '30, '51, '52, '64, '72, '74 and '92) signed by Yquem president Pierre Lurton, who personally favored the 1900.
They're housed in two American black walnut cabinets worth £50,000 made by designer David Linley, son of Princess Margaret.

---
Psst! Secrets of Wine...
1000 Best Wine Secrets, by Carolyn Hammond, $16.95, Sourcebooks.
Deliciously crafted with style and insight, especially in wine/food pairings, wine grape flavor profiles, useful tips and trivia. Did you know, for example, that flat-bottomed Cristal bottles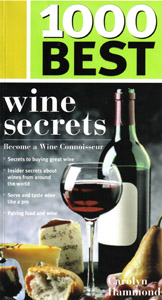 were required by the Tsar to stop "Champagne bombers" punting him into eternity. Thought not.
Reads well as a narrative but the "1,000 secrets" structure gets tedious in a hurry, with a numeral assigned to each paragraph and the repetitive phrasing is necessary only if each para is read as a standalone.
Enjoy 1000 Best in small sips for large insights, whether you're novice or nerd, and you'll find your way to vinous nirvana.
Note to Carolyn: correctly spell Okanagan 100 times!

---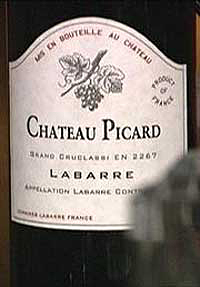 Wine Futures
Two bottles of 23rdC Château Picard fetched ten times their estimate at Christie's New York.
The pair – from the estate of Captain Jean-Luc Picard (Patrick Stewart) of the Starship Enterprise – are from the 2267 vintage. Ethereally light, the empty props, used in Star Trek: Nemesis, sold for US$6,600.
---
Good On Yer!
Russell Crowe sent back an $8,000 Penfold's Grange Hermitage '64 because it was corked.
He was dining at Marco Pierre White's London eatery Mirabelle and the waiter insisted the actor's palate was at fault.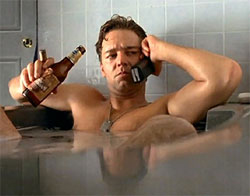 Crowe, 42, had ordered a Grange from the year he was born. "It's an Australian wine I have had a lot of experience with so I could smell from two feet away it was corked. I let it breathe but when I took a sip I got a mouthful of mould," he said.
"The sommelier spent 45 minutes trying to convince us it was the chestnut undertones and the wafts of blackberry. I just turned round and went, 'Mate. It's off.' He refused to accept it was corked but eventually replaced it. Very nice it was, too."
Mirabelle said: "We are glad Russell was eventually satisfied."
---
Supersize Me, Mate!
At 6-feet-5 tall and weighing 1,300 pounds, the Albany is a corker – holding 387 regular bottles of Aussie Shiraz!
Hand-crafted in Germany, sealed with a $3,500 custom mega-cork from Portugal, the world's biggest bottle is the brainchild of liquor store owner Kin Bullock, who invited five South Oz vintners to fill it with a 2005 blend dubbed Five Virtues.

The new heavyweight champ, named for Bullock's home town, easily eclipses Beringer's 4.5-footer Maximus, which holds a mere 175 regular bottles of '01 Cabernet.The bottle is the centrepiece of a touring exhibition of all things Australian and Bullock has already refused offers as high as $100,000.
Serving suggestion: pour with a Whopper!
* May your life be a feast where every heart opens and every wine flows – Arthur Rimbaud
---
Brand New Approach
In a break with the Old World "wine as a product of place" philosophy, Spain has announced a new national wine brand and France has echoed the idea with its own national brand called "Vignobles de France" that will blend wines from every region of France to compete with high-volume New World wines like Yellow Tail and Little Penguin.
---
Hallelujah!
"Very fine, great concentration, incredible body, silky, mature tannins, generous, concentrated fruit" ...and on it goes. The 2005 Burgundies, particularly the reds, are being hailed as the Second Coming. Stay tuned!
* With the stampede of cute critter wine names on today's labels, the folks at Cape Mentelle say the average wine shop looks like the fleeing-the-forest-fire scene in Bambi!
---
Cellar's Market?
Building a wine cellar increases house value 7%, according to a British bank.
Standard Life Bank sees 2 million Brits building a cellar or buying a wine fridge over the next five years, adding that £3.5 billion of wine, 87 million bottles, goes off every year from poor storage.
Meanwhile, sales of wine coolers, chillers and refrigerators have soared 300% in the US, says AC Nielsen. Three million were bought in 2003 alone, challenging the conventional wisdom that most people drink wine within four hours of buying it.
---
Prince Pines For Mouton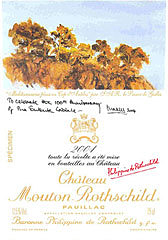 Prince Charles is the latest painter of Château Mouton-Rothschild's label, following in the brush strokes of Braque, Picasso, Miró, Chagall, Moore, Warhol, Francis Bacon and Balthus. His watercolor of pines at Cap d'Antibes was selected by Baroness Philippine.
The choice marks the centenary of the Entente Cordiale between France and England, celebrated in 2004 – the 2004 vintage of Mouton has just been released. Since 1945 each year's label has featured a different artist.
* The number of wineries in the U.S. has grown 26% to 5,645 since 2004.
---
Just Follow Your Nose
Wine is 'tasted' principally by smell.
We all have a few hundred receptors for taste, but can distinguish thousands of different smells. Masters of Wine were reminded of this at a Napa symposium presentation on how we all perceive wines differently.
Aromas are perceived differently by everyone and the inability to smell something detected by others affects all of us. Although musk may be a powerful aroma for many, for example, 43% of us cannot detect it at all. Other wine-related aromas that commonly cannot be detected include bananas, pears, sandalwood, and sweet, floral scents.
Putting the same aroma in differently labeled bottles produces radically different perceptions. If a pungent, mouldy cheesy aroma is labeled 'Food', people tend to rate it as pleasant. If it's labeled 'Body', it's considered unattractive.
The interpretation of a smell also depends on the context in which the smell was first experienced and its consequent associations.
---
Sweet Smell of Success?
Sulfites are organic compounds that nature uses to prevent microbial growth. They're found on growing plants like grapes, onions and garlic. Nearly all organisms, including yeasts and humans, produce sulfites (they are a natural byproduct of amino acid metabolism).
Sulfur dioxide is the sulfite used to kill bacteria that turn wine into vinegar. However, some people are allergic and have rashes, sneezing, itchiness, headaches and asthma.
The tip-off to a wine that is over-sulfited is the typical burnt-match odor, a sign that the winemaker has covered up a mistake. My personal allergy solution is to pour my wine, red or white, from a great height into a jug or decanter to aerate the liquid as much as possible. The sulfites, highly volatile, dissipate into the air within 15-20 minutes and, presto, sulfite-free wine! Organic wines start with few or no sulfites.
Sulfites prevent spoilage by inhibiting the growth of molds and bacteria. They also act as antioxidants. A cut pear will quickly turn brown and then rot, but if first exposed to sulfur dioxide, it remains bright and dry without decaying. Burning sulfur in a box filled with freshly cut fruit before setting the fruit out in the sun to dry, as in "sulfuring," is practiced around the world today.
Even in 100 BC, Roman winemakers burned sulfur wicks inside their barrels to prevent the wine from spoiling. In the 16th century, Dutch traders found that only wine treated with sulfur could survive the long sea voyages without it turning to vinegar, and sulfite additions quickly became a universal wine making tool in Europe.
Modern winemakers typically add sulfites after crushing, again during barrel aging, and once more just before bottling.
Spanish researchers have found ozone, a form of oxygen, to be almost as effective as sulfites and therefore a potential substitute.

---
Take me back to the top of this page, please!