March 20-22: Toronto Wine & Cheese Show, International Centre, Mississauga, www.towineandcheese.com.
April 2-6: Vinitaly 2009, Verona, 4,300 exhibitors, 150,000 visitors, www.vinitaly.com.
April 6: California Wine Fair, Fairmont Royal York, Toronto, (905) 336-8932, calwine@sympatico.ca.
April 7: French Wine Trade Show, (416) 921-8400 x2092.
April 16: Ontario Wine Awards gala, Queen's Landing, Niagara-on-the-Lake, (416) 398-3335.
May 5: German Wine Fair: Riesling Rules, Thomson Hall, Toronto, (905) 815-1581.
May 5-9: Salute Toronto Wine + Food Festival, international wines, celebrity chefs and fashionable venues at Toronto's newest taste experience. seminars and exclusive menus at top restaurants in and around the Carlu, Berkeley Church, Hart House and the Distillery District, www.salutewinefestival.com.
May 21: New Zealand Wine Fair, Toronto, (705) 444-0195, www.nzwine-events.ca.
June 16: Sip & Savour Ontario: VQA wine & food pairings, Fermenting Cellar, Distillery District, Toronto, (416) 398-3335 x2, www.ontariowineawards.ca.
June 21-25: Vinexpo, Bordeaux, 2,400 exhibitors, 50,000 visitors, www.vinexpo.com.
October 7: Chilean Wine Festival, Fermenting Cellar, Distillery District, Toronto, (416) 398-3335 x2, www.winesofchile.ca.
October 8: Chilean Winemakers' Dinner, (416) 398-3335 x2, www.winesofchile.ca. Grapes For humanity fund-raiser, Four Seasons, Toronto, (416) 488-8597.
---
Bordeaux Light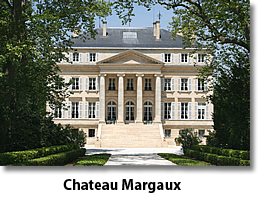 Bordeaux aims to cut carbon emissions by 75% by 2050.
The Carbon Initiative, a six-month study, says Bordeaux produces 200,000 tonnes of carbon per year.
Of this, 45% comes from glass and cork,12% from moving people around,10% from vinification and 18% from wine transportation.
Glass weighs in at 42,500 tonnes per year, and overland wine transportation at 24,100 tonnes. Sales trips by chateaux and negociants, and 550,000 tourists create 23,000 tonnes of emissions.
The Bordeaux Wine Bureau intends "to bring these figures down by 30,000 tonnes within five years, and have a reduction of 75% by 2050." Strategies include lighter bottles, sea transport for wines, recyclable materials, energy-efficiency strategies and fewer sales trips.

---
Sparkling Forecast
Despite the economic blues, sparkling wine sales in the UK will increase 20% over the next three years, rosés by 50%, and whites 7% while reds drop 5%, according to the International Wine & Spirits Record.
The UK, the world's biggest wine importer, is closing on 140 million cases a year. Meanwhile, the Italians will overtake France to become the biggest drinkers of wine per capita, at 56.4 litres a head. California wines have now overtaken French in the UK. France is third, with Australia top for the last five years and Italy fourth.
In terms of volume, the US will become the biggest wine-drinking nation by 2012, with 313.8m cases drunk. Globally, wine consumption will increase 6%, to 2.8bn cases.
Meanwhile, in Australia, wine sales are taking a battering, with exports hardest hit, thanks to oversupply, the global financial crisis, and the strong Australian dollar.
Domestically, surging sales of New Zealand Sauvignon Blanc have done damage, too, going from 17m litres to 27m to total 40% of Australia's wine imports.

---
Born In The USA
Canada's top-selling celeb-wines since their launch in '07, Dan Aykroyd wines are heading south with Sonoma-produced Chardonnays and Cabernet Sauvignons, retailing in the US at $17.99-$19.95.
*The email of the species is deadlier than the mail – Stephen Fry

---
Billy's Best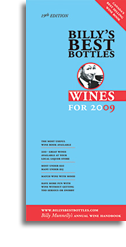 Twenty-five years ago, Billy Munnelly began tasting wines as a full-time professional and he hasn't missed a day's work since: it shows in his delightful Best Bottles: Wines For 2009, that match your food or mood. The 19th edition, $19.95, McArthur & Co, tells you "just the useful and important bits" about wine and Kato Wake's design is vivid as a video and user-friendly. The flavorful wine choices are recession-proof! Sunny, comprehensive and sans BS! www.billysbestbottles.com.

---
Brand New?
The very first brand names in human history were places of origin – the areas where agricultural products, foodstuffs and other products were grown or made – whether it was food, wine, textiles, china, or even chicken.
They have names like Brie, Cheddar, Champagne, Port, Burgundy, Denim (de Nîmes), Damask, Meissen, chicken from Bresse or Gers. All fine and respected products from geographical places with their own character and reputation.
When someone puts those names on other products it's identity theft bordering on fraud. Walter Brunello of Buonitalia, a sponsor of Food Roots, says the ratio of counterfeit Italian-sounding products to originals sold in North America is 10 to 1.
That's the message from Food Roots, a European program promoting Geographical Indications of origin, quality and tradition, whether it's Prosciutto from Parma, silk from Thailand or Scotch from Scotland. Just like appellations for wine, it's a guarantee of authenticity and quality.
To help educate us about what we're buying, this year, in our supermarkets, we're going to see new logos identifying the genuine articles rather than lookalikes with phoney place names.
At least we'll get the real taste of what we're eating!

---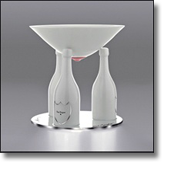 Keeping Abreast
Dom Pérignon is releasing a glass modelled after Claudia Schiffer's breasts.
Conjuring Marie Antoinette – whose breasts inspired the Champagne coupe, Carl Lagerfeld has taken his muse's chest to heart, creating a glass that sits atop three diminutive bottles of Dom Pérignon on a platter. The glass, sold as a package with a bottle of 1995 Oenothèque, costs US $3,150.
---
Sheer Poetry
A three-pint jug, a bottle of gin, a sliced lemon, a tray of ice and one capful of Vermouth. That was WH Auden's personal martini when he came to stay in the 1960s, according to Spectator columnist Simon Hoggart.
---
Best Values?
An eight-week series of seasonal and regional world wine explorations with David Lawrason and Anne Martin in a newly renovated space at the St. Lawrence Market, Wednesday evenings March 4 to May 6, One session, $65, 3-5 sessions $60 each, 7-8 $55 each.
Ten affordable wines per evening: Lawrason is wine columnist for Toronto Life and founder of Wine Access magazine. Martin is a sommelier and wine columnist for Canadian Living. Both are critics for www.winealign.com.
Take me back to the top of this page, please!