March 10: Ottawa Chamber Music Society Wine Auction,
420 Sparks St, 613-234-8008.
April 27: New Zealand Wine Fair, Ottawa, 705-444-0195.
April 29: New Zealand Wine Fair, Toronto, 705-444-0195.
May 19-30: the wines of northern Spain (a wine-and-food tour
from the Basque country via Rioja to Catalonia, hosted by Tony Aspler including Muga, CUNE, Vina Tondonia, Codorniu, Torres and others) Pauwels Travel Bureau, 519-753-2695.
May 25-27: Vinexpo Asia-Pacific, Hong Kong Convention & Exhibition Centre, www.vinexpo.com.
---
Red Flag On Pinot
A French judge has handed out suspended jail terms and hefty fines to 12 wine industry figures for selling fake Pinot Noir to Gallo.
Sold as Gallo's Red Bicyclette Pinot Noir, the scam encompassed 18 million bottles of falsely labelled wine.
---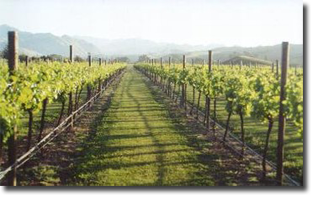 Cutting Costs
Rising fuel prices have sparked the creation of a tractor powered by vine cuttings.
New Zealand's Grove Mill has spent $15,000 converting the cuttings to gas for fuel, cutting diesel consumption by 75%. Grove Mill was the world's first winery to be certified as 'carbon zero'.
---
Fast Track Schampers
Ex-Formula One driving champion Jody Scheckter is opening a winery in Hampshire, UK.
The South African racer will produce biodynamic sparkling wine in 2012.
The farm has a 10 ha vineyard planted to Chardonnay, Pinot Noir and Pinot Meunier. Scheckter was been bitten by the biodynamic bug when his wife gave him a book on the subject. "It became a passion, then a disease. We've now got about 500 books on agriculture."
Scheckter says: "It's going to be a Champagne, but we can't call it that. I'm going to call it Schampagne. I'd also like to do a red sparkling – the purists would hate that, but reds are healthier than whites."
---
It's A Smaller (Wine) World
The wine world is shrinking as consumption falls and vineyards vanish.
About 73,000 hectares of vines were wiped off the map of Europe in 2009 thanks to EU incentives for growers to abandon marginal vineyards.
Along the way, France regained its position as the world's leading producer, overtaking Italy, says the International Organisation of Vine and Wine (OIV).
OIV boss Federico Castellucci says consumption reflects the economic downturn. "We experienced stagnating production, with an overall decrease in demand."
Under the EU scheme, Spain loses 45,000 ha of vineyards, Italy 11,900 ha and France 10,300 ha. The plan was over-subscribed by double, with another 55,000 ha cut to follow in this year.
Global production is expected to be 268m hectolitres, the same as last year. France increased 9% to 45.7m hl, with Italy at 45.5m hl (down 3%), and Spain down 6% to 34.2m hl.
---
* Agnus Dei was a woman composer famous for her church music.
---
Spain Honors A Canadian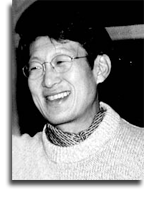 Canadian writer Gerry Shikatani has been honored by King Carlos of Spain for helping Canadians better appreciate and understand the excellence of Spanish culture.
Shikatani, a noted lecturer and respected restaurant critic, has been granted the Order of Civil Merit for his lifelong celebration of the gastronomy, art, literature, architecture and wines of Spain. He's also an authority on Japanese and French cuisine.
His book A Passion For Food: Conversations with Canadian Chefs was published in 1999. He has also published poetry, much of it inspired by trips to Spain, in Aqueduct 1979-87 and Three Gardens of Andalucía (2003).
---
It's Official
The EU's flexible new wine laws, emulating the simpler New World approach, have finally gone into action.
European producers can now legally feature the grape variety and vintage on the label. Unprofitable growers can voluntarily dig up their vines (and be compensated) while distillation is tapered off to discourage overproduction.
The money spent on distillation will now go towards marketing and modernizing operations.
---
* I know what a sextet is but I'd rather not say.
---
Good News Bad News
Champagne shipments to the US fell 41.2% January to August, says the Champagne Bureau, with consumers trading down to domestic and imported sparkling wines.
Americans, behind Britons, are the second-largest drinkers of Champagne outside France, are finding prices slashed to around $35 a bottle, from an average of $50. Revenue for popular labels dropped 50% for non-vintage and 85% for the top cuvées, according to Bloomberg.
Meanwhile, research published in the British Journal of Nutrition says Champagne or sparkling wine could be as good for your heart as red wine. Polyphenols in red wine help the heart by slowing down the removal of nitric oxide from the blood, which lowers blood pressure and reduces the risk of heart problems and strokes.
Similarly, nitric oxide in Champagne causes blood vessels to dilate, and has the same effect as red wine.
---
New Brew By Starbucks
Recession-hit Starbucks is testing a concept to sell wine and beer, too.
Starbucks has remodelled a Seattle store as 15 Avenue Coffee and Tea, offering alcohol, music, poetry – and joe.
Starbucks will remodel similar locations named after their addresses.
---
* Go out on a limb. That's where the fruit is.
---
Meltdown Coming For Merlot?
Bordeaux, the classic cool-climate wine region, allows five grape varieties in the much-emulated Bordeaux Blend: Cabernet Sauvignon, Cabernet Franc, Merlot, Malbec and Petit Verdot.
However, global warming appears to be pushing one of them out.
Hugh Ryman, one of Bergerac's most renowned winemakers, says making Merlot is now impossible in the region.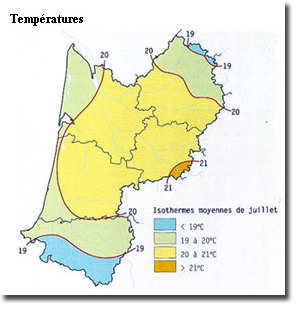 Ryman, of Château de la Jaubertie, has not planted a Merlot vine since 2000, and is replacing his existing Merlot with Cabernet Franc or Malbec.
"I'm using the Merlot for the rosé, not for the main red, and using New World vinification methods such as colder temperatures and shorter maceration times," he says.
Ryman's vineyards are 45% Merlot, but only 25-30% now goes into the top red blend because it's so hard to get full tannin maturity before alcohol levels get too high.
"The wine has good mouth feel but loses the fruit character. And what's the point of Merlot at 15 or 16 degrees? We're going to have to adapt if we want grapes with enough finesse to produce top quality wines."
Testing is already going on with warmer climate varieties, including Syrah and Zinfandel, Chardonnay and Chenin Blanc, that could be permitted in Bordeaux in the future.
---
* Life is like a roll of toilet paper. The closer it gets to the end, the faster it goes.
---
Red Alert For White
New research from Germany suggests blue- or red-lit rooms make white wine taste better than rooms with green or white background lighting. Drinkers in red- or blue-lit rooms rank Riesling higher and are more willing to pay top dollar.
"The lighting in bars can undoubtedly influence the way a wine tastes," says Dr. Daniel Oberfeld-Twistel of the Johannes Gutenberg University.
It's not clear why colors influence taste but researchers believe it has to do with the mood they put consumers in.
---
2009 California Vintage Excellent
Despite mid-October rains, the 2009 California harvest of 3.4 million tons of good quality grapes has growers happy and optimistic, thanks to an Indian summer.
"It was a one in 10-year kind of harvest," says Joe Norman at Heitz in Napa Valley. "The fruit came in without a rush, ripening slowly and showing good fruit quality. All the sensitive grapes were in before the October rain." In Lodi, David Lucas of Lucas Winery says: "We've been making wine for 33 years, and 2009 will be our fourth reserve Zinfandel," he said. "If winegrowers were judicious in their farming practices, it was an ultra premium year for Lodi." Eberle Winery in Paso Robles is also talking about making reserve wines.
The economy has impacted the market for grapes and bulk wines, especially at the luxury end, says Steve Fredricks of Turrentine Brokerage in Novato. "However, bulk inventory is in line, there isn't too much or too little at the value end. We will see an increase in wines listed for sale 2009 was larger than 2008, and people are very pleased with the quality of the 2009 wines."
---
* Refrain means don't do it. A refrain in music is the part you'd better not sing.
---
Mano a Vino
If you go mano a mano with Argentina's ever-improving wines on their home turf the scenery's a bonus, never mind the fabulous tango, polo and beef asado.
Plus exercising your tastebuds, you'll also osmose the stunning Andean air and sky while trekking, rafting, biking, climbing and skiing, or simply relax in the hot springs.
And you'll be in safe, knowledgeable hands with Magda von der Heyde, a local artist with 10 years experience leading local tours. Check out www.magdawinetours.com
---
Banned... In Burgundy
The lowly and poorly regarded grape Gouais Blanc turns out to be the prolific mother of the acclaimed noble varieties Aligoté, Auxerrois, Bachet, Chardonnay, Franc Noir, Gamay Noir, Melon, Romorantin and Sacy, while Pinot Noir is the dad.. Pinot Noir also sired Aubin Vert, Knipperlé and Roublot.. Could try harder, you might say.
---
Rosecco...No Prosecco
Italian authorities have seized sparkling Rosecco destined for Marks and Spencer.
Taking exception to the name, the government confiscated 14,400 bottles of Rosecco Vino Spumante Brut Rosé – Marks and Spencer's own-label brand.
"Playing with the name and the colour of the label deceives customers," said Luca Zaia, Minister for Agricultural Policy. He called the wine "a clumsy attempt to sully our brand abroad". Marks which sells the Rosecco for £6.99, was unavailable for comment.
Take me back to the top of this page, please!