March 22: Hobbs & Co portfolio tasting, St Lawrence Centre,
Toronto, 416-694-3689. Prowein, Dusseldorf, www.prowein.de.
April 4: California Wine Fair, Royal York, Toronto, 905-336-8932.
April 7-11: Vinitaly, Verona, www.vinitaly.com.
April 27: Austrian Wine Trade Fair, Toronto, 416-967-3348 x18.
May 10: New Wines of Greece, Toronto, 404-545-2323.
May 11: Lifford/Schiralli Grand Tasting, Wychwood Barns, Toronto, 416-440-4101.
May 12: New Zealand Wine Fair, Design Exchange, Toronto, 705-444-0195.
May 17: Riesling & Co German Wine Fair, CN Tower, Toronto, 416-637-2044.
---
Hint: click on labels and photos below for even more information!
Pax Africanus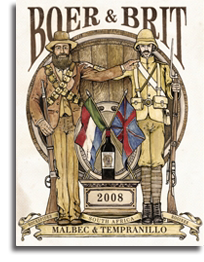 A Boer and a Brit, great-great-grandsons of South Africans who were deadly enemies, have made peace through wine.
They've launched two red blends, The Field-Marshal and The General, featuring soldiers in uniform, and back label phrases like "The war is over, let's party" and "With a Boer's body and an Englishman's nose – you can't go wrong".
Stefan Gerber, the g-g-g of Afrikaner leader Paul Kruger, and Alex Milner, a g-g-g-g of British general Sir John French met at Stellenbosch University.
Their family history put them on opposite sides, Boers and British, Dutch Reformed Church and Catholic. French launched a cavalry charge to end a 124-day siege of Kimberley in 1899/90, while Kruger was the Transvaal president and icon of Boer resistance.
Despite the historic animosity, the two say it's all in the past. "This is South Africa and we have shared history but there is only friendship between us now," says Gerber.
Their winery is based at Milner's parents' home near Stellenbosch.
---
Decanted...Not Stirred
Château Angélus may soon be the claret of choice for James Bond, says owner Hubert de Bouard.
He was stirred by a sales spike after an Angélus 1982 appeared in Casino Royale. "James Bond is a connoisseur, which is why I'm glad he drinks the 82 in that scene. I'm confident Angélus will feature in future Bond films."
The 23rd Bond has been delayed by uncertainty over the future of MGM, producers say.
---
Desperate Days In Muscadet
One-third of Muscadet's wine growers are facing financial ruin thanks to a "meltdown" in export markets amid unsustainable pricing levels.
According to Loire Valley wine broker Charles Sydney, around 60 Muscadet vignerons have filed for bankruptcy since the 2010 harvest.
About 150-200 vignerons are expected to go out of business within months. Growers have been hit by 2008's spring frost, which destroyed two-thirds of the crop – and now vineyards are being abandoned.
"It's a meltdown of the market," said Sydney. Producers have held their prices and cut their costs, but "things are now critical and we are facing a situation where there are no obvious savings to be made."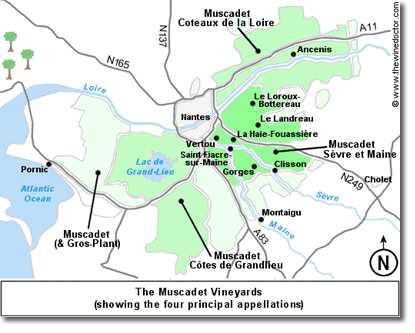 ---
Flat Feeling At Piper
Feel like buying Champagne? Why not buy the whole company? Two, in fact.
Rémy Cointreau has put its Piper-Heidsieck and Charles Heidsieck brands on the block for around €450m.
Piper hasn't made money in years, unlike the Rémy Martin Cognac business. The economic downturn has apparently been the last straw.
Sales have dropped below 6.9m bottles a year, of which Piper accounts for 5.6m bottles and Charles 800,000. Cost-cutting has included 45 job losses, prompting a strike at the HQ in Reims.
---
Soap & Wine A Weird Mix
A supernatural soap involving a Napa Valley wine estate is being developed by NBC.
Vines revolves around a family in search of a new life together. They move to a Napa winery only to find that its vineyards full of 'ancient vines with dangerous mystical powers'.
Horror and fantasy fans are suggesting it could become "a supernatural Falcon Crest", the 1980s soap. Wags simply say every winery thinks its vines have mystical powers.
---
English Medley Of Wines
A Lancashire pub has launched the UK's first all-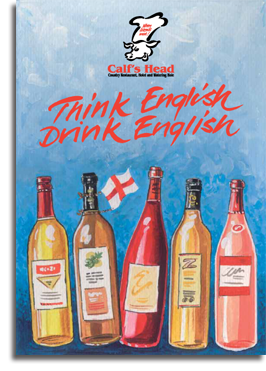 English wine list.
The Calf's Head in Worston near Clitheroe sourced wines from Kent, Sussex, Surrey and Dorset for its 16-strong list.
Owner Chris Medley, who traveled the length of the country to find the wines, believes promoting English wines will help the economy. "There's no need to import things we can produce in this country," he says. "I was amazed at the great deal of good quality of wine available in England."
Best sellers include Biddenden Vineyards Ortega 2008 from Kent and West Sussex-based Bolney Pinot Grigio 2009, which is "'flying out".
---
The winemaker had died and a ragged bum came looking for the job.
In a blind tasting he nailed the wine: Cab-Merlot, '07, south slope, limestone/gravel soil, 18 months in Alliers barrels.
The surprised owner winked at his secretary to fetch a ringer and a glass of urine was brought in.
"Blonde, 25 years old, three months pregnant and if I don't get the job I'll name the father!" was the quick response.
---
Jura Wine, 237 Makes €57,000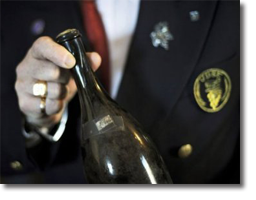 A 237-year-old bottle of long-lived vin jaune (a wine like Sherry) from France's Jura region fetched a record €57,000 at a wine auction in Arbois.
And the buyers who bought the 1773 wine are going to drink it.
Wine fan Pierre Chevrier, who bought the wine on behalf of the group, says: "My passion is to open bottles and I'm delighted to have bought this vin jaune, which I'll drink."
Bernard Badoz, founder of the festival, adds: "Finally, vin jaune has hit the big league. To sell a bottle for €57,000 is not crazy."
The grapes were harvested in the reign of Louis XV, in the year of the Boston Tea Party and Captain Cook's voyage into the Antarctic.
Jura's vin jaune is famed for its ageability maturation in barrel underneath a layer of yeast.
Produced from Savagnin grapes, it's aged six years before release. Ontario's Chateau des Charmes is one of the few producers outside France that makes a (very good) Savagnin.
---
Cristal Palace?
Farr Vintners' Stephen Browett has a sparkling addition to his portfolio – Crystal Palace Football Club. Palace narrowly missed relegation after months of upheaval during which fans demonstrated against the threat of (what else?) liquidation and bankruptcy.
---
Gold Standard Is Bordeaux
Bordeaux wine was a better investment than gold, oil or stocks in 2010, says the Liv-Ex Fine Wine Exchange.
The Fine Wine 50 – tracking the top five châteaux across 10 vintages – rose 57% during 2010 vs 35% in gold, while oil rose 20%. The S&P 500 and the FTSE 100 rose 13% and 11% respectively.
Liv-Ex says the increases were driven by China and Hong Kong. Lafite-Rothschild continued to lead with some vintages doubling in value. Demand also increased for top Burgundy and Sauternes.
---
More Red Red Wine
China is set to overtake Australia as a wine producer in just three years.
The Asian giant is about to leap from 10th biggest wine producer to #6 by 2014, a staggering 77% rate of growth.
Wine production is expected jump from 72 million cases in 2009 to 128 million cases, according to Vinexpo.
The Chinese drink 1.34 million bottles a year, says International Wine and Spirits Research.
---
The Doctor Is In...
Here's the disease, the wine, the daily dose. To your health!
Allergies – Médoc, 1 glass
Anemia – Graves, 4 glasses
Bronchitis – Bordeaux, 3 cups
Constipation – Anjou, 4 glasses
Fever – Champagne, 1 bottle
Heart – Burgundy, 2 glasses
Gout – Pouilly Fumé, 4 glasses
Hypertension – Alsace, 4 glasses
Menopause – Saint-Emilion, 4 glasses
Depression – Médoc: 4 glasses
Rheumatism – Champers, 4 glasses
Personally, I try to cover all bases!
---
Going Cheap!
UK supermarket chain 99p Stores' 129 outlets plan to sell wine for 99p ($1.59) a bottle, half the price of the competition.
The Royal College of Physicians calls it "dangerous and irresponsible". The plan comes on the heels of the UK health watchdog calling for a minimum price on alcohol.
---
Next time you're in a hotel room (with a red carpet) without a corkscrew, you'll know what to do. Check out www.wimp.com/wineshoe



Take me back to the top of this page, please!