(Hint: click on labels and photos below for even more information!)
Chateau Brangelina: Taking A Shine To Making Wine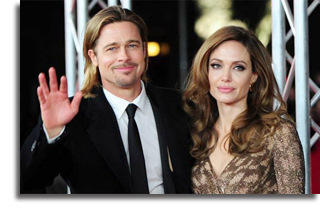 Brad Pitt and Angelina Jolie are starting to make wine in France.
They're getting serious help from the renowned Perrin family of Château Beaucastel in Chateauneuf-du-Pape.
The couple leased the 500-ha estate of Chateau Miraval in Provence, purchased it for around $60m and are now busy renovating.
The property covers an entire valley, with 60ha of old vines, at an altitude of 350m. "The terroir, the freshness that comes from the altitude, and the exposition of the vines are all incredible,' says Marc Perrin. "For us as winemakers, it's a wonderful opportunity to work with grapes that we know well, in an environment where striving for quality is the most important thing."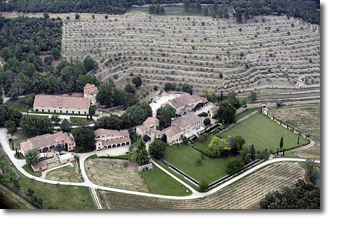 Among the plans, Perrin says, is a full geological survey and field grafting of Mourvèdre to blend with the Cabernet Sauvignon-Syrah currently used in the red wines. The estate produces a white, from the Rolle grape, and a Pink Floyd rosé, named because The Wall was recorded in a studio at the property.
"They want to ensure they are making the best Provence wines they can," says Perrin. "They were at the blending sessions this year, and are looking at everything from the installations – where we have already switched to stainless steel tanks – to reworking the labels.
Brad Pitt is to star in a film version of The Billionaire's Vinegar, the story behind the notorious Jefferson bottles of Bordeaux said to have belonged to Thomas Jefferson that sold for record prices.
The book by Benjamin Wallace traces the wines, found in a walled-up Paris basement by German collector Hardy Rodenstock. They include a 1784 Château d'Yquem, a half-bottle of 1784 Château Margaux and a 1787 Château Lafite, which set a record of $156,450 at Christie's in 1985.
The cache's authenticity has led to court cases involving billionaire William Koch and Decanter columnist Michael Broadbent. Read more about this interesting case by clicking HERE.
---
Export Giants Bulking Up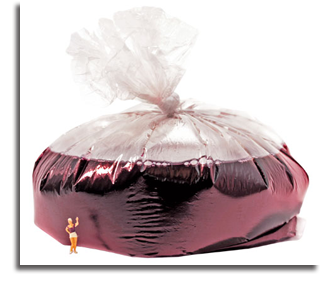 Hardy's, Australia's wine powerhouse, keeps export costs and store prices under control despite its surging currency – by turning to plastic bags.
That would be 24,000-litre plastic bags, holding the equivalent of 32,000 bottles of vino.
Hardy's pared $3 a case by skipping bottles and shipping its wine in these giant bladders. After the 10,000-mile journey to the UK, the wine is bottled at a plant next to a scrap merchant two hours from London.
Australia's $5.8 billion wine industry moves more than half its exports in bulk for the 40-day journey to Europe. As Richard Lloyd, global manufacturing director, puts it: "We don't ship glass around the world, we ship wine."
About 30 containers are trucked daily from the English port of Avonmouth to the nearby bottling plant. Treasury Wine Estates brands and Pernod Ricard's Jacob's Creek are also shipped in bulk, while Casella, maker of No. 3 U.S. wine label Yellow Tail, may move to bulk to cut costs.
Shipping in glass can add 25¢ per bottle to costs, says Rabobank. Sea transport costs are based on volume, and filling a container with bottles wastes space, says Tony Woodborne of Flexibulk Logistics, a Sydney freight company. "You lose a third of your volume to bottle and carton," he says. While a 20-foot container holds 9,900 liters of bottled wine, it can carry a 24,000-litre bladder at only a little more cost. Sending a container of bottled wine from South Australia, the biggest wine-producing state, to Europe costs about $3,400, says Ben Mislov, of Adelaide-based transport company JF Hillebrand Group. Using a bladder only lifts the price to about $4,000.
The Hardy's brands are bottled at the 1.6 million-bottle-a-day Avonmouth plant, along with the Rosemount, Lindeman's, and Wolf Blass labels owned by Treasury. Filling 12.5 million cases with Australian wine each year, the plant is bigger than any facility in Australia.
The country's shipments of bulk wine have grown more than sixfold over the decade and overtook bottled exports last year. Four of five bottles Oz sends to the U.K. are now shipped as bulk, as are two out of five into the U.S., generally to the West Coast.
Chile shipped 36% of its exports in bulk in the first six months of last year, says wine broker Ciatti. The U.S. and South Africa shipped half their wine in bulk in 2010 and 2011.
---
Catching Up Fast In Wine
We're overachievers, it's official: Canadians will consume 14.27% more wine every year, triple the global average increase, for the next three years.
By then, Canada will be the fifth biggest consumer, behind China, the United States, Russia and Germany – with a global total of 34.48 billion bottles between us, according to our friends at Vinexpo, the world's greatest wine fair, held in Bordeaux, www.vinexpo.com.
In Europe, however, consumption is falling. For the first time in 15 years, the UK and Germany posted drops of -4.07% and -2.73% between 2007 and 2011. France and Italy dropped -7.13% and -2.51%, while Spain fell 19.67%. The US, France and Italy were the top consumers.
On the export side, the French reaffirmed their international leadership with exports of $9.9 billion (+5.24% since 2007).
Two changes are the growth of sparkling wines, up 8.52%, and rosé, up 7.58% by 2016. Reds are 54.7% of still wine consumption.
Canada consumed 43.21 million cases in 2011 and will drink 50 million by 2016 with rosés zooming along. That's a total of $5.7 billion.
Imports are strong, totalling 31.27 million cases in 2011 and 37.59 million by 2016, representing a 17% increase. However, domestic consumption is likely to drop (from +10.71% to +7.72%) by 2016.
France has lost its status to Italy as Canada's foremost supplier. Italy's exports posted a +16.1% increase, while France saw its Canada exports drop by -3.74%.
---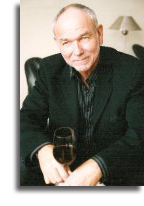 Tour Bordeaux and SW France
Ottawa writer Rod Phillips is leading a 10-day wine trip to Southwest France May 15, visiting Bordeaux and the smaller regions of Cahors, Gaillac, and Limoux, where fascinating wines are made from little-known indigenous grape varieties.
It's a historically rich region and the tour includes medieval towns like Albi and Carcassonne. For more, check: www.flightcentre.ca/french-wines-tour.
---
Guns 'n Rosés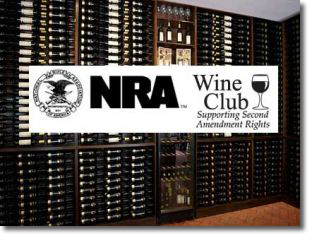 Much guffawing followed recent news that wine enthusiasts can now indulge their passion AND back the right to bear arms by joining the NRA Wine Club.
"Support the 2nd Amendment with every wine you buy," says nrawineclub.com.
A proportion of the profits goes to the NRA at a time when the organization is gearing up to battle Obama's plans for gun control following the shooting massacre at Sandy Hook.
Hundreds of wines are available but leading Barossa Valley winery Yalumba, one of 20 Aussie wineries on the list, immediately pulled its four wines offered.
Owner Robert Hill Smith announced: "Philosophically, I'm not disposed towards the NRA, which runs counter to my family's and I would think all my employees' positions on gun laws." Other Oz producers were unaware that their wines were being sold to profit the NRA.
---
Oh, Poop!
Home winemakers and industry pros know that Saccharomyces Cerevisiae is one of the most important yeasts used in winemaking.
It's not airborne and recent research found that bees and wasps transport S. Cerevisiae over short (10k or so) distances, but that didn't explain its global distribution.
Migratory birds, meanwhile, are known for travelling great distances, following food resources, and eventually returning to their nesting location.
Experimental sites were set up at migratory bird stopover points in Sicily during spring and autumn to capture yeast-transporting information from birds travelling between Africa and Europe.
A total of 349 birds were captured. Around 125 yeasts were identified in the birds and of them 72 are associated with wine making, including S. Cerevisiae, most of which was found in warblers and flycatchers.
Pundits are mulling the relationships between these avian wine routes and vineyard terroir but, personally, I think it's just a process of elimination.
---
Currency Stings Yellow Tail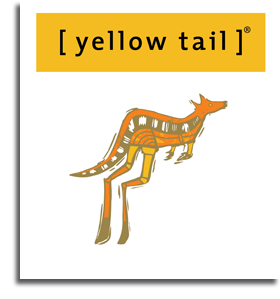 Casella, maker of iconic Yellow Tail, Canada's most imported wine, needs a loan after its first loss in 20 years.
One of Australia's largest exporters, Casella dropped $30m, down from a profit of $43.5m.
Casella produces 150 million bottles a year, one in five of every Australian wine exported, mostly to the US.
The company blames the mighty Australian dollar for making its US$7 price no longer profitable. "There's no volume issue," says chief executive John Casella. "But the currency is having serious implications for a lot of Australian manufacturers." And it's the lower end of the market that's struggling.
Casella's debt has risen from $98.9m to $138.7m. "Provided we have the support of our financiers, we can make little or no money for a year or two," says Casella. "I'm hopeful the dollar is overvalued and we can return to some normality."
If the loan can't be secured, Casella will start selling off assets, including vineyards.
---
Spain Beckons In September
September 6 and 16, Barry Brown, charismatic president of the Spanish Wine Society, leads 10-day tours of Spain's east coast, centred on Alicante and visiting bodegas and historic sites there and in Jumilla, Yecla, and Almansa.
The next Spanish Wine Society event is "The Superior Wines of Bodegas Principe de Viana, Navarra, Rueda, and Castilla y Leon" with Gonzalo Lainez, Director of Export. That's April 16 at Mideastro in Yorkville.
After that, the group meets at Mideastro June 25 for Bodegas Nekeas with Carlos Biurrun, Director of Export.
Barry can be reached at info@spanvino.com.
---
Darker Days Ahead for Vino
Things are looking dark(er) for the lovely people who created the original Amarone – back in 1939. (That's the rich red wine made from gently dried grapes, in a process called apassimento).
Cantina di Negrar, Italy's huge Valpolicella co-op (230 growers, 600 hectares) near Verona, has noticed that most North Americans equate deep, dark red colors in wine with more flavor and better value.
Not true, of course, because some of the world's most treasured wines, like Burgundies and Barolos, for example, are very lightly hued (almost roses) but still powerful, ethereal and haunting. Their grape varieties, Pinot Noir and Nebbiolo, respectively, are thin-skinned (with lower anthocyans) and so yield a light red color to their finished wines.
Nevertheless, customers still favor deep red-black color, concedes Luca Bissoli, commercial director of Negrar (wines enjoyed for 50 years in Canada), and deeper color is where we're all going.
Among the 70 grape clones Negrar is researching, the ones that yield dark color are getting special attention, as is the optimal picking date, length of fermentation and the yeast selection – all to deliver wines that simply look a darker red! Stuff happens!
Meanwhile, in our current market, you'll find the excellent Negrar Valpolicella at $12.95 per litre in the LCBO (1.5L @ $18.95) with black cherry, baking spice and food-friendly acidity); Amarone Classico, $26 (LCBO), dry yet Port-like with hints of leather and licorice; Vigneti di Torbe (v) $19.95 (grown on volcanic soil in a simpler style), and Ripasso La Caseta, the sweeter style, on consignment $26.45. Domini Veneti Classico Superiore (c) $14.95 is a steal, as demonstrated by the 5 million people of Norway buying 250,000 bottles a year!
For more Negrar info: 514-214-2701.
Take me back to the top of this page, please!