(Hint: click on labels and photos below for even more information!)
Life, Liberty & The Pursuit ...Of Vino
Americans are drinking more Italian vino than the Italians, thanks in part to bubblies like Prosecco, the Moscato craze and sweet-toothed millennials.
Italian is the top imported wine in the US, the world's largest consumer.
Winemakers at Vinitaly in New York said Prosecco is more popular than the iconic Barolo, Brunello and Barbaresco (and much cheaper).
"Prosecco is driving sales and it was pulled in by Moscato," said Stevie Kim, MD of Vinitaly. "And millennials are in the driver's seat," she added.
Sparkling Moscato was up 26% for the 52 weeks ending Jan. 4. Still Moscato was up 14.1%.
Italy is the largest exporter but Italians are drinking less while US consumption rises. Consumption in Italy is at its lowest since the country was unified in 1861.
---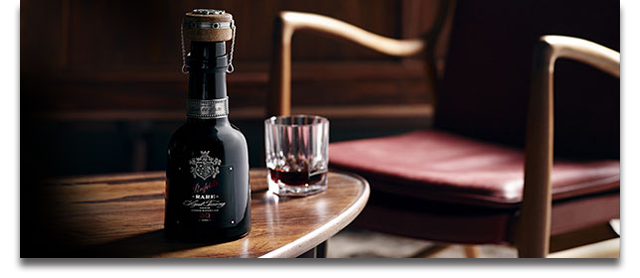 Penfold's Tawny Tops $3,500
Penfolds, producer of Grange, has released a 50-year-old rare Tawny at Au$3,550 ($3,500) per bottle, one of the world's most expensive fortified wines.
The launch marks the S Australian winery's 170th anniversary, which will also be celebrated later this year with a commemorative luxury wine, Bin 170.
Just 330 hand-blown bottles of the Tawny have been produced, designed by the same glass artist as the $168,000 Penfolds Ampoule released in 2012.
Peter Gago, Penfolds' chief winemaker, said price was no deterrent and orders had already been received. It has a leather label, a stopper crafted from old barrels and a pewter crest.
The oldest component of the Tawny dates back to 1915, when the creator of Grange, Max Schubert, was born.
Portugal's Douro Valley has more expensive wines: the 1900 Adriano Ramos Pinto Donello Port at $4,031, and the 1850 Franske Vinlager Hunts Old Nutty Vintage.
---
Firing Line For Wine
Civil war gunfire forced workers to leave their winery in Syria ahead of the 2013 harvest.
"It was very stressful," Bargylus co-owner Sandro Saade said. "We didn't know if we'd have a harvest and worried that either side could damage the vineyard."
After the fighting died down the harvest had to be co-ordinated from afar because of the danger of travelling. Saade's family also owns Chateau Marsyas in Lebanon, where the decisions were made on the Bargylus harvest.
"The road north of Tripoli [into Syria] to Latakia is not safe at all," Saade said. "We were getting grapes put on ice and sent to us in a taxi every two to three days."
The Saades work with Bordeaux's Stephane Derenoncourt at Bargylus, producing Syrah and a Chardonnay/ Sauvignon.
---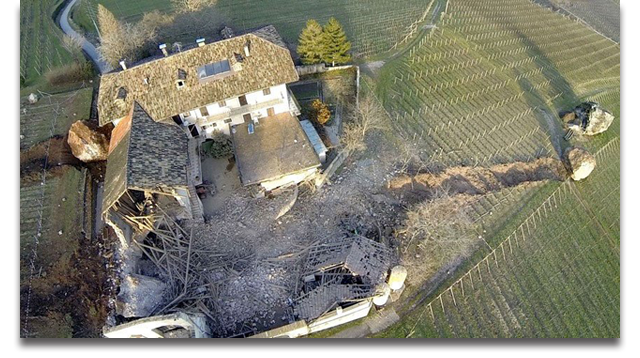 Rocky Moment
Tenants on Freisinger Hof vineyard in Tramin, near Trento, Italy, had a close one when boulders hurtled towards them from the mountains above.
One huge rock ripped through a building at the estate, owned by the Convent of Maria Luggau.
Another came to a halt a few feet from the main property, occupied by a married couple. Four hectares of vines were flattened.
You can view an engrossing video of the devastation by clicking HERE.
---
All Hail
Last year, severe hailstorms in the Champagne region trashed much of the 2013 crop.
About 3,000 hectares were hit with more than 300ha of vineyard destroyed, especially around Epernay and the Côte des Blancs.
Mumm reported its vineyard in the centre of Cramant lost 25% with 15ha completely gone.
---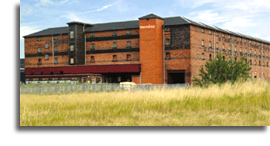 Gimme Shelter
The travails of global winemaking may explain the literal bunker mentality of London City Bond.
The wine storage outfit bought an ex-military munitions warehouse with 15 vaults, reinforced concrete walls and a three-metre perimeter fence, at Dinton near Salisbury.
"Dinton will give us an additional 160,000 to 180,000 case capacity for storing fine wine," said LCB. "The vaults vary from 280 to 580 square metres."
---
Chilling News
Meanwhile, the recent deep freeze across North America led to a strong harvest for Canada's Icewine producers.
The "polar vortex" led to power cuts and cancelled flights, but winemakers in Niagara had ideal conditions. It's one of the earliest harvests on record, after the previous mild winter.
Laurie Macdonald of VQA Ontario reported a preliminary grape haul of 6,814 tonnes, "the largest in the history of the region."
Icewine grapes must be left to freeze naturally on the vine at below minus eight Celsius. They're harvested at night and pressed while frozen.
Inniskillin's Bruce Nicholson picked Cabernet Franc and Riesling Icewine grapes as early as December 14. "It's always nice to get the Vinifera varieties off before Christmas because of their thinner skin," he said. "The thicker skinned Vidal grapes can be picked later."
---
Firing Line
Fifth-generation Aussie winemaker Grant Burge praised firefighters for averting destruction of his Krondorf winery in Barossa Valley, as bushfires hit South Australia.
Crews battled through the night to subdue a fire that had encroached onto grazing land at Tanunda, Barossa.
An intense heat wave has sparked bushfires across South Australia and their path is unpredictable.
---
Droning On In Bordeaux
Moving towards more precise viticulture, Bernard Magrez is launching drones over his Bordeaux estates.
He'll use air robots over Pape Clement, La Tour Carnet, Fombrauge and Haut Peyraguey, then over his other Bordeaux properties, and those in the south of France.
The unmanned mini-helicopters with cameras and sensors fly over vineyards measuring plant damage, disease, water stress, grape ripeness, soil conditions and contours for drainage.
Chateau Luchey-Halde in Pessac Léognan has tested the robots while wineries in California and Oregon have begun using the technology. Bouscaut and La Dauphine have used drones to create marketing videos.
Jeanne Lacombe, technical director of the 11 Magrez Médoc estates, said a drone, worth €50,000, begins work in April.
"It can cover 1.5ha of vines in four minutes, so we expect one week for a property of the size of La Tour Carnet, which extends over 120 hectares.
"We expect to make significant reductions also in the use of fertilizers and vineyard treatments, as the drone measures requirements so precisely. It also means cutting down on use of tractors. We will first employ manual controls, but in the future the drone will be operated by programming from the computer."
---
UK Eye View
Screwcaps are everywhere, thanks to all the UK supermarkets, including giant Tesco, and their insistence on producers using the world's most convenient wine closure.
Unfortunately, there's plenty of volatile acidity going around, too, (that's vinegar to you) spoiling many of the el cheapo reds (cheap, that is, for a Canadian visitor), and oceans of bubbly are still being cheerily consumed, mostly to keep out the incessant rain.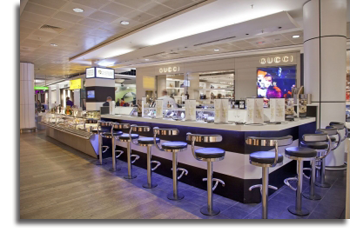 It's still hard to beat the Oyster Bar in Heathrow's Terminal Three departure lounge for graceful and charming service (the staff here and at most of Heathrow is Polish). Chablis and great molluscs plus the world's very best people-watching.
British wine seems to be on the rise although 2014 could be a Noah's Ark year with the wettest winter in history. Meanwhile, in bleak northern England, Leventhorpe, Yorkshire's oldest winery, is going strong.
Wine-making in Yorkshire goes back to the Cistercians of Kirkstall Abbey, Leeds and the Benedictines at St Mary's Abbey, in the 16th century.
George and Janet Bowden planted their five-acre river valley vineyard in 1985, within the city boundary, and produce Madeleine Angevine and Seyval Blanc whites with some sparkling and Pinot Noir.
Leventhorpe could face off with a Lancashire winery and renew the War of the Roses.
Leventhorpe's wines are a drop in the bucket beside the imports vacuum-packed in huge tanks around the world and bottled on arrival in England. This "Incredible Bulk" amounts to 1.24 billion litres shipped in 24,000-litre flexi-tanks to save on glass and cardboard freight, mainly to the UK, US, Germany and China.
Plants like the one near Bristol owned by Accolade, formerly Constellation, repackage the wine into millions of bottles and boxes for Britain's thirsty supermarkets and pub chains.
It's coming from Australia, Chile, Argentina, South Africa and New Zealand – mostly high-volume, low end stuff, admittedly, but decent commercial wine all the same. The cost saving is huge.
---
Ducks In A Row?
Napa's Duckhorn is suing Sutter Home and Wal-Mart over trademarks to duck. Duck Commander retails for $10.
Duckhorn is several times that, but Duckhorn says its wines are in 'the same channels of distribution' and presented to the same potential buyers.
---
Spell It Rise-ling!
The price of German Riesling could rise soon, thanks to a weather-hit 2013 growing season, with yields down 30%.
Wines of Germany says production in 2013 is likely to be 8.3m hectolitres, 8% lower than last year.
Riesling regions like the Mosel and Rheingau have been hard-hit, with yields down 30% and 21%. The Pfalz – Germany's largest Riesling production area – was 11% down.
---
Here Today...Gone Tomorrow
Mass-produced wines tasting alike?
The University of Adelaide says global wine growing has tilted to a select few grapes, with Cabernet Sauvignon leading the pack.
Since 1990, Cab Sauv and Merlot have doubled their share of hectares under production, making them the top varieties. The Spanish Airén has slipped into third, while Tempranillo and Chardonnay have more than tripled to move into fourth and fifth place.
---
Argentina Snapshot
Malbec exports up 11.4% in value.
(Originally from Cahors, France, Malbec has 22 clones. The clusters are smaller, the skins thinner and tannins sweeter than the French versions.)
Torrontes up 26%
Canada is the #2 wine importer of Argentina, behind the US.
Biggest growth – China at 68%
Vines are planted on 228,575 hectares and grown north to south all the way from 22 degrees North to 42 South.
Take me back to the top of this page, please!