(Hint: click on labels and photos below for even more information!)
Bubbly Sales For Champagne
About 312m bottles of Champagne were sold in 2015, up 2-3% and on route for a new record thanks to export demand, favorable currencies and stabilizing sales in France.
Revenue has risen 4.4% to €4.7bn because of higher-priced special blends and fine vintages, as well as demand for rosé Champagnes in Japan and the US, Champagne's second largest export market after Britain.
In Britain, a solid economy underpinned buoyant demand while austerity-hit Italy and Spain were starting to see signs of an upturn.
Economic woes in France have flattened sales but "France is on a recovery path. Consumption stabilized," says Bruno Paillard, chief executive of Lanson, the number two Champagne house behind luxury group LVMH.
The Champagne market is dominated by LVMH, which owns the Dom Perignon, Moet & Chandon, Veuve Clicquot, Ruinart and Krug brands. Specialist makers include Lanson, Vranken and Laurent Perrier as well as drinks group Pernod with its Mumm and Perrier-Jouet brands.
Champagne faces tough competition from Spain's Cava and Italy's Prosecco, selling for a third of the price.
Meanwhile, global consciousness of the quality of English bubbly got a huge boost when Champagne house Taittinger announced that they'd purchased vineyard land in Kent and plan to make top sparkling wines under the Domaine Evremond label.
Taittinger is no stranger to investing beyond Champagne's boundaries. It planted vineyards in California for sparkling wine in 1987 and launched Domaine Carneros.
The famously chilly Champagne region is warmer than it was a generation ago while even chillier southern England, which has the same chalky soil, has been heating up. Producers like Ridgeview, Nyetimber, and Coates & Seely make fine fizz, but little has been exported. With this French vote of confidence that's sure to change.
Vineyard prices in southern England are certainly attractive – around £25,000 per hectare vs £850,000 in Champagne. Around two thirds of the wine made in England and Wales is sparkling. The most popular grapes grown are the Champagne varieties Chardonnay and Pinot Noir, followed by Bacchus.
---
The Madeira Time Machine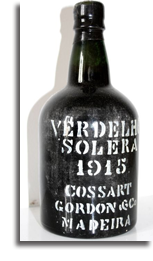 You are what you drink – so 20 lucky wine lovers were briefly 450 years older at a recent Toronto tasting.
The contributing factors were an 1865 Verdelho Madeira from the house of Lomelino; and a 1915 Bual from L.M. Rodrigues, a 1915 Verdelho and a 1915 Malmsey.
The Estufarian Society, aficionados of these delicate and rare old Madeiras, absorbed truffled lobster, venison consommé, seared foie gras, smoked venison loin and pumpkin soufflé along with California Chardonnay, Rioja Gran Reserva and Douro Grande Reserva between sips of the ancient Madeiras.
Chef Victor Barry of Splendido did the honors.
The Estufarians have just expanded to a second Madeira group and if you're interested, call (416) 961-7005.
---
Cal Wine Fair Touching Down
The 2016 California Wine Fair, with more than 111 wineries, 400 wines and many winemakers, touches down in Toronto Monday, April 11, at the Fairmont Royal York Hotel, Canadian Room.
Tickets are $75 at www.calwine.ca. The evening event is in support of Second Harvest and there will also be a silent auction.
US retailers, restaurants and wineries all saw sales increases of more than $1 billion in 2015, swelling the market for US wine to more than $38 billion, trending toward higher prices and thriving sparkling wine sales.
---
Le Doggy Bag: It's The Law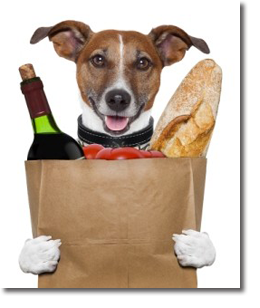 It's a tidy new era of dining in France: the age of the doggy bag. Restaurants are now required to hand them out on request.
The policy affects restaurants serving 180-plus meals a day, so sidewalk cafes are exempt from wrapping up customers' steak frites in foil swans.
Doggy bags may be de rigueur in North America, but French diners are less used to toting leftovers home: 70% have never taken done it.
A government report found most diners don't dare to ask for the leftovers, while some restaurateurs see it as a "degradation" of their dishes.
The hotel and restaurant industry is trying to popularize the term "le gourmet bag," rather than "le doggy bag."
The law is part of France's effort to slash food waste; it's now illegal for grocery stores to toss edible food, requiring them to donate it to charity or turn it into compost or animal feed.
---
Developers Nab Vinopolis
Vinopolis is gone, sold to developers.
Since 1999, it has offered London visitors virtual tours of the world's great wine regions, along with tasting tutorials and a guide to wine styles and whiskies in its restaurant and bars. On the south bank of the Thames near London Bridge under the arches of a Victorian railway viaduct, it offered some great wine and spirits experiences.
My own favorite was a virtual tour of Tuscan vineyards while you were sitting astride a Vespa viewing the terrain unrolling through the windshield as you'd see it from a real scooter.
---
Huge Theft Of Burgundy
Hundreds of bottles of the world's most expensive wine disappeared at the port of Le Havre in northern France just before being shipped to Canada.
The wines were Echezeaux and Domaine de la Romanée-Conti (DRC) 2012, according to Aubert de Villaine, co-owner of the renowned Burgundy domaine.
DRC sells for £8,000 to £9,000 per bottle. Echezeaux is £500 and they have both become targets for wine counterfeiters and thieves.
Dozens of cases were destined for the Liquor Control Board of Ontario. Thirty-one cases disappeared.
French police uncovered a lead when a collector became suspicious after seeing two magnums of DRC for sale for €48,000 online.
Posing as buyers, they arrested two people in the Paris region.
"The investigation is ongoing and I hope the police can find these bottles because we cannot replace them," said Aubert de Villaine.
Wine fraudster Rudy Kurniawan, who is serving a 10-year prison sentence in the US, was known as Dr Conti for producing copycats of DRC wines.
---
What's Sideways In French?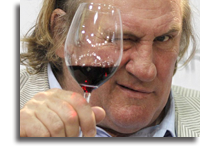 Gérard Depardieu stars in Saint Amour, hailed as France's answer to the California movie Sideways and being released this spring.
The craggy French actor, who once said he could "absorb" 14 bottles of wine in a day, plays the lead.
The plot centres on two men who quit the daily grind to tour wine regions – only this time the venue is France, not California.
Depardieu plays Jean, father of Bruno and hopeful his son will take over the family cattle farm. But Bruno is much more interested in wine.
Cue an impromptu bonding trip in a taxi through French vineyards.
Depardieu owns a vineyard in the Loire Valley and has joint wine ventures in Bordeaux and in the Languedoc.
---
Iran Censors The Word Wine
Iran has issued censorship regulations that will see the word 'wine' and the names of foreign animals banished from publications.
Ministry of Culture staff read all books before publication to make sure the content is appropriate.
Consumption of alcohol is banned in this Islamic republic. But, there have been reports of wine, beer and spirits being smuggled in amid concern about underground drinking.
The Ministry's stance on references to wine is in contrast to the days before the Islamic Revolution of 1979, when there were 300 wineries in the country.
Winemaking in Iran dates back thousands of years. A common belief is that Shiraz originated in Iran (formerly Persia), but Syrah – as the grape is also known – is thought to be the descendant of native French grapes.
---
Hard Evidence For Red Wine
Men who consume a diet rich in flavonoids – found in fruit and red wine – are less likely to experience erectile dysfunction.
The research by the University of East Anglia and Harvard, found a flavonoid-rich diet is as beneficial to ED as briskly walking for five hours a week.
The "best" flavonoids are anthocyanins (in blueberries, cherries, blackberries, radishes, blackcurrants and red wine), flavanones and flavones (in citrus fruits).
Prof Aedin Cassidy, of UEA, says: "Men who regularly consume foods high in these flavonoids are 10% less likely to suffer ED."
---
Tour De Force Wine Tours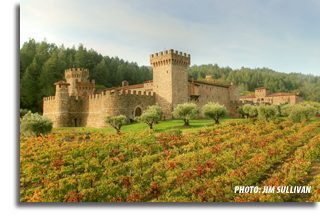 Winery tours are going – very – upscale.
Napa Valley's Castello di Amorosa, a 107-room replica of a 13th-Century Tuscan castle with fermentation rooms, a great hall, and barrel cellar has started the ball rolling. The 136,000-square-foot, eight-level castle, with its five defensive towers, chapel and torture chamber, was opened by Dario Sattui in 2007.
Its VIP packages go from $1,000 to $20,000, which include a barrelhead branded with your name, a leather-bound album of photos of you on the day-long tour taken by a pro photographer, 288 bottles of Cabernet Sauvignon from your own barrel of wine, with personalized labels, and a box of 15 Montecristo Platinum cigars.
Champagne house Duval-Leroy has introduced a tour in which you also create your own blend, delivered, naturally, in engraved bottles. Minimum order 1,000 for 40,000 euros ($43,000).
---
Recreating A Leonardo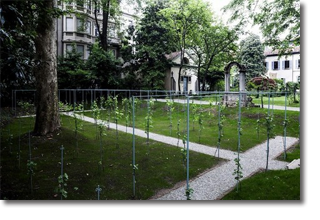 A vineyard once owned by Leonardo da Vinci has been recreated down to the last detail by Italian experts nearly 500 years after his death.
After genetic testing, they hope to produce the same crisp white wine the Renaissance genius once enjoyed from his own estate.
Leonardo is best known for his paintings, sculptures and inventions, but the famous Tuscan was also a keen lover of the grape.
He was given the vineyard in 1499 in exchange for painting The Last Supper for Lodovico Sforza, Duke of Milan.
Leonardo, who died in 1519, bequeathed the vineyard to two servants and it existed until it was destroyed by Allied bombing in 1943.
The plot forms a walled garden inside a grand palazzo called Casa degli Atellani in central Milan where researchers found vine roots that had survived.
They identified the vine Leonardo had planted – Malvasia di Candia, still grown south of Milan and replanted it to recreate Leonardo's original vineyard.
Leonardo was born near the Tuscan town of Vinci, the illegitimate son of a lawyer, in 1452.
Take me back to the top of this page, please!