(Hint: click on labels and photos below for even more information!)
Sparkling Idea For A House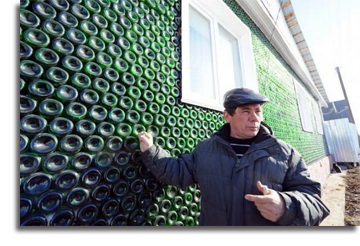 Russian Eldar Ilchibayev has built a house out of Champagne bottles – 12,000 of them.
Eldar and his Dad spent two years foraging at recycling centres, and neighbors donated their empties.
The frame is timber, and concrete between the bottles keeps them in place. It had been his brother's idea and when he died Eldar built the house in his memory. It's now a tourist attraction.
If Ilchibayev had drunk all the bubbly needed for the house, it would have been 32 bottles a day for a year.
---
More Thirst Less Wine
World wine production is set to plummet to a 20-year low, thanks to lousy weather in France, Argentina and South Africa.
According to the International Organisation of Vine and Wine, 259.5 million hectolitres of wine will be the world total in 2016, 5% down.
Italy still leads with 48.8m hl (down 2%), while France's total will fall 12% to 42.2m hl. Probably no coincidence that there's been a sharp rise in grape thefts during the Burgundy 2016 harvest despite extra surveillance around the vineyards.
In stark contrast to less fortunate regions, 2016 was the biggest Bordeaux harvest in over a decade. The 577.2 million litres – the equivalent of 770 million bottles – was the largest since 2006.
Spain ranks third (37.8m hl, up 1%), while Germany and Portugal fall 4% and 20% to 8.4m hl and 5.6m hl respectively.
While US production rose again (+2% to 22.5m hl), there were sharp declines in South America: Argentina 35% less (8.8m hl), and Chile down 21% to 10.1m hl. South Africa is also down, 19% to 9m hl, but Australia (+5% to 12.5m hl) and New Zealand (+34% to a near record 3.1m hl) made more wine this year.
The global fall comes as wine consumption increases.
---
Peat Scotched As A Flavoring
Scotland has seen 100 distilleries close over the last century, and that's a lot of delicious Scotch gone forever.
However, Lost Distillery has stepped in with recreations of Scotch made by long-gone distilleries. Its fulltime whisky historian "goes into the history books and identifies the 10 key elements that went into those whiskies," says founder Brian Woods.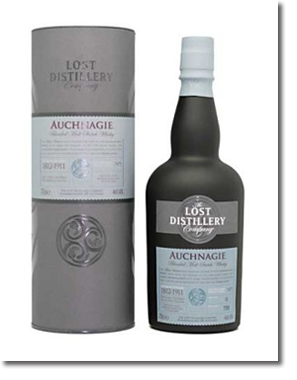 "The most prominent were the water, and the size/shape of the still, and whether there was peat used. We can get very specific. For example, from Auchnagie, we knew the peat came from decomposed heather, so we know there was a floral note."
However, the company doesn't build a still and buy floral-scented peat. Instead, it reassembles the taste profile using whiskies from warehouses owned by other companies.
"We buy from 40 distilleries," Woods says. "150 years ago, a lot of whisky would have been released straight from the still," Woods says. His reincarnations are "meant to taste like what the distillery might be making today."
Among his new releases, Lossit (closed 1867, based in Ballygrant, Islay) is described as austere, with strong iodine notes, some saltiness, moderate peatiness and alcohol.
"The reason whisky was peated 150 years ago is it's the fuel they had available (for malting the grain)," Woods says. "We put the peat in our Lossit because peat was used as a fuel, not as a flavor component as it is today."
Who knew?
---
California Wine Exports Golden
US. wine exports — mostly from California — broke records last year despite a strong dollar, subsidies and barriers abroad and drought labor shortages at home.
The $1.62 billion in revenue beat 2015 by a slim margin through strong sales in the European Union, and sharp increases in China and Britain.
About 90% of the 49.5 million cases sold came from California.
"Lodi wines are a huge part of it," says David Phillips, co-owner of Michael David Winery.
Big brands like Gallo, Delicato and Constellation use Lodi grapes in many of their wines, he says.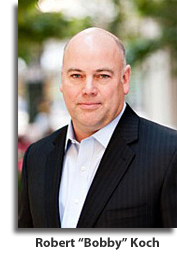 It was price, more than volume, that drove revenue, continuing a trend of "premiumization" of Golden State labels, says Robert Koch, Wine Institute president.
"California wines are well positioned for this trend – our vintners are offering quality, value, diverse styles and environmental stewardship in their winemaking," Koch adds.
The (still!) 28 countries of the EU – Britain and Germany especially – accounted for $685 million in revenue. But Canada is the top single nation buying U.S. wine, shelling out $431 million, mostly table wines. We're followed by China and Hong Kong, with $181 million; Japan, $87 million; Mexico, $24 million; South Korea, $23 million; Switzerland, $19 million; and Singapore, $14 million.
Overall, California wine exports grew 78% as the state and its tourism promoters have cemented the Golden State as a chic label unto itself, particularly among the emerging middle class in China.
Some of that growth may also be due to the emergence of wine regions throughout California, including in the Central Coast and Sierra Foothills.
"This is not just a Napa and Sonoma story – that's obviously a huge part of the story – but we make and grow wine in 48 of 58 counties of the state," Koch says.
The U.S. has lodged a complaint with the World Trade Organization over British Columbia limiting wine sales in grocery stores to locally produced labels.
"We anticipate continued growth and hope provincial governments will extend equal access to retail distribution channels," says Rick Slomka, Wine Institute trade director for Canada.
---
Word From The Wise
Big-box retailer Costco, with 500 warehouse stores in North America and 49 million members, sells $4 billion of alcohol a year.
Enough to tell us that that wine priced above $10 is selling well, rosé wines are on the upswing, and Prosecco sales are "astounding." They should know!
---

Asda Launches ProGrigio
Retailing for £5 a bottle, the supermarket claims the wine 'tastes just like Prosecco but at a lower price point'.
The sparkler is made, as you'd guess, from a blend of Glera – the Prosecco grape – and Pinot Grigio.
Critics say they "can't think of anything worse or more pointless. It will be a success (though) if only for the low price despite being a bland, innocuous concoction."
This follows a warning that a combination of Brexit, inflation and alcohol duties will mean British price increases for Prosecco and Champagne.
---
Business Trumps Donald's Politics
Trump Vineyard Estates, The Donald's winery in Virginia, run by son Eric, has applied for visas for 23 foreign workers to help out.
They'll be paid $11.27 per hour, according to the US Department of Labor.
Restoring jobs for American workers was a key to Trump's election campaign. The new president has criticized levels of immigration in the US, notably from Mexico.
"It's the largest winery on the East Coast," Trump boasts. "We make as good a wine as you can get anywhere in the world."
A campaign called Stop Trump Wine wants Virginians to boycott grocers and stores selling products connected to the president.
---

In A Days About Wine?
You may or may not have missed Drink Wine Day, Feb 18 (as if!), but hope is not lost!
Here's what's up next:
April 17:

Malbec World Day, the day Argentinian president Domingo Faustino Sarmiento vowed to turn around his country's wine industry.

April 24:

Sauvignon Blanc Day: share on social media at #SauvBlanc.

May 9:

World Moscato Day: Gallo created it and Moscato now accounts for 7% of US wine sales.

May 25:

National Wine Day: This one's pretty straightforward.

May 26:

National Chardonnay Day: A floating holiday to kick off Memorial Day Weekend early.

May 29:

International Coq au Vin Day: You do need wine to make coq au vin!

June 11:

National Rosé Wine Day: More popular every day.

July 25:

National Wine and Cheese Day: Combine your faves!

Aug. 4:

National White Wine Day: Celebrate all things white wine.

Aug. 18:

National Pinot Noir Day: Any day's good to celebrate Pinot Noir!

Aug. 28:

Red Wine Day: See Aug 4!

Aug. 31:

Inter-national Cabernet Day: Celebrated Thursday before Labor Day. Why not!

Sep. 15:

Inter-national Grenache Day: Grenache celebration is any day.Nov. 7: Inter-national Merlot Day: Good enough for Chateau Petrus? Good enough for me!

Nov. 4:

National Wine Tasting Day: Perfect to try a new winery or wine bar.

Nov. 9:

International Tempranillo Day: We've been celebrating Tempranillo daily for years.

Nov. 11:

Wine Tourism Day: When wineries, restaurants, hotels take a bow.

Nov. 15:

National Zinfandel Day: Founded by ZAP (Zinfandel Advocates & Producers) to promote "America's heritage grape."

Dec. 20:

Sangria Day: Spanish wine punch tastes good in December, too.

Dec. 31:

Champagne Day: No coincidence it's New Year's Eve and we all love our bubbly.
---
Who Says?
Thanks again to our friends at Ceja Vineyards, the family-owned winery in Carneros, for more great wine quotes:
"Hardly did it appear than from my mouth it passed into my heart."
— Abbe de Chaulieu, 1715, upon first tasting Champagne
"She gets to keep the chalet and the Rolls, I want the Montrachet."
— Anonymous
"In victory, you deserve champagne; in defeat, you need it."
— Napoleon
"On drinking the wines of Bordeaux: "The French drink them young, so a Socialist government won't take them. The English drink them old, so they can show their friends cobwebs and dusty bottles. The Americans drink them exactly when they are ready, because they don't know any better."
— Anonymous
"For in the hand of the Lord there is a cup, and the wine is red."
— Psalms 75:8
"Making good wine is a skill; making fine wine is an art."
— Robert Mondavi
"I am certain that the good Lord never intended grapes to be made into grape jelly."
— Fiorello La Guardia
"Wino Forever"
— Johnny Depp (The tattoo once read Winona Forever!)
Take me back to the top of this page, please!