Value for money is what counts. You won't find any wines here that aren't worth buying. Feel free to scroll through this list and see everything we've been sampling but, if you're in a hurry (or very thirsty), you can just click on any of the following words to be whisked electronically to the category of your choice:
Everything Wine Express recommends is in the Liquor Control Board of Ontario's regular stores, unless marked (v) for Vintages stores, or (c) on Consignment, by the case through an importer.
Call the LCBO's Infoline 416/365-5900 for the store nearest you that has the wine. If your local store doesn't have it, the manager will order in the wine at no extra cost and notify you.
Oh, and by the way, if you need a refresher on our rating system (the ratings are in red), just flip back to the main Wine Picks main page for a quick refresher -- in helping you choose a refresher quickly!
Dry Whites:
Angels Gate Old Vines Chardonnay '03 89
VQA Niagara Peninsula
957399 (v) $23.95
The best of the flight of Angels releases this month: a lively, fresh Chard with good acidity and length, decent fruit and a creamy, complex palate featuring Granny Smith, coconut, butter and citrus. Seafood matchable and can hold 2-4 years. From one of the prettiest new Ontario boutique wineries. Angels' Riesling Süssreserve '03 ($12.95), with its back blend of unfermented juice, is sweet, fat, chewy and pleasant in an apple-peach style (87). There's also a Cab-Merlot and a Cab Franc.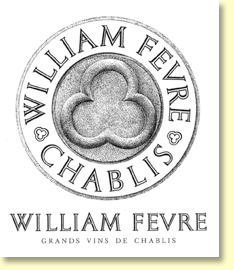 Chablis Vaillons 2003 91
William Fèvre, Premier Cru Chablis
$49 Private Order, 416/767-5114
The ultimate unoaked Chardonnay, steely, floral and sharp as a razor on the nose, with a generous, mouth-cleansing flavor core of white grapefruit, Key limes, and wet stones. Very well priced for the quality. The perfect oyster, seafood wine and a superb aperitif. Good enough to make the "Anything But Chardonnay" crowd converts to Chablis.
Terra Barossa Chardonnay '04 88
Eden Valley, S. Australia
651349 (v) $15.95
From the sixth generation of the Thorn-Clarke family, a fresh, crisp quite elegant Chard with subtle oak, vivid acidity and a fair quota of citrus family flavors: grapefruit, cut limes and lemon. Food friendly and not over-oaked. Now to 2008.
Corton Charlemagne 2003 94
Domaine Bouchard Père et Fils
Grand Cru Burgundy
$147 Private Order, 416/767-5114
A white Burgundy with good bones: already revealing seductive floral-citrus and toasty oak aromas with a kiss of vanilla on the nose, backed by a voluptuous flavor profile of red grapefruit, ripe cantaloupe and a medley of tropical fruits, braced by a fine and elegant mineral acidity. An impressively rich Chardonnay built to last 10-15 years.
Clos Pavillon Philippe Delesvaux '98 94
Côteaux du Layon, Loire
657890 Classics Catalogue $33.00 500mL
Honeyed sweetness that comes from botrytis-affected grapes, shriveled, ugly and dehydrated by a harmless fungus – delivering beeswax, honey, roasted nut and wood smoke characteristics. Wonderful! A wine of meditation, but not for the very long haul. Now to 2008.
Dry Reds:
Malivoire Gamay '03 89
VQA Niagara Peninsula
591313 (v) $15.95
An elegant, fruit-driven Beaujolais-style red grown in Ontario: fresh-sliced raspberries, black pepper, black cherry aromas mingle with earth, beetroot, mild tannins and spicy currant flavors. Chillable and delicious for summer. Light, ready to enjoy now to 2007.

Vereto Salice Salentino DOC '01 86
Vallone, Italy
471730 LCBO $10.15
A little gem from Vallone, a good producer in the Brindisi area: Tons of black cherry flavors, smoke and spicy tannins, smooth, pleasant and mouth-filling. A terrific everyday standby for sipping, slurping with a pizza, tomato-based pasta or a juicy burger. From Italy's own Negroamaro grapes (estate-grown here on the Salentine Peninsula) with a touch of Malvasia Nera. Versatile food wine.
Castillo de Almansa Reserva 86
Bodegas Piqueras, La Mancha, Spain
649764 LCBO $18.95 1.5L
Very good value! Plums, blackberry-raspberry, cherry-berry, cedar, pudding spices, vanilla and supple tannins, quite concentrated and elegant for under ten bucks a bottle! From Tempranillo, Monastrell and Garnacha grapes and the wine is aged 12 months in American oak casks, so it's ready to enjoy now and totally food friendly. A cut above is the new Vintages release Castillo de Almansa Selección '00, $19.95, smooth, more elegant and sophisticated (87).
Wolf Blass Shiraz Grenache 86
SE Australia
494336 LCBO $13.95
Meaty flavors, with a sniff of roast beef, spice and cassis, cherry-raspberry fruitiness, light tannins, soft and silky on the palate with a pleasant, long aftertaste.
Beaune Grèves Vigne de l'Enfant Jésus 2003 90
Bouchard Père et Fils, Burgundy
$120 Private Order, 416/767-5114
A Premier Cru not quite ready to "slip down your throat like baby Jesus in velvet pants" as Burgundians say – but only because this wine's still really an infant, a very attractive Pinot Noir guaranteed to improve with a little cellar time. A wine to enjoy over the next 5-7 years, with its elegant, intensely concentrated spicy raspberry-cherry aromas, plush tannins, integrated oak, earth and mineral grace notes, and a core of moderate acidity.
There's also a great-value berry-fresh Macon Superiéur '04 and a licorice-redcurrant La Vignée Pinot Noir '02, from Bouchard Père on the LCBO General List at $11.95 and $17.60, respectively, to appease your inner Pinotmania.
Merry Edwards, 2002 Pinot Noir 92
Meredith Estate, Sonoma Coast
Forward aromas of freshly crushed wild strawberry, a mushroom earthiness and dried herbs. Lots of extract in this quintessential Sonoma Coast Pinot, which exhibits strawberry-cassis fruit and a velvety texture. Luscious and complex, it will benefit from a couple of years of cellaring. 650 cases/$48.
Copa Santa Terroir de la Méjanelle '02 93
Domaine Clavel, Côteaux du Languedoc
702886 Classics Catalogue $32.00
Quite an aggressive meaty, animal note on the nose, quickly followed by a blitz of black fruit, garrigue, herbal, floral notes and an explosion of licorice, mocha, pepper and toffee. Quite the keeper and needs cellar time to get to know itself. Worth the wait!
Domaine Bassac Merlot '03 91
VDP des Cotes de Thongue, Delhon Frères
730978 (v) $14.95
Top value in the release: very low sulphur from organic viticulture and a superbly typical Merlot with a Midi accent, garrigue, wild flowers, black plums, blueberry and old saddle leather. Fine lively acidity, good length to coat the tongue!
Château Cesseras '01 90
Minervois La Livinière, France
590570 (v) $18.95
Another Midi winner with a superb bouquet: complex, floral, wild herbs, blueberries and white pepper, beautiful structure and length on the palate. A wine to keep or enjoy over the next 5-6 years. Food versatile.
Brunello di Montalcino '99 Camigliano 94
Tuscany, Italy
941757 Classics Catalogue $59.00
This one's a keeper, too. A wonderful, traditional Brunello, with an intriguing aromatic note, as though you'd just chewed the year's first blade of green grass, attended by a symphony of fresh herbs with a core of sage, tiny ripe red berries, toasty oak and silky smooth tannins. A collectible.
Esporão Private Selection '01 90
Herdade do Esporão, Alentejo
599357 Classics Catalogue $54.00
A blast of ripe, luscious black fruit, lashings of vanilla, complex and integrated new oak and silky tannins sweeps you along. From Alentejo, 180 km southeast of Lisbon and one of the finest wine properties in all of Portugal, famous also for its great olive and cheeses. Cellar up to 10 years.
D'Arenberg Footbolt Shiraz '02 89
McLaren Vale, S. Australia
984021 (v) $19.95
Very good value Shiraz, with tons of concentration and pure fruit flavors: smoky plums, ripe red berries, red peppers, tar and sweet tannins.. A thoroughbred wine, named for a well-loved and speedy racehorse once owned by the family. A winner.
Wattle Creek Shiraz '99 92
Alexander Valley, California
655977 (v) $32.95
Big, sexy, lush dry red with a flavor explosion of dark chocolate, vanilla, mocha, black fruit, cherries, spice cupboard and minerals. Very concentrated and well structured with a future in the cellar for 5 years or on the table now.
Mulderbosch Faithful Hound '02 90
Stellenbosch, S. Africa
922443 (v) $20.95
Good nose on this Bordeaux-blend. Good pedigree: Merlot, the two Cabs, Malbec, Petit Verdot, the whole pack's there and the result is an elegant, smooth and pleasant food friendly dry red with some staying power. Nothing to sniff at!
In the Pink
Henry of Pelham Dry Rosé '04 90
VQA Niagara Peninsula
395837 (v) $11.95
Must be a sign of spring! Plush rose-scented vanilla bean and sweetly ripe red currants on the nose with a cherry cola-cranberry explosion on the palate, finishing dry and delicious. Just the thing to sip this summer, here or on the Côte d'Azur, instead of a Tavel rosé or a pastis! Nice assemblage from the dark-skinned Zweigelt, Gamay and Pinot Noir varieties (57/25/18), with only 48 hours of skin contact for subtle color and fruit extraction. The residual sugar is (0), very food friendly, and a humane 11.5% alc. Enjoy now with fresh fruit salads, red-sauced pastas or as apéritif.
Château d'Aqueria Tavel Rosé '04 89
Tavel, Provence, France
319368 (v) $18.95
One of Tavel's best, with red fruit-floral personality to burn, freshness and that light flavor combo that refreshes and complements casual summer fare.
Mas de Bressades Cuvée Tradition Rosé '04 88
Costières de Nîmes, France
950576 (v) $12.95
Good structure, mild tannins, good acidity, very food-friendly, very much a light-colored red than a pink-hued white wine. Dry and refreshing.
Château Saint-Thibeaud Clairet '04 86
Bordeaux, France
589366 LCBO $10.05
A deliciously simple and agreeable dry pink wine to chill with and chill out. Red Delicious apple kinds of flavors, almost elegant and a whiff of vanilla bean, fleeting on the palate, but fun. Aperitif, white meats, poultry, warm salads. Clairet (light red, in French) is the original name for Bordeaux (claret).
Bosco Cerasuolo '04 86
Montepulciano d'Abruzzo
386409 LCBO $7.05
Light, fresh and citrusy, with a hint of lime zest, grapefruit and red berries. Refreshing and terrific value. A good pink wine to go with a tense game of bocce! The Full Monte!
Pretty Bubbles:
Yarden Blanc de Blanc 88
NV, Israel
611236 LCBO $29.95
Nice leesy, toasty sparkler with some pep and clean, fresh flavor, mostly apple-mocha and fresh bread crust, and it's kosher, too. From Chardonnay grown in the northern Golan.
Mount Eye Neptune Sparkling Semillon '02 87
Hunter Valley, New South Wales
592972 (v) $18.95
A fruit cocktail of ripe gooseberry, green grapes, red plums, melon and hay, plus some of the requisite ready/yeasty character and a zippy freshness. Good value everyday bubbly for early consumption.
High Spirits:
Calvados Pays d'Auge XO 94
Boulard, France
960773 (v) $64.95 500mL
Superb, essence of perfect apple cider transmuted into an elixir of the stature of single malt, smoky, intense, fiery and unforgettable. A snifter of superb pleasure as an alternative to that XO Cognac.
Framboise Sauvage 94
Alsace, GE Massenez
740290 (v) $29.95
Superb eau de vie that captures the finest, most delicate raspberry aromas and flavors. Quite a remarkable value and a 'stealth' addition to your liquor cabinet. Could be a secret ingredient in your personal version of Kir!
Cossart Gordon Madeira Sercial 5 Years Old 90
Madeira Wine Company, Madeira
722975 (v0 $21.95
The lightest, driest and most elegant Madeira, from the oldest producer in the world. Fresh, delicate tantalizing and the perfect aperitif, patio sipper, wine of meditation.
Manuel Poças LBV Port '98 90
Douro, Portugal
642058 (v) $22.95
Decantable, since it is unfiltered and can throw and deposit, packed with flavors of menthol, figs, dates, cherry cola, cran-apple, and mocha. Bottled in 2001 (late bottled vintage) and ready to enjoy whenever you're ready.
Winning Blends
Senior winemaker Bernie Hickin credits the judicious blending of wines from warm/cool regions of South Australia for Jacob's Creek's consistency and quality. Here are the Jacob's Creek wines currently available:
Chardonnay-Pinot Noir Sparkling 87
562991 LCBO $13.45
Aromas of fresh grapefruit and cashew lead into subtle flavors of green melon, white pepper and citrus peel with a hint of red currant. Not overly complex, but satisfying as a summer sipper. Well priced for a bottle-fermented bubbly with some creaminess and depth of flavor. Veal, chicken, pork loin.
Shiraz Rosé 2004 86
655183 (v) $12.45
New at Vintages and the result of an oversupply of red wine grapes and a growing demand for pink wines in Australia, lovely coral-pink hue, quite elegant and styled with merely a hint of sweetness, intriguing flavors of black cherry, raspberry and cloves, with a hint of citrus. Soft, supple, very food friendly: roast pork, spicy sausage, duck, lamb.
Chardonnay 86
286898 LCBO $10.45
Generous and buttery textured, with bright flavors of ripe white peach, nectarine, cantaloup, vanilla, citrus peel and stone fruits. Value-priced, easy to enjoy! Salmon, shrimp, crab. Make a note to look out for the Reserve Chardonnay that's in the pipeline!
Shiraz Cabernet 89
106377 LCBO $11.95
Soft, round, ready to enjoy tonight! Packed with spicy plum and berry fruit flavors, with elegant, mellow tannins and subtle oakiness from the cost-saving "planks in tanks" method – using wooden staves inside the stainless steel containers of wine. Venison, beef, grilled swordfish.
Shiraz 2002 88
548644 LCBO $11.95
Mint, plums, black cherries, fresh-ground black pepper and deep licorice notes pour out of this inexpensive quaffer, a worthy partner for a barbie, lamb or beef roast or a stew. Watch out for the terrific Reserve Shiraz that's also in the pipeline. Blackened fish, aged cheddar, grilled peppers.