(Hint: click on labels and photos for even more information!)


Value for money is what counts. You won't find any wines here that aren't worth buying. Feel free to scroll through this list and see everything we've been sampling but, if you're in a hurry (or very thirsty), you can just click on any of the following words to be whisked electronically to the category of your choice:
Everything WINE EXPRESS recommends is in the regular LCBO stores, unless marked (v) for Vintages stores, Boutiques, and Corners, or (c) Consignment, available by the case through the importing agent.
Call the LCBO's Infoline 416-365-5900 or go to www.lcbo.com for the store near you that has the wine. If your store doesn't have it, the manager will order in the wine at no cost and notify you.
Oh, and by the way, if you need a refresher on our rating system (the ratings are in red), just flip back to the main Wine Picks main page for a quick refresher – in helping you choose a refresher quickly!


Dry Whites:

Charles Baker Picone Vineyards Riesling '08 93
VQA Vinemount Ridge, Niagara Peninsula
126433 (v) $35.20
Just bought a case myself. It's got all those legendary petrol, diesel, apple skin and lemon zest things you get with great (Mosel) Riesling. Lip-smackingly good, and there's not much of it, folks. Here's a virtual winery small-lot production vinified by ace winemaker JL Groux at Stratus for Charles Baker, Canadian entrepreneur and Riesling lover extraordinaire.
Cave de Hoen Pinot Gris '09 88
AC Alsace, France
196790 (v) $16.95
One of the signature wines of Alsace, Pinot Gris with its typical pinkish hue, in this case is creamy full-bodied and lush, with a, silky texture and exotic spiciness. Slightly off-dry, with a beeswax-melon flavor profile, it's born to be savored with shrimp risotto and charcuterie.
Cono Sur Sauvignon Blanc '10 87
San Antonio Valley, Chile
213587 (v) $12.95
From organically grown grapes, this nicely balanced wine shows an aromatic range of white grapefruit, fresh-cut grass and asparagus poised elegantly against a steely citrus acidity on the palate. Buy this by the case for summer occasions.
Meinhardt Hube Steinbach Sauvignon Blanc '09 90
Maria and Gerhard Wohlmuth, South Styria, Austria
211094 (v) $19.95
And that's already a mouthful! Floral, fruity, ripe and tropical in style. A splash of Muscat and Silvaner gives a light spiciness with vegetal-citrus notes on the nose, delicate hint of apple, light herbaceous and mineral notes.

Paul Dolan Sauvignon Blanc '09 90
Mendocino County, California
46334 (v) $19.95 Organic
Very low in sulphur and high in flavor: mainly kiwi fruit, citrus peel, cut grass and ripe gooseberry. The style is laid back and easy-drinking but there's enough fresh acidity to pair with fish or barbecued white meats.
Domaine de la Commanderie'09 90
AC Quincy, Loire, France
205450 (v) $17.95
Lemon grass, flint and gooseberries greet the nose – and that's nice! Then comes the typical power of the Quincy cut-grass and mineral attack on the palate. Bracing and elegant to partner garlic chicken or onion tart.
La Croix Canat '09 90
Domaine Tinel-Blondelet, Sancerre, France
196709 (v) $21.95
Racy, elegant and crisp, thanks to the stony, flinty limestone soils, this mineral-driven yet fruity dry white is perfect with goat's cheese and any crustaceans, as well as being the perfect aperitif.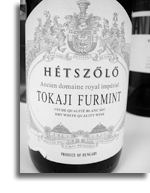 Béres Premium Selection Löcse Tokaji Furmint '07 91
Hungary
200154 (v) $18.95
Don't be fooled by the name Tokaji, this is dry. A big wine, 14.5% with an interesting raisin, apricot, earth and mineral character and nuances of honeycomb and apricots, crisp and tasty with a touch of oak. Long finish and will last into 2015. Try it with Chinese food.
Tapada dos Monges Loureiro '09 88
DOC Vinho Verde, Portugal
218297 (v) $14.95
Lively, well-priced everyday companion, dry, floral, crisp and apple-citrus fruity – backed with scents of hay, straw and warm earth. Not one to furrow your brow over, simply there to enjoy, feeling smug over the value for money.
Naia Verdejo '09 88
DO Rueda, Spain
211045 (v) $18.95
Rueda in northern Spain is famous for its lovely light fragrant dry whites, mostly from the Verdejo grape variety (aka Verdelho in Portugal) cool-fermented without oak aging. This wine is 12% French oak-aged and is more interesting for that: floral with spicy apricot, grapefruit and melon mingling and finishing with good concentration and finesse. Shrimps and goat cheese beckon!
Flat Rock Cellars Reserve Chardonnay '07 91
VQA Twenty Mile Bench, Niagara Peninsula
198812 (v) $35.20 Sold out!
Oh these Ontario wines are expensive – until you look at their peers from the Cote de Beaune! Lovely, creamy and fully of apple-mineral, peach, butter and toasted almond notes. Quite remarkable and indicative of the very high level of today's Ontario Chardonnays.
Malivoire Mottiar Chardonnay '09 90
VQA Beamsville Bench, Niagara Peninsula
146985 (v) $29.95
There's that great Ontario cool-climate minerality underpinning Chards like this: bright fresh food-friendly flavors of apple, peach, pear, coconut and toasty oak with the lovely citrus acidity of Ontario wines.
Rodney Strong Chalk Hill Chardonnay '08 87
Sonoma County, California
275552 (v) $22.95
Hot brioche and fresh-baked bread in a glass! With careful aging in new oak, the winemaker has captured the lush melon, spicy peach and herbal core in a nicely integrated crowd-pleasing summer wine. The '09 Chardonnay just released here by Stags' Leap in Napa, by contrast, is a little too oaky at $34.95 unless you serve it with food from the grill.

Dry Red Wines:
Norman Hardie County Pinot Noir '09 92
VQA Prince Edward County, Ontario
125310 (v) $35.20
Light-bodied and very Burgundian in the Norman Hardie tradition: elegant cassis-raspberry fruitiness, supple tannins, some earthy beetroot, nice concentration and just a hint of oak. Unfiltered, very food friendly and drinkable now to 2016, especially with salmon, white meats and soft cheeses.

Tawse Growers' Blend Pinot Noir '09 91
VQA Niagara Peninsula, Ontario
130989 (v) $31.95
Fatter and more juicy than the Hardie, with luscious ripe berry notes, beets, sandalwood and earth. Nice structure and balance with firm, dry tannins and subtle acidity. Drink now to 2012 with croque-monsieur, gougères and goat cheese salads.
Sileni The Plateau Pinot Noir '09 90
Hawkes Bay, N Island, New Zealand
132142 (v) $17.95
Well priced for a Kiwi PN, offering elegant black cherry and cassis character, subtle oak and svelte tannins, ready now to enjoy with braised or roast lamb, grilled salmon and roast chicken.
Kenwood Vineyards Pinot Noir '08 90
Russian River Valley, Sonoma County, California
943225 (v) $21.95
Very New World style, lithe, fresh and perfumed with red fruits and dark chocolate, here's a well-rounded charmer with a little baby fat and silky mouth feel with a touch of oak on the finish. Pairs well with the gamut of grilled and braised red meats.
Sebastiani Merlot '06 89
Sonoma County, California
219162 (v) $18.95
Don't look Sideways at this aromatic blast of ripe black fruit! It's a glassful of ripe blackberry, blackcurrant and cranberry at a fair price. Summertime and the quaffing is easy.
Château de la Grave Caractère '06 88
Philippe & Valerie Bassereau, AC Cote de Bourg, Bordeaux
224683 (v) $15.95
Tightly wound still but showing floral, vanilla and red fruit through the youthful tannins. Serve now with rare roasts, BBQ or tomato sauce pasta dishes.
Château de Fontenelles Cuvée Renaissance '07 90
Thierry Tastu, AC Corbières, France
148692 (v) $18.95
From the sun-drenched rugged hills overlooking the blue Mediterranean, here's a complex, fascinating red with a kaleidoscope of flavors: dark chocolate, mocha, savory herbs, kirsch and spice box. Big enough to handle feathered or furry game dishes.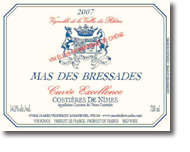 Mas de Bressades Cuvée Excellence '08 93
Cyril Marès, AC Costières de Nîmes, France
Huge, meaty, smoky, savory red with power and depth made with barrel-aged Syrah to buy by the case! Sweetly ripe black currants and black cherry are the core and this is a natural with prime roast, osso buco or anything barbecued.

Gran Feudo Reserva '05 91
Bodegas Julian Chívite, Navarra, Spain
479014 (v) $15.95
From a terrific vintage and evolving beautifully, this silky red is a delicious blend of Tempranillo, Cabernet Sauvignon and Merlot aged 18 months in French and American oak (the winery owns 18,000 wooden barrels!). Elegant, spicy blackberry-blackcurrant aromas with cedar, tobacco and plum echo with smoky notes and stone fruit nuances on the palate. It's a wine created with the confidence and skill that come from 11 generations and almost four centuries of winemaking. Now to 2018. A prestige wine at an affordable price.
Viñas Elías Mora '08 90
Toro, Spain
209650 (v) $18.95
Fruit-forward and complex, with enormous freshness and concentration, showing spicy new oak and vanilla, wild strawberry, rose petal, plum and blackberry, this is a heady Tempranillo (Tinta de Toro), 14% alcohol, from the exciting Toro region that's being hailed as Spain's next superstar.
This rock-strewn 17-acre winery at 2,600 feet was originally Dos Victorias, a two-woman operation headed by Victoria Pariente and Victoria Benavides. The two Victorias have now separated their winemaking facilities with Pariente making excellent white wines in nearby Rueda with Verdejo grapes from her family's vineyards.
The red-wine focused Toro winery has been renamed after Elías Mora, who sold the Victorias his ancient vineyard on condition that he tends the vines until he died.
Cocina Blend '08 87
La Posta del Viñatero, Mendoza, Argentina
199513 (v) $12.95
Here's your summer quaffer, by the case. The "kitchen blend" is Malbec, Bonarda and Syrah grapes married for 12 months in oak and ready to rock! Grapey with gobs of saddle leather, spice, licorice and mocha touching down with a sweet, smooth finish.
Tyrrell's Rufus Stone Shiraz '08 90
Heathcote, Victoria, Australia
91488 (v) $19.95
If this Shiraz were a pub it would be the Barmaid's Arms, warm and enticing with a full-bodied profile of sweetly ripe plums, cherries, blackberry and vanilla with a kiss of oak and white pepper, ready to embrace you. Bring on the lamb, beef and venison.
D'Arenberg The Twenty-Eight Road Mourvèdre '07 91
McLaren Vale, S Australia
More often used in "GSM" blends with Grenache and Syrah, this fine Mourvèdre from old bush vines sings solo here with notes of underbrush, truffles, rhubarb, lavender, summer flowers red currants and violets.
Duetorri Ripasso '08 90
Valpolicella Superiore, DOC Veneto, Italy
Like a Valpolicella on steroids, stylish, smoothly fruity and a mouthful of pleasure. Ripasso, refermenting on the dregs of grapes fermented for Amarone adds a welcome concentration and flavour. The cherry jam and dried fruit flavors are persistent and appealing, with stewed meats, pasta, spicy sausage and pizza.
Valle Reale '07 91
Montepulciano d'Abruzzo, Italy
216408 (v) $17.95
Tons of black fruit, flowers, leather, tobacco and dark chocolate hang in on the palate for a long, lovely aftertaste that you can harmonize nicely alongside pasta with truffles or mushrooms, game, salami, mature cheeses.
Terredora Aglianico '08 90
IGT Campania, Italy
602284 (v) $14.95
Tannic in its youth, Aglianico (from Hellenic, after the ancient Greeks who brought it to Italy), is a wine ages well and marries nicely with rich meat stews and tomato-sauced dishes. There's a ton of black fruit here and the BBQ is calling!
Pio Cesare Barbera d'Alba '08 91
Piemonte, Italy
938886 (v) $22.95
Barbera is second banana to Nebbiolo but Cesare coddles it as much as the famed Barolo grape. The result is good structure, plummy, spicy and ripe blackberry aromas and a hint of toasted tobacco in an ageable wine.
Firriato Rosso '08 88
DOC Etna, Sicily
219592 (v) $16.95
Spicy, fruity, flowery and fun. Grown on Sicily's magnificent volcano, it's an eruption of red and black, minty cherry berry flavors to sip, slurp and savour with or without food, (Italian or otherwise).
Vinosia Primitivo '08 90
IGT Salento, Italy
203950 (v) $14.95
Honest, well-made, delicious, typical of this ancient grape variety and very good value. Fruit forward with spicy cherry, vanilla and dried fruits on the palate. Serve with de luxe Friday night pizza.

Banfi Centine '08 86
IGT Toscana, Italy
947440 (v) $16.95
Lightly oaked cherries, blackcurrants and Earl Grey tea on the nose of this easy-drinking Sangiovese, Cab-Merlot blend. Not a wine to furrow the brow over; serve it by the flagon and put smiles on your party guests' faces.
Spiaggiole Morellino di Scansano '08 90
DOCG Tuscany, Italy
203398 (v) $15.95
Smoke, gun flint, and a juicy explosion of red currants, blackberry and cassis from this Sangiovese (alias Morellino) from the village of Scansano in the Maremma, formerly the marshy coast of southern Tuscany. Fine value.
Cistus Reserva '07 88
Quinta do Vale da Perdiz, DOC Douro, Portugal
145052 (v) $18.95
A fine dry table wine made from the classic grapes used for Port, Intense, sweetly ripe with spicy oak, mocha, a berry patch of fruit and supple tannins. Serve this now with rare beef or cellar for a while.

El Coto Crianza '06 88
DOCa Rioja, Spain
190504 (v) $14.95
A silky-smooth Tempranillo-based charmer with just a kiss of sweet oak and anise to enhance a palate-ful of strawberry-raspberry fruit, vanilla and espresso notes. This is well-priced and very food-friendly, especially with BBQ beef or pork or savory stews. Now to 2016.
Viña Mayor Reserva '04 88
Antonio Barceló, DO Ribera del Duero, Spain
2090155 (v) $25.95
Ageable red from one of Spain's hottest wine regions, with moderate tannins, pleasing aromas of mocha, vanilla and blackcurrant jam, flavors of raspberry, strawberry and sweet grass. Ageable, but why wait? Now with stuffed pork tenderloin.
Cave Saint Desirat '07 89
Saint-Joseph, Rhône, France
219378 (v) $19.95
Syrah-driven, succulent and satisfying: smoky raspberry is the alpha fruit with juicy tannins and lip-smacking acidity. Great value for early enjoyment.
Château Mont-Redon '07 92
Abeille-Fabre, Châteauneuf-du-Pape, France
959627 (v) $39.95
Consistently one of the best, the beautiful estate offers amazing quality from this excellent year: smoky, spicy raspberry and wild strawberry aromas echoing on the palate, a stony mineral backdrop, and tannins smooth as pears. Can only improve with age.

Rosé:
Prieuré de Montézargues Rosé Tavel 89
AC Rhône, France
216390 (v) $19.95
A super-elegant bone dry pink with a fragrance of sweet apple skin and ripe red berries, and crisp, herbal peach jam flavors, made from Grenache, Cinsault and Clairette grown by the folks who make Chateau La Nerthe in Chateauneuf-du-Pape. The beautiful Priory, with its sun-splashed sandy slopes, dates back to 1199.
Planeta Rosé '10 87
IGT Sicilia, Italy
111856 (v) $16.95
A lovely bone-dry food-friendly pink that brings cherry pie and blueberry aromas to the table and smoky herbaceous blackberry and wild strawberry to the palate. Made from 100% Syrah, it's designed for early enjoyment as an aperitif or palate-cleanser.

Sparkling Gems:
Domaine Roger Luquet Blanc de Blancs Brut Crémant de Bourgogne 88
AC Burgundy, France
957894 (v) $19.95
Delicate, subtle, lively creamy-frothy fizz from pure Chardonnay grapes grown in southern Burgundy, dry with subtle bready aromas, a citrus core and a long fresh apple-pear aftertaste. Just don't tell anyone it's not Champagne!

Just Desserts:

De Bortoli Noble One Botrytis Semillon '07 89
New South Wales, 25th Anniversary Vintage
917252 (v) $29.95 375mL
A gentle, easy sipping sweet treasure that's going to surprise you: Chateau Yquem, it's not, but close your eyes – it is! That darned botrytis, mystery mould that raisins and sharpens the grapes like a razor.
The Spice Tree Malt Scotch Whisky 90
Compass Box Whisky Company
200806 LCBO $67.25
Outlawed by the Scotch Whisky Association, Spice Tree is back on the market, and that's a good thing! This "illegal scotch" from a boutique whisky maker is now being finished in barrels with heavily toasted French oak heads for extra flavor instead of inserting new staves into the barrels – a no-no. Primarily Clynelish aged 10-12 years in American oak before this second, two-year maturation, Tree is a very rich sweet rounded malt, full of spice and vanilla notes, to sip in mellow contemplation beside the fire or over the cheese board or as a cocktail base.
Warre's Warrior Reserve Port 89
Douro, Portugal
197202 (v) $17.95
Easy drinking, the world's oldest Port brand, shipped continuously since the 1750s, delivers a delicious flavor range of vanilla, black cherry, bourbon, chocolate, and walnut tannins. Should be a constant companion on your kitchen counter! Serve with rich, nutty or chocolate desserts, as well as strong cheeses.



Take me back to the top of the page, please!