(Hint: click on labels and photos for even more information!)


Value for money is what counts. You won't find any wines here that aren't worth buying. Feel free to scroll through this list and see everything we've been sampling but, if you're in a hurry (or very thirsty), you can just click on any of the following words to be whisked electronically to the category of your choice:
Everything WINE EXPRESS recommends is in the regular LCBO stores, unless marked (v) for Vintages stores, Boutiques, and Corners, or (c) Consignment, available by the case through the importing agent.
Call the LCBO's Infoline 416-365-5900 or go to www.lcbo.com for the store near you that has the wine. If your store doesn't have it, the manager will order in the wine at no cost and notify you.
Oh, and by the way, if you need a refresher on our rating system (the ratings are in red), just flip back to the main Wine Picks main page for a quick refresher – in helping you choose a refresher quickly!


Dry Whites:
Domaine de la Grenaudière 2011 88
AC Muscadet Sèvre & Maine, Loire, Sur Lie
326827 (v) $14.95
From Melon de Bourgogne, alias Muscadet, a white grape with steely acidity, this wine shows racy unoaked green apple and citrus flavors, with mineral overtones and a saltiness that makes it a great
seafood wine.
Henri Bourgeois La Chapelle des Augustins '10 89
AC Sancerre, Loire, France
322628 (v) $29.95
Must be the original "cat pee on a gooseberry bush" Sauvignon! Not from New Zealand, however, but from Bourgeois' own La Chapelle flint/sand vineyard, which produces the mineral character of this ultra-herbaceous wine. There's a top note of tropical pineapple and tree fruit. Powerful stuff!
Eradus Sauvignon Blanc 2011 89
Awatere Valley, Marlborough, S. Island, NZ
225557 (v) $17.00
Grassy with flinty, tomato leaf and green pepper notes and a whiff of ripe papaya, a Savvy for the savvy, you could say. Works well with raw oysters, smoked fish and herb-roasted chicken.
Waimea Sauvignon Blanc 2011 89
Nelson, S. Island, New Zealand
714295 (v) $17.95
Very Loire-ish in its elegance, with herbal aromas, ripe gooseberry and melon-floral notes and a stony, mineral core. Good lime citrus spine.
Lunae Vermentino 2011 87
DOC Colli di Luni, Liguria, Italy
317065 (v) $20.95
Paolo Bosoni (no relative of Higgs Bosoni) creates this 100% Vermentino to deliver aromas of yellow plum, wildflowers and honey. It's dry and fresh, with a hint of green apple and toasted almonds, a match for grilled fish, lobster or prawns, squid and seafood pasta.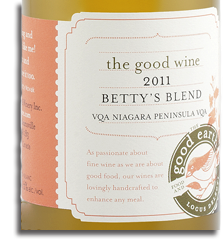 The Good Earth Betty's Blend 2011 87
VQA Niagara Peninsula, Ontario
327791 (v) $17.95
An easy-drinking blend of Chardonnay and 25% each of Sauvignon Blanc and Riesling with peach, citrus, passion fruit and apple notes. The acidity is like lime zest and Betty is versatile with roasted birds and summer salads.
Frei Brothers Reserve Chardonnay 2010 89
Russian River Valley, Northern Sonoma, CA
317891 (v) $23.95
A cool-climate wine with more Granny Smith than you'd expect from California. Big toasty oak up front but lush tropical fruits then lead you into a buttery finish that's sleek and more-ish.
Mount Riley Chardonnay 2011 87
Marlborough, S. Island, New Zealand
32318 (v) $17.95
Buttered sweet corn with a whack of vanilla, peachy citrus and Delicious apple in a light, crisp style that's pleasing without ever being cloying. Well priced and enjoyable as a patio standby.
Durnberg Grüner Veltliner 2011 89
DAC Weinviertel, Alte Reben, Austria
320374 (v) $15.95
Zingy, fresh and ready to enjoy right now, Austria's signature Grüner Veltliner is similar to Riesling, and its high acidity and minerality make it very food-friendly. This wine shows stone fruits and tropical notes with wonderful acidity. You could even match it with toughies like artichokes and asparagus.
Cave de Turckheim Vieilles Vignes Riesling '09 91
AC Alsace, France
315036 (v) $19.95
Stony minerality and lime zest with a hint of waxy lanolin are the hallmarks of Alsace Riesling, along with a grapefruit, green apple acidity and floral aromatics. Serve it with your inner crustaceans.
August Kesseler Riesling Spatlese 2005 89
QmP Rudesheimer Bischofsberg, Rheingau, DE
320101 (v) $19.95
Shoe polish and licorice aromas, in a good way, are prominent on the nose of this deliciously complex Riesling with its grapefruit acidity, hints of honeycomb and petrol.
Loan Wines Unwooded Special Reserve Semillon 2004 92
Barossa Valley, South Australia
301127 (v) $15.95
I'm a big fan of Barossa Semillon, the Bordeaux white grape that's usually blended with Sauvignon Blanc. Here in Oz, it becomes silky, rich and oily with hints of pine, cashew, citrus, cedar and mineral oil. Not sheathed in oak but still hefty and buffed like top athlete.

Clos de Nouys Demi-Sec 2011 87
AC Vouvray, France
322669 (v) $20.95
Luscious medium-sweet Loire white from Chenin Blanc grapes balances honey, apricot and peach with mouth-watering acidity. Enjoy with subtle dishes or after the meal with blue cheeses, fruit crumble or warm apple pie.
Domaine des Aspes Viognier 2011 90
IGP Pays d'Oc, France
712638 (v) $15.95
From a family operation near Beziers in the Deep South of France, here's a nicely crafted aromatic white that smells like a fruit bowl and tastes lightly honeyed with a leaning towards apricots. Asian cuisine beckons.
Gaia Thalassitis Assyrtiko 2011 90
PDO, Santorini, Aegean Islands, Greece
315010 (v) $21.95
Vinifying in steel tanks and new wooden barrels using wild yeasts provides lots of choices for the winemaker to blend the best batches. In this case, it delivers a full-bodied white with lemon and orange blossom aromas and hints of honey. There's a wet stone, mineral aftertaste that's a good match for grilled fish, white meats, lemon chicken, and soft cheeses.

Rosé Wines:
Veuve Clicquot Ponsardin Vintage Rosé 2004 93
AC Champagne, France
588475 (v) $97.95
Subtly smoky-toasty on the nose with nuances of mocha, lime blossom and candied citrus and strawberry on the palate. Finely balanced acidity and great length of flavor. The gorgeous color and gift box make this the perfect present for your sweetie.
Miguel Torres Santa Digna Estelado Sparkling Brut Rosé 2011 89
Maule Valley, Chile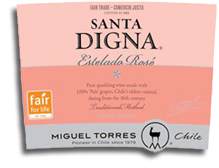 317669 (v) $19.95
Made from the almost forgotten red grape called País, this pink bubbly is making its debut. Lively, spicy with red currant, blood orange, lemon curd and fresh lemon spritziness. Well priced and likeable.
Chateau Val Joanis Tradition Syrah Rosé 2012 87
Chancel Family, AC Luberon, Rhone, France
707281 (v) $14.95
Light, fresh, bone-dry and patio-perfect with fragrances of cherry blossom, black raspberry, white peaches and Mediterranean herbs. Sip before and alongside that barbecued salmon. They're even color-coordinated.
Carpineto Dogajolo Rosato 2012 87
IGT Toscana, Italy
699934 (v) $13.95
Showing aromas of raspberry and blackberry with hints of roses and myrtle. On the palate, ripe apples, currants, cherries and peaches. Deliciously affordable and punching well above its weight.

Dry Red Wines:
Wildass Red 2011 88
VQA Niagara-on-the Lake, Ontario
86363 (v) $19.95
The wildness is in the blend – of Cabernets, Merlot and the rare Tannat – by red wine genius JL Groulx. It's a fleshy, berry-driven medium-weight red with a chewy herbal, smoky feel and a clean, refreshing finish. BBQ fare or pizza/pasta.

EOS Estate Petite Sirah 2009 90
Paso Robles, California
317677 (v) $19.95
Cherry pie, freshly crushed black pepper, ripe blackberry and baking spices lead the charge, with toasted nuts and mocha tagging smoothly along. A little Tempranillo, Grenache, and Syrah contribute some complexity at a good and fair price.
Hartley-Ostini Hitching Post Hometown Pinot Noir 2009 86
Santa Barbara County, California
256644 (v) $26.95
Yes, their winery restaurant is featured in the legendary winepic Sideways but the wine continues to be a star all by itself. Earthy plum and spicy cherry notes turn herbaceous and there's a good lick of tannin to partner a rare roast or fine steak.
Ramsay Merlot 2010 90
Napa Valley, California
312827 (v) $24.95
No, not Gordon Ramsay, thank God! Dark chocolate and berry fruit with black pepper and sweet American oak charm. Vanilla, fresh sage, anise and blackcurrant. Silky tannins and good acidity. Good stuff!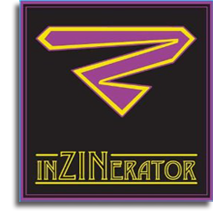 Super Hero Wines Inzinerator Zinfandel 2009 88
California
281642 (v) $22.95
Big, fruity and oaky with baking spice, raspberry, figs, firm tannins, kirsch and mocha, made to be enjoyed with carnivore-style dinners, as soon as you get back from the wine store!
Susana Balbo Signature Cabernet Sauvignon '11 90
Mendoza, Argentina
260919 (v) $19.95
Mocha, red currants, strawberries and vanilla oak. Fresh, clean and bold with luscious flavors to enjoy now or over the next 2-3 years. With a good steak or rare roast.
Chilcas Single Vineyard Cabernet Sauvignon '09 88
Colchagua Valley, Chile
309757 (v) $17.95
Black plums, fresh mint, cinnamon, blueberry, mocha and herbs pave the way to a mid-palate of blackcurrant, kirsch and anise, with a smoky cigar box note on the finish. Nice wine for the money!
Maycas del Limari Reserva Especial Syrah '09 89
Limari Valley, Chile
269423 (v) $19.95
From the cool north of Chile, blueberry-blackberry nuances with earthy tannins and hints of black pepper and toast, highlighting an overall elegance that includes fragrances of bacon, violets, and a wealth of spicy fruit.
Gotham Cabernet Sauvignon 2009 92
McLaren Vale, South Australia
311464 (v) $18.95
Black currant, mint, roses and baking spices with supple tannins and crisp acidity, much needed in a big wine with 14.9% alcohol. Drinking well now (with roasted 'roo) but will hold for a decade.
Hardy's Oomoo Shiraz 2011 88
McLaren Vale, South Australia
593038 (v) $19.95
Big, easy-drinking BBQ wine: black cherry and plum, chocolate and spicy oak. Caramel, vanilla, spice and toast with charry oak, hefty tannins and alcohol warmth. Some savory herbs on the finish.
Domaine Manoir de Carra Non-Filtré 2011 92
AC Beaujolais-Villages, Burgundy, France
320861 (v) $15.95
The Sambardier family have 20 hectares on granite slopes in the southern Beaujolais above Denice. Their wines are made with skill and dedication and offer vibrant fruit with classy minerality from the soils. This is a vivid and delicious wine. Really like it!
Chateau Bellevue 2010 88
AC Cotes de Bordeaux, Blaye, France
206649 (v) $15.95
Owned by the 8th generation of Sabourin Freres on the right bank of the Gironde Estuary, this good-value dry elegant red from a great vintage is a Merlot-driven blackcurrant, cedar and berry-scented crowd pleaser. Enjoy now to 2018 with striploin steaks, burgers and casual meals.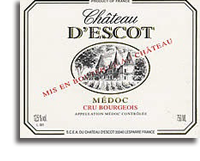 Chateau d'Escot 2009 89
AC Medoc, Bordeaux, France
327494 (v) $23.95
Cabernet-driven from the left bank and showing kirsch, raspberry and new leather and dark chocolate notes with a silky, light texture and remarkable elegance. Drink now or hold a couple of years.
Chateau Haut-Plaisance 2010 89
AC Montagne-Saint-Emilion, Bordeaux, France
326587 (v) $17.00
Grown north of the estuary around the village of Montagne by Michel Coudroy, this is a gold winner at two big French shows. Well-priced and pleasantly drinkable now, with mocha, leather and intense berry complexity. Great with slow-roasted lamb.
Mas Janeil 2008 90
AC Cotes du Roussillon-Villages, Rhone, France
992800 (v) $19.95
Grenache, Mourvedre and Syrah (the "GSM blend") are the grapes used in reds from the southern Rhone. Francois Lurton, notable global winegrower, has made a high-end savoury dry red here, smoky, elegantly fruity with cassis and raspberry component flavors. Steak au poivre and/or mushroom dishes.
Lionel Osmin Mon Adour 2009 90
AC Madiran, France
246850 (v) $17.95
A big bold red from the Southwest, carefully blending Tannat and Cabernet, and showing aromas of spicy red and black berries, licorice, black olives and toasty oak. The tannins are light and silky thanks to the Cabernet. Robust and food-friendly.
Du Cropio Serra Sanguigna 2008 85
IGT Calabria, Italy
320457 (v) $19.95
A charmingly rustic blend of Gaglioppo, Malvasia and Greco Nero that's fleshy, chewy, and benefits from decanting. There's a tannin backdrop behind the leafy mix of wild herbs, plum, black tea and saddle leather. Think rabbit and lamb stews, strong cheeses.
Castello di San Sano Guarnellotto 2008 88
DOCG Chianti Classico Riserva, Tuscany, Italy
317529 (v) $23.95
The well-regarded Guarnellotto vineyard yields Sangiovese fruit that produces intense ruby-red wines with spicy cherry aromas and a touch of balsamic. The palate is soft, balanced and savoury with well integrated tannins. Think game dishes or roasted red meats.
Stefano Accordini Acinatico Ripasso 2010 91
DOC Valpolicella Classico Superiore, Veneto, Italy
85159 (v) $19.95
Ripasso means the juice is re-passed over the fermented Amarone skins to add structure, color and bouquet. Think Valpolicella on steroids – more intense and more like, well, Amarone!
Langa Tradicion Centenaria Garnacha 2008 91
DO Calatayud, Spain
194795 (v) $14.95
From vines over 80 years old and aged in older oak for 12 months, it shows wild strawberries, vanilla and black plums with flesh, red berries and a floral note on the finish. Guaranteed crowd pleaser!

Sparkling Gems:

Lallier Grande Reserve Grand Cru 92
AC Champagne, France
225284 (v) $48.95
Beautifully crafted, generously priced and delicious to drink, right now! Filling the nose with fresh brioche/citrus notes and the mouth with toasty, peachy flavors that linger and refresh.
La Maison du Crémant Brut 88
AC Crémant de Bourgogne, France
127811 (v) $17.95
For a fraction of Champagne prices yet similarly handmade, albeit in Burgundy, with green apple, citrus lemon and toasted hazelnut notes. The structure is nicely lemony-crisp and refreshing.
Prevedello Asolo Superiore Extra Dry 2011 88
DOCG Prosecco, Italy
262881 (v) $17.95
From the home vineyard of Toronto restaurateur Franco Prevedello, this fizz is fun, affordable and filled with lemon tart and orchard fruit flavors, perfect for aperitif or with antipasti and seafood.

Take me back to the top of the page, please!