(Hint: click on labels and photos for even more information!)


Value for money is what counts. You won't find any wines here that aren't worth buying. Feel free to scroll through this list and see everything we've been sampling but, if you're in a hurry (or very thirsty), you can just click on any of the following words to be whisked electronically to the category of your choice:
Everything WINE EXPRESS recommends is in the regular LCBO stores, unless marked (v) for Vintages stores, Boutiques, and Corners, or (c) Consignment, available by the case through the importing agent.
Call the LCBO's Infoline 416-365-5900 or go to www.lcbo.com for the store near you that has the wine. If your store doesn't have it, the manager will order in the wine at no cost and notify you.
Oh, and by the way, if you need a refresher on our rating system (the ratings are in red), just flip back to the main Wine Picks main page for a quick refresher – in helping you choose a refresher quickly!


Dry Whites:
Wildass Riesling 2012 90
Stratus Vineyards, VQA Niagara, Ontario
129700 (v) $16.95
Elegant citrus honeyed apple, pear and mineral aromas with an exotic lick of tropical mango-papaya custard on the mid-palate, pleasing length and medium sweetness.

Milbrandt Traditions Riesling 2012 88
Columbia Valley, Washington
366278 (v) $21.95
A dry Riesling packed with nuances of white peach, lemon meringue, lanolin and Granny Smith as you nose the glass. Sipping sends a rush of pink grapefruit, wet stone and Key lime to the palate. Enjoy now.
Schloss Castell Silvaner 2012 89
QBA Franken, Germany
375642 (v) $19.95
From Bavaria, an aromatic, floral sipper with flavors of ripe pear, a touch of melon and intriguing herbal overtones. Moderate acidity and silky on the palate. In the traditional flat Franconian bocksbeutel flask.
Max Ferd. Richter Riesling Kabinett 2007 91
Pradkatswein Wehlener Sonnenuhr, Germany
998120 (v) $20.95
From the famous Sundial vineyard, one of the Mosel's best, a light 8% alc off-dry lemon-lime charmer with a peachy-melon petrol fruitiness, traces of pencil lead and slate. Complex and attractive, good value.
Zilliken Saarburg Rausch Riesling Kabinett 2011 90
Pradikatswein, Germany
371344 (v) $32.95
Another good Mosel Riesling, this time with a steely backbone and a heart of pure apricot, papaya, quince and lemon zest fruitiness. Moderate acidity and a whiff of salinity to enjoy now or hold a couple of years.
Anselmann Edesheimer Rosengarten Siegerrebe Spatlese 2012 90
Pradikatswein, Pfalz, Germany
910554 (v) $16.95
Honeyed apricots, lemon-lime acidity and medium-sweet lychee-candy fruit that you want to hug! Simple to sip and enjoy with no furrowed brows when you entertain or just kick back on the patio or dock. Serve well chilled.
Balthasar Ress Riesling Trocken 2012 90
Qualitatswein, Rheingau, Germany
374967 (v) $16.95
From this stellar and historic Hattenheim property, a dry crisp aperitif/seafood-shellfish wine with mineral-tangerine, Granny Smith apple and river stone accents. Totally delicious and great value.
Fleur du Cap Chardonnay 2012 87
Distell Group, Stellenbosch, South Africa
358960 LCBO $12.95
Greeny-gold and full of oaky-toasty citrus and tropical fruit flavors with a tasty lick of oak and vanilla. Perfect for porch, patio and picnics with rich seafood dishes, shellfish and lighter summer fare.
Burning Kiln Cureman's Chard 2011 91
VQA Ontario
310243 (v) $19.95
Very good value Chardonnay, gently oaked and packed with lush pineapple and papaya with a citrus-grapefruit core and a buttery texture. From a fascinating new winery in Ontario's former tobacco country on Lake Erie. A healthy improvement!
Featherstone Black Sheep Riesling 2012 90
VQA Niagara Peninsula, Ontario
80234 (v) $16.95
Close your eyes and this could be from a fine Rhine Valley vineyard. Hints of honey, white flowers, lemon curd and limestone deliver a complex, elegant, just off-dry white that's perfectly balanced and ready to enjoy now.
Flat Rock The Rusty Shed Chardonnay 2011 89
VQA Twenty Mile Bench, Niagara Peninsula, ON
1552 (v) $24.95
Nothing rusty about this shining Chard! Terrific balance of ripe, pure apple-melon citrus fruit with toasty oak.
Santa Barbara Winery Chardonnay 2012 88
Santa Barbara County, California
989152 (v) $21.95
You'll be like a kid in a candy store with the butterscotch, toast, vanilla aromas and a blast of white peach, lemon pie and toasty oak flavors in this likeable and well-priced wine. Lobster, anyone?
Maycas del Limari Reserva Especial Chardonnay 2010 91
Limari Valley, Chile
162040 (v) $19.95
Outstanding balance and lovely peach-melon fruit are the hallmarks of this beauty from Chile. A light hand from the winemaker with new oak for just a whiff of toastiness to frame the nectarine-peach notes on the palate.
The Crusher Viognier 2012 88
Wilson Vineyard, Clarksburg, California
361964 (v) $16.95
Peaches and cream, dried apricot and mango on the nose. Not a bad start! Followed by melon and white pepper on the palate and a lingering peachy finish.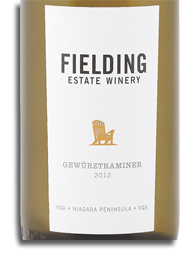 Fielding Gewurztraminer 2012 88
VQA Niagara Peninsula, Ontario
146753 (v) $15.75
Carefully crafted and nicely aromatic with a flavor profile of papaya and white pepper, yellow plums and a whiff of mint. Charming and patio-dock perfect.
Dog Point Sauvignon Blanc 2013 89
Marlborough, South Island, New Zealand
677450 (v) $23.95
Smoky gunflint and a caress of capsicum on the nose followed by a refreshing tingle of white grapefruit, chalk and papaya on the tongue. Restrained elegance.
The King's Favour Sauvignon Blanc 2012 90
Marisco Vineyards, Marlborough, New Zealand
374165 (v) $19.95
Grown in a warm vintage that yielded bright tropical fruit character, fresh acidity and intense flavors, a far cry from the sappy, grassy, vegetal style of the early blockbuster vintages of New Zealand's signature white.
The Ned Pinot Gris 2013 87
Marisco Vyds, Marlborough, New Zealand
0267138 (v) $16.95
Fresh, simple and prettily pinkish in the typical manner of the Pinot Gris grape, floral, dry and slightly spicy – think white pepper, cloves – to enhance white meats, rich white fish and seafood.
Vavasour Sauvignon Blanc 2012 87
Awatere Valley, New Zealand
713958 (v) $20.95
A more herbaceous style, with grassy, hay, citrus and mineral notes around a white grapefruit core. Nicely concentrated with a pleasant aftertaste that lingers temptingly.

Dry Red Wines:
Inception Deep Layered Red 2012 89
Distell, Western Cape, South Africa
369937 LCBO $13.90
Mostly Shiraz with a little Petit Verdot and Mourvedre, this is a juicy, softly fruit forward, berry-driven sipper with delicious spicy chocolate notes and lashings of oak and vanilla that will flatter roasted red meats and spicy chicken dishes. Should be within arm's reach of every thirsty BBQ chef!
Cabernet Sauvignon Estate Bottled 2012 90
Chateau des Charmes, VQA Niagara Peninsula
370320 LCBO $14.95
Hand sorted sustainably grown Cabernet that spent ten months in French oak. Flavors and aromas of black cherry, bitter chocolate and baking spices napped with vanilla and brioche. Has a Euro finesse.

Quails' Gate Merlot 2011 87
BC VQA Okanagan Valley, Canada
169961 (v) $25.95
Red tree fruit, dried prunes and fresh figs with a slight saline edge offer an intriguing and pleasant Merlot that's elegant and ageable, well priced and enjoyable now to 2018.
Jackson-Triggs Proprietors' Grand Reserve Meritage 2011 87
VQA Niagara Peninsula, Ontario
594002 (v) $24.95
Fruit forward with excellent oak aging for toasty-vanilla highlights and cherry-red berry with raisin grace notes. Juicy and food-friendly. Think spicy sausages, BBQ and pulled pork.
Beaulieu Vineyard Beaurouge 2010 87
Napa Valley, California
363531 (v) $24.95
Raisined dark red fruit, toasty oak, soft, silky tannins and moderate acidity make this a rib-sticking crowd-pleaser with anything grilled or roasted. From a catalogue of grapes, including Cab, Zin, Syrah, Merlot, Petite Sirah, Touriga, Tempranillo and Bonarda (gasp!).
Ironstone Old Vine Zinfandel 2012 91
Lodi, California
951889 (v) $17.00
A delicious chocolatey fruit-forward Zin with fruit flavor to spare, including black plums, cassis, blackberry and vanilla with just a hint of residual sugar for fuller mouth feel. Lovely.
Opus One 2010 95
Robert Mondavi & Baron Philippe de Rothschild, Napa Valley, California
26310 (v) $459.00
Yes, you read that right, although there is also a half-bottle at $245. Smooth to the power of ten with integrated tannins and intense yet elegant black currant, truffle, chocolate and spice box nuances. One of the world's great Cabernets.
Ojo de Agua Cuvee Speciale 2011 90
Mendoza, Argentina
359141 (v) $20.95
A tasty blend of Malbec and Cabernet with fine tannins, pure ripe fruit flavors of wild berries – strawberry, currants and cassis – for a silky sipper that also offers licks of cranberry and black plum, at a very fair price for quality.
Oscar's Estate Vineyard Shiraz/Viognier 2011 87
Barossa Valley, South Australia
287961 (v) $17.95
Burger, pizza, pasta wine that's honest and well made. The Viognier leavens the heft of the Shiraz and delivers a medium-bodied fruit forward wine (black berries, black pepper) that won't give you or your wallet a headache.
Saltram Mamre Brook Cabernet Sauvignon '11 87
Barossa Valley, South Australia
48579 (v) $26.95
Barossa's famous for its Cabs and here's a fine example: big cassis, toasty oak, vanilla, sun-baked earth and elegant tannins to accompany roasts and the Barbie. Good value and lots of pleasure.
Vignerons de Bel-Air Été Indien 2012 90
AC Brouilly, Burgundy, France
159749 (v) $17.95
Gold medal winner in Paris and the product of an Indian summer, this is a big beauty of a Beaujolais that you should think of more as a fine red Burgundy for one third the price. Rich, intense cherry, raspberry plum and cherry flavors perfectly knitted along with trace minerals.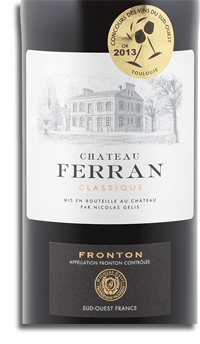 Chateau Ferran Classique 2012 90
Nicolas Gelis, AC Fronton, France
370114 (v) $16.95
From vines planted by the philosopher Montesquieu in the 18thC in this Bordeaux sub-appellation, gently aged in oak, yielding a creamy, smooth red with good fruit and hints of balsamic and nettle nuances.
Gerard Bertrand Grand Terroir Syrah/Carignan/Mourvedre 2009 91
AP La Clape, Provence, France
370262 (v) $20.95
From the limestone bluffs overlooking the Mediterranean in France's deep south, a juicy, fruit forward almost jammy, quite lush smooth food wine, packed with vanilla, plum-cherry and black pepper intrigue. Now to 2020.
Cantalici Messer Ridolfo 2009 91
DOCG Chianti Classico Riserva, Tuscany, Italy
368431 (v) $33.95
Deep, dark and delicious, spicy, chocolatey, berry intense and berry good with some savory notes, fine tannins and smooth satisfaction. Steak Florentine comes to mind here.
Banfi Regali La Lus Albarossa 2009 91
DOC Piemonte, Italy
291575 (v) $24.95
Silky smooth with bright fruit, evolved tannins and an array of red cherry, mocha and spicy chocolate flavors, made from a Veneto grape called Albarossa that gives intense deeply colored reds with elegant flavors. Pasta pizza perfect.
Lirica 2007 90
DOC Primitivo di Manduria, Italy
326710 (v) $18.95
Puglia is the source of some wonderful wine values, like this raisiny-chocolate Zinfandel-like fruit bomb – primed with raspberry and blackberry, black cherry and dark chocolate. Tomato-based sauces are no problem!
Bordon Reserva 2008 89
DOCa Rioja, Bodegas Franco Espanolas, Spain
194753 (v) $19.95
Raspberry-cherry vanilla and a lick of creamy cherry-mocha on the nose. Some toasty oaky notes and a slight gamey cured meat herbaceousness. A layered and focused wine with hidden depths.
Vina Herminia Vendimia Seleccionada Graciano Crianza 2009 87
DOCa Rioja, Spain
366799 (v) $24.95
From the less touted (than Tempranillo) but elegant and now rare Graciano grape, a meaty, chewy and thoroughly delicious food wine with the heft to deal with fancy BBQ fare or simple burgers. Smooth and ageable.

Pretty in Pink:

Cuvée d'Andrée Rosé, Estate Bottled 2013 90
Chateau des Charmes, VQA Niagara Peninsula
333260 LCBO $14.95
Named for Madame Bosc, this is a serious crisp, dry rosé, ruby-pink with layers of cranberry, sweet cherry and wild strawberry aromas, hints of fresh white pepper and cedar.
Made from Pinot Noir lightly cold-soaked to extract just a little color. "Serious" means food: from planked salmon to seared scallops to pepper steaks! Like a fine Tavel. Chill and think summer! Only 1,575 cases made.
Viticoltori Acquesi Brachetto d'Acqui Sparkling Rosé 88
Brachetto d'Acqui DOCG, Piemonte, Italy
375667 LCBO $13.35
Weighing in at a slim 6.5% alcohol, here's a bubbly hello to summer. Like an elegant Kir Royale (Champagne and cassis), it's all wild strawberries, red apples and rose petals in the mouth, pretty as a picture and chic in its stylish Belle Epoque bottle. From Italy's Brachetto grape…Chocolate-Covered Strawberry Mimosa: 3 oz Brachetto, 3 oz orange juice, 3/4 oz cocoa liquor. Voila!
Chateau La Tour de l'Eveque Rosé 2013 89
Regine Sumeire, AC Cotes de Province, France
31932 (v) $18.95
Wild strawberries create the first impression with hints of cantaloupe, raspberry and tree fruits, for a versatile wine to work with BBQ fare and grilled meats. Bone dry but with tons of flavor from 5 Provence grapes: Grenache, Cinsault, Syrah, Rolle and Semillon.
Zenato Bardolino Chiaretto Rosé 2013 88
DOC Veneto, Italy
45203 (v) $14.95
Melon and mulberry, raspberry and sweet cherry lead the charge on this dry, refreshing food friendly pink, a lighter cousin of nearby Valpolicella. Pear, floral and green apple appear on the palate and the impression is fresh and gulpable.
Muga Rosé 2013 90
DOCa Rioja, Spain
603795 (v) $12.95
There's a core of pink grapefruit and red berry fruit running through this delicious mid-weight pink, supported by peach-citrus and rhubarb acidity for a truly food-friendly vino. For spring-summer salads and white meats.

Sparkling Gems:
Chandon Blanc de Noirs Sparkling Wine 88
Methode Traditionelle, California
100693 (v) $27.95
Owned by France's famous Moet, this Cali Chandon lives up to its fine pedigree with green apple, fresh-baked bread and grilled toast aromas and flavors. It's dry, crisp and quenching, with or without food. Fresh, friendly good fizz with a floral and orchard fruit nose and a stony heart. Think river stones and mineral components.
Take me back to the top of the page, please!