Value for money is what counts. You won't find any wines here that aren't worth buying. Feel free to scroll through this list and see everything we've been sampling but, if you're in a hurry (or very thirsty), you can just click on any of the following words to be whisked electronically to the category of your choice:
Everything Wine Express recommends is in the Liquor Control Board of Ontario's regular stores, unless marked (v) for Vintages stores, or (c) on Consignment, by the case through an importer.
Call the LCBO's Infoline 416/365-5900 for the store nearest you that has the wine. If your local store doesn't have it, the manager will order in the wine at no extra cost and notify you.
Oh, and by the way, if you need a refresher on our rating system (the ratings are in red), just flip back to the main Wine Picks main page for a quick refresher -- in helping you choose a refresher quickly!
Dry Whites:
Quinta De Azevedo Vinho Verde '05 88
DOC Vinho Verde, Sogrape, Portugal
727115 (v) $11.95
Fresh, floral with a whiff of apple blossom and pear-apple, mineral on the tongue, somewhat Muscadet-ish and great with shellfish, seafood or as a summer sipper. Porca de Murça Reserva Branco, from the Douro, 684761, $15.95, is a bigger, rounder wine, with ripe citrus notes, better suited to BBQ pork, pork and clam stew, poultry or sausages.

Henry of Pelham Sauvignon Blanc '05 92
VQA Niagara Peninsula, Ontario
430546 (v) $14.95
Wonderfully aromatic and expressive Sauv Blanc, tasted from the tank earlier this year. One of the best Ontario examples I've sampled, with its seductive pink grapefruit, ripe gooseberry and melon notes, richness and length of flavor. Aperitif or with grilled seafood or herb-roasted chicken. Two other new Pelham 2005s, the bone-dry apple-citrus Chardonnay Non-Oaked and the Riesling Dry, crisp with just a hint of sweet citrus, both $11.95 on the general list, are pure steals, clean, well made and showing great varietal typicity (90).

Sileni Cellar Selection Sauvignon Blanc '05 90
Marlborough, S. Island, New Zealand
662882 (v) $14.95 (v) $14.95
Ripe, luscious and vibrant with rhubarb and ripe gooseberry acidity, full body, and refreshing herbaceousness, from a good vintage, finishing with a fresh yellow plum raciness. The West Brook SB '05, also from Marlborough, 985994 (v) $17.95, offers more tropical passion fruit and lemon-lime zest notes and it's nicely balanced with a fine acidity (89).

Anthony Road Riesling Semi-Dry '04 90
Finger Lakes, New York
675355 (v) $18.95
Green-gold, elegant pear-apple aromas, clean and fresh. Lovely balanced acidity with mineral and lightly fruity flavors from apple towards lemon and sweet grapefruit, crisp and mouth-watering finish. An off-dry wine from this Seneca Lake location that's food-versatile, especially with crab cakes, corn fritters, soft cheeses and pork. Well-made, well-priced. Enjoy within two years.

Willm Reserve Riesling '04 90
Alsace, France
11452 (v) $15.95
From a century-old family firm, a masterfully done example of a steely Riesling with just a hint of residual sugar, richness and nuanced pear-melon flavors. Great with shellfish, white meats, goat cheeses and smoked fish.
J&H Selbach Riesling Kabinett '03 92
Zeltinger Himmelreich, Mosel, Germany
682864 (v) $14.95
A steal! Classic gun-flint, smoky, slatey Mosel Riesling, fragrant and elegant with a steely core, peach-apple and a hint of citrus, fresh as a razor on the palate, refreshing and food friendly. Off dry and perfect for summer salads, sipping and grilled white meats. St. Urbanshof Riesling '05, 995746 (v) $13.95, is more floral, showing white grapefruit and peach, a smidge sweeter than the J&H, yet racy and refreshing as a sipper (90).

Château des Charmes Chardonnay Musqué Estate Bottled '04 91
VQA Niagara Peninsula, Ontario
322016 LCBO $15.95
Intriguingly full, dry, aromatic and refreshing wine made from a unique clone pioneered in Niagara by Paul Bosc that hints at exotic Gewürztraminer on the nose and on the palate. Bursting with spicy yellow pear, honeysuckle, lemon and a smidge of muscat. it won Gold at the Ontario Wine Awards as top unoaked Chardonnay. A huge value on the general list, it's great with grilled chicken or salmon.

Château des Charmes Gewürztraminer St. David's Bench '04 90
VQA Niagara Peninsula, Ontario
335893 LCBO $19.95
Rose petal, ripe lychee and a whole bowl of tropical fruits, classic Gewürz from two 1-acre blocks just behind the Château, a rare and desirable wine with only 353 cases produced in '04. Food friendly, particularly with mildly spiced Asian cuisine and a perfect aperitif. Coming to at Vintages Aug 5 are the excellent Sauvignon Blanc '05 453423, $16.95, racy and fresh (87) and the Estate Riesling, 277228, $15.95, a beautifully restrained and elegant example, showing pink grapefruit, ripe peach and floral notes (89).

Woolpunda Yellow Block Chardonnay '04 88
Murray Valley, S Australia
627208 LCBO $8.95
Startlingly good value! A refreshing modern Chardonnay under screwcap with aromas of pineapple, guava and a trace of peach, soft and refreshing with melon/peach on the tongue. Moderate oak adds a hint of spice. Food friendly and ready now. Named for a site once used for wool and "punda", where water is found.



Flat Rock Estate Chardonnay '04 89
VQA Niagara Peninsula, Ontario
681247 (v) $16.95
Worth the trip to Jordan, Ont., to buy a bottle or a case of this excellent white: ripe peach and tropical fruit notes with a nicely oaky-spicy nuance from its 50/50 barrel/stainless fermentation. Ageable 2-3 years and well-priced. While you're there, sample the Twisted '05, a Gewürz/ Chard/Riesling blend, $18.95 (v) 1578, that's very appealing as a spicy, delicate sipper (87), and pay serious attention to the vibrant Pinot Noir '04, 1545 (v) $19.95, superbly made from Dijon clones using French oak and careful assemblage (89). A collectible at $19.95. The Gravity Pinot Noir at $29.95 (v) 1560 was given more oak and will be delightful until at least 2010. One of the most impressive Pinots from Ontario (91).


Dry Reds:
Henry of Pelham Gamay '05 90
VQA Niagara Peninsula, Ontario
291112 (v) $13.95
Velvety smooth with a blast of ripe cherry, black plum mulberry and pomegranate, garnished with freshly ground black pepper! Hold the Beaujolais and lightly chill a bottle (half an hour in the fridge) for happy summer sipping. Roasted poultry, grilled salmon, pizza and pasta.

Stratus Cabernet Franc '02 90
Niagara Peninsula VQA, Ontario
$204 for a case of 6 at the winery (and worth the visit!)
From a good red wine vintage, a complex and elegant Cab with ripe, vibrant red and black fruits, raspberry, cherry, dark chocolate and cassis, sweetly ripe tannins and a hint of tobacco leaf and barrel char, ageable 8-10 years. www.stratuswines.com.

Les Sirianes '03 89
Vignerons du Peloux, Costières de Nîmes, France
675827 (v) $11.95
Aromas of jammy red fruits and truffles, rich and full-bodied with sweet, smooth tannins and nicely aromatic finish, from a blend of Grenache, Syrah and Cinsault grown in pebbly soil close to the Camargue, in the southern Rhône. Serve alongside grilled lamb with rosemary, mushrooms and tangy cheeses. Punches above its weight at under 12 bucks!

Aliança Garrafeira Bairrada '97 89
Bairrada, Portugal
950220 (v) $12.95
Dried cranberries, a hint of new leather and tomato leaf on the nose, mushroom and spice on the palate, silky and fully mature at 11 years old to flatter roast or stewed lamb, beef or BBQ pork.

Stoney Ridge Pinot Noir '04 92
Founder's Signature Selection, VQA Niagara Peninsula
000588 (v) $25.95 August 5 release
Quite the purest, most Burgundian Pinot I've tasted from Niagara: classic beet, smoky raspberry, cassis and woodsy notes, without jamminess; great concentration and finesse. Another winner from winemaker Jim Warren.

J. Lohr Seven Oaks Cabernet Sauvignon '03 90
Paso Robles, California
656561 (v) $19.95
Very good value Cab with spicy black fruit, dark chocolate, vanilla pod and toasty oak appeal. The winemaker has blended in 24% of Petite Sirah, Syrah, Petit Verdot, Carignan, and Merlot. See if you can pick 'em out! Midweight, smooth and enjoyable now to 2009. BBQ, patio and deckfriendly, and a sipper.

Château des Charmes Cabernet-Merlot Estate Bottled '01 91
VQA Niagara Peninsula, Ontario
222372 LCBO $19.95
This Bordeaux-style blend (from the two Cabs and Merlot) is continuously available as a Vintages Essential, and rightly so. It's a classic Paul Bosc red, taut, well structured, with hints of dark chocolate, blackberries and red raspberries, good length and enough oomph for a well-aged rib-eye! Now to 2014. Watch out also for the Cabernet Sauvignon St David's Bench '02 935957 $24.95 and the Cabernet Franc SDB '02, 453415, $24.95 coming to Vintages Aug 5. Both are thoroughbreds, rating (90), from a good red wine vintage.

Château Cesseras '02 89
Minervois La Livinière, Midi, France
590570 (v) $16.95
This new higher quality sub-appellation of Minervois is delivering some stellar offerings, like this with concentrated leather, earth and berry characters, ageable and very well matched with roasted meats, grills and strong cheeses. BBQ perfect.

Château de Montmirail Cuvée de Beauchamp '03 90
Gigondas, France
685198 (v) $23.95
A big, husky 15.5%-alc bruiser with a soft heart. A blast of red fruit, blackberries and plums, warm summer earth and firm tannins with some old leather saddle notes. Full, comforting and very good value with big meat dishes, pepperoni pizza, pasta pesto and grilled spicy sausages. Its upscale neighbor La Cours des Papes '03 from Les Grandes Serres in Châteauneuf-du-Pape, 651661 (v) $32.95 is way more complex: dates, figs, sweet cherries, leather, chocolate with nuances of cranberry and lavender (91).

Woolpunda Red Block Shiraz '03 87
Murray Valley, S Australia
627216 LCBO $9.95
A smoky, tarry, rich Shiraz that's not too sweet, another huge value from this winery, again in screw-cap. Full-bodied with plum and blackberry fruit, subtle tannins and gentle acidity. The fresh berry aromas have a cinnamon undertone and the palate is elegant with berry fruit and a touch of smoky oak.

Zinfandel Primitivo di Manduria Doc '04 88
35th Parallelo, Puglia, Italy
612754 LCBO $8.95
Dirt cheap! Hints of black licorice, peppery raspberry/ plum fruit, with a bone-dry finish. Delicious, made from the ancient Primitivo grape (now known to originate in Croatia) that's now California's signature wine under its alias Zinfandel. Interesting to see the two names on one label. The tongue-twister is the winery: Trentacinquesimo Parallelo, which also sends us a Nero d'Avola/Shiraz '04 IGT from Sicily at $7.95, a beautifully poised and quite elegant red blend with soft tannins, warm, rich fruitiness and an elegant finish, from the indigenous Nero and noble Syrah. Amazing value.

Brampton Shiraz '04 88
Rustenberg Wines, WO Coastal Region, S Africa
674523 (v) $19.95
Named for a bull the Rustenberg farm purchased from Brampton, ON, this is a beefy red to enhance your fanciest prime rib roast, contributing smoky berries, earthy spice and bitter chocolate, inspired by a splash of Mourvèdre and a drop of Viognier in the blend. Soft tannins, drinkable now.

Ramos-Pinto Duas Quintas Tinto '02 90
DOC Douro, Portugal
359893 (v) $15.95
Rich, elegant dry table wine with a core of glistening black fruit, strawberry, blackberry and vanilla, subtle oak and silky tannins, from the three top Port grapes, Touriga Francesa, Nacional and Tinta Roriz from two quintas – the hot, schist-rich Ervamoira and cooler, granitic Bons Ares. Plans for a dam threatened Ervamoira, now a Heritage site, until the discovery of Stone Age paintings in the '90s. Winemaker João Nicolau de Almeida is the innovator of vertical planting on the Douro's clifflike slopes. His Duas Quintas is ageable but enjoyable now, with rare roast beef, venison or pork. Great value!

Inniskillin Okanagan Zinfandel '03 90
Bear Cub Vineyard, VQA Okanagan Valley, BC
675488 (v) $29.95
From the semi-desert of the southern Okanagan, here's a deliciously balanced and serious Zin, boasting intense elderberry, raspberry, mulberry fruit with restrained oakiness and a bead of refreshing acidity. Bears and rattlers are the hazards in these broiling vineyards (the northern tip of Mexico's Sonora Desert. Honest!). New in Ontario and good value.


Pretty in Pink:
Brightpink Rosé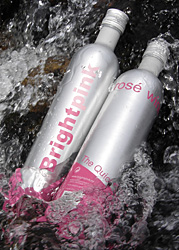 Bright Brothers, Portugal
622159 LCBO $11.95
Aussie Peter Bright has made wine in Portugal, Oz, Chile, Argentina and Spain for 20 years, emphasizing New World-style fruit-forward flavors. His new Brightpink Rosé from southern Portugal, in its dazzling new re-sealable aluminum tube, is outstanding. From 80/20 Castelão and Trincadeira grapes cool-fermented for fresh, fruity flavors, it has a vivid color, fruity strawberry/raspberry aromas and lively refreshing flavors. Great as a social drink or with informal food. The aluminum bottle chills much faster than glass. It's light and shatterproof, making it the travelers's, boater's and camper's friend. Gorgeous!



Yves Lambert Crémant de Loire Rosé 88
Domaine de Saint-Just, Loire, France
656488 (v) $16.95
Lovely to look at, a treat to taste! The two Cabernets, through the alchemy of fermentation, deliver a melange of strawberry, melon, pear and spicy apple flavors with a chewy mouth feel and a zippy aftertaste. Spring lamb or a nice cut of veal look good! Enjoy now.

Malivoire Ladybug Rosé '04 87
VQA Niagara Peninsula, Ontario
559088 (v) $15.00
Dry and refreshing with green apple acidity and apple skin aromas with a herbal, strawberryinfused flavor signature, soft, sensuous, pink and pretty, under a screw-cap, perfect for barbécueurs.


Just Desserts:
Pillitteri Estates Vidal Icewine '04 94
VQA Niagara Peninsula, Ontario
370007 (v) $34.95 375mL, 401448 (v) $19.95 200mL
From the world's largest estate producer of Icewine, multi-medaled Pillitteri is the coolest! This Vidal Icewine and their Vidal Sparkling Icewine just won their fourth Grand Gold at Vinitaly in the last three years, and Gold at Cuvée! The wines offer an exotic white peach, apricot, caramel and candied grapefruit bouquet with a palate of passion fruit, pineapple and marmalade. Superb with foie gras, sabayon, Cambozola, or as dessert in a glass. Even more exotic is Pillitteri's Shiraz Icewine, from the world's hottest grape variety, picked frozen and morphed into a silky red dessert wine, redolent with chocolate, raspberries, spiced apples, wild strawberries and rose petals (92) $50 from the winery, www.pillitteri.com Winemaker Sue-Ann Staff also took Best Red for her Cabernet Franc Family Reserve '02 at Cuvée, nicely extracted and packed with red currant, tobacco leaf, tar and Cuban cigar notes (90) $50. The winery does a more than competent job of Pinot Grigio, Riesling, Gewürz- Riesling, Merlot Reserve, Cabernet Sauvignon, and Cabernet Select Late Harvest (a chocolate and berry friendly "junior red Icewine") as well as a fine Riesling Icewine.

La Guita Manzanilla Sherry 94
Rainera Pérez Marin, Sanlúcar de Barrameda, Spain
699785 (v) $14.95
A delicate, distinguished dry Manzanilla sherry, with floral (camomile), crystallized fruit and dried almonds on the nose, all echoing on the palate. From Palomino Fino grapes, 8 years in 516-litre casks, La Guita, 15% alc., is great with olives, fresh nuts, ham, as an aperitif, and goes with seafood, fresh salads, pickled dishes, tempura, ceviche and seafood cocktails. Serve at 7-9C. Spain's leading brand, La Guita sells 3.8 million litres a year! Guita is slang for money, or cord, hence the cord on the bottle.

Ramos-Pinto LBV Port '98 91
Late-Bottled Vintage, Btld. '02, Douro, Portugal
951335 (v) $19.95
Rich, full and silky with a bouquet of red and black fruit and luscious plum and nut flavor layers on the palate. In barrel four years before bottling, this big wine has the versatility to enhance a barbecued T-bone as well as the traditional Stilton and walnuts.