Value for money is what counts. You won't find any wines here that aren't worth buying. Feel free to scroll through this list and see everything we've been sampling but, if you're in a hurry (or very thirsty), you can just click on any of the following words to be whisked electronically to the category of your choice:
Everything WINE EXPRESS recommends is in the regular LCBO stores, unless marked (v) for Vintages stores, Boutiques, and Corners, or (c) Consignment, available by the case through the importing agent.
Call the LCBO's Infoline (416) 365-5900 or go to www.lcbo.com for the store near you that has the wine. If your store doesn't have it, the manager will order in the wine at no cost and notify you.
Oh, and by the way, if you need a refresher on our rating system (the ratings are in red), just flip back to the main Wine Picks main page for a quick refresher – in helping you choose a refresher quickly!


Dry Whites:
Château de l'Ecochère Muscadet Sur Lie '08 87
AC Muscadet Coteaux de la Loire, France
169649 (v) $13.95
As clean and sharp as a fresh-honed razor, pure and untainted by oak or artifice. On a par with a perfect fino sherry (think Tio Pepe here) for the driest, stoniest, most shellfish-friendly wine ever. Flex your molluscs!
Michel Delhommeau Cuvée Harmonie '08 89
Muscadet-de-Sèvre-et-Maine, Loire
164624 (v) $12.95
Grown on a parcel of rocky soil called gabbro (formed from molten lava) at the mouth of the Loire, here's an ultra-dry wine with a vivid profile of white grapefruit, lime zest, chalky minerality, hints of gooseberry-rhubarb, and brine/iodine on the finish, without any oak. A palate-cleansing aperitif and the angel of all seafood and shellfish. Superb-value.
Léon Beyer Pinot Gris '08 88
Alsace, France
165241 LCBO $16.95
There are few better Pinot Gris in Alsace, or anywhere else in the world. They've been doing this since 1580: the 14th generation's full-bodied, opulent yet ultra-dry Pinot Gris packs rich, layers of honeyed apricot, pear, citrus zest, and a sexy, smoky woodsiness on the finish. Serve with partridge, white meats, seafood, white fish in a cream sauce. Contact Signature Wines, (905-815-8865) to order gems like Beyer's powerful, racy Riesling '09 (90), the stellar grand cru Riesling Les Ecaillers '04 (94), and the sleek Gewurztraminer '09 (90). These always dry, food-friendly fine wines from the left bank of the Rhine are on served by the best three-star restaurants, from Arzak to Zalacaín.

Gray Monk Pinot Gris '08 91
VQA Okanagan Valley, British Columbia
118638 (v) $19.95
Slightly pink from the PG grape (gris in French denotes a blush color, normal for this variety) this bright, charming and deliciously fresh wine reminds me of peach cake and honeydew with a side of lemon and apple pie, which it would accompany pleasantly. The Heiss family of Gray Monk imported their vines from Alsace back in 1976. Smart move!
Vineland Estates Dry Riesling '08 90
VQA Niagara Peninsula, Ontario
167551 LCBO $13.95
For a General Listing, this is one fine wine: clean, elegant, racy, showing peach, apple, citrus and melon above a steely mineral core of acidity to guarantee food friendliness, with only 10% alcohol. Medium weight with a hint of lemon zest on the finish.
Vineland's St Urban Riesling '08, $20.00, from Canada's finest Riesling vineyards and only 9%, is even more finely tuned (92), floral, mineral, peach and pear riffs with a dash of lime. Both pair with seafood, shellfish, white meats and Japanese food. The Riesling Semi-Dry '08, $13.95 on General List, a more honeyed wine with melon, peach and apple skin flavors, is fresh and endearing (89).
Pelham Speck Family Reserve Riesling '07 93
VQA Short Hills Bench, Ontario
643361 (v) $30
Fabulous aromatic attack, taut Alsace-style, razor-edge grapefruit-lime acidity, silky lanolin-petrol texture and traces of stony minerals make this a keeper. Made with fanatical care in a cool vintage, it's a keeper unless you're deep into shellfish, seafood and anything briny, in which case resistance is futile! Otherwise, it'll improve for another 10 years. The Speck Family Chardonnay '07, $35, is a poor man's Meursault, low-yield fruit aged in 40% new French oak, it has heft as well as finesse, now to 2017 (93). Meanwhile, the '07 Family Pinot Noir, $40, is equally intense with elegant black fruit, subtle tannins and oakiness that needs 2-3 years of cellaring and will blossom for another 8-10 (93). At $50, the Cab-Merlot is equally impressive in a vintage meticulously handled (93).
Cave de Montlouis Sec '07 92
Montlouis-sur-Loire, France
171504 (v) $15.95
Lovely example of a Loire Chenin Blanc varietal with tropical nectarine, greengage, honeyed melon, quince and citrus. It's lush and nectar-like on the tongue yet finishing dry and elegant. Will age and add subtle notes of lemon verbena, beeswax and almond complexity. Very good value. Some 2 million bottles of still and sparkling are stored in a maze of tunnels in this particular ancient limestone cave cut into a cliff overlooking the river.
Paul Buisse Cuvée Prestige Sauvignon Touraine '09 91
AC Loire, France
169714 (v) $11.95
Wonderful, exotic semi-tropical example of what the Loire does best, Sauvignon. Bursting with persimmon, guava, star fruit, lemon grass, gooseberry and key limes, here's a showstopper, for cheap! Serve grilled calamari, roasted quail, seafood and white fish.
Domaine Sainte Claire Saint-Bris '07 88
Jean-Marc Brocard, Burgundy, France
178152 (v) $14.95
Yes, a Sauvignon wine from Burgundy! Well, it's actually not that far from the Loire. But this tiny Saint-Bris appellation is unique in Chardonnay-centric Burgundy and the SB wines are pleasant indeed. Perhaps not quite as elegant as the Loire's finest but good enough. Herbaceous with gooseberry-rhubarb, white grapefruit and white peach nuances and a fleshy Key lime element, too.
Skuttlebutt Sauvignon-Semillon '08 87
Margaret River, W Australia
157867 LCBO $15.95
A pot-pourri of tropical-herbal flavors, from musk melon to ripe rhubarb, passion fruit to currants, and even the slight bitterness of arugula, with some savory herbs and citrus thrown in! All for 15 bucks. Who knew the white Bordeaux grape duo could become the Cirque du Soleil of wine! The name? From a sailing ship's water butt, centre of all gossip and rumor, of course. Nothing has changed.
Loan Semillon '06 91
Barossa Valley, S Australia, Tanunda Creek Vyds
108092 (v) $16.95
Australia, especially the Hunter Valley, does a great job with pure dry-grown Semillon. Forget the Sauvignon! Round, full, fruity, almost oily in texture, with peach, lanolin and binned apples on a mineral core, it's great for grilled fish and poultry. Founded by Silesian settlers and run with fanatical TLC and care for biodiversity, Loan pampers every individual vine, and you can see the attention is returned in kind.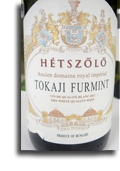 Hetszolo Dry Tokaji Furmint '09 88
Tokaji, Hungary
178987 (v) $13.95
Peaches, died herbs, crisp apple, pears and, finally, apricots, hazelnuts and almonds. It's quite a trip. Furmint derives its name from the golden wines it yields and is believed native to Hungary. In Austria it makes the sweet Ausbruch whites, and in Hungary, of course, the famous Tokaji Azsu dessert wines.
Franciscan Chardonnay '07 89
Napa Valley, California
496125 (v) $24.95
Don't buy this unless you love the flavors of buttered toast, butterscotch, buttered corn, vanilla, ripe pear and smoky golden apple, all with a kiss of oak. Yes, my friends, be very afraid (you might miss this!). Your rosemary-garlic lamb chops or herb-roasted chicken just won't be the same without it.
Stadt Krems Lossterrassen Gruner Veltliner '09 88
Austria
180778 (v) $14.95
Zippy is the descriptor for "Groovy", Austria's signature grape and source of some strikingly good, food friendly wines. Mouth-watering acidity is the keynote with green apple, lime zest, white grapefruit, peach and Anjou pear on the palate, too
Ricossa Moscato d'Asti '09 93
DOCG Piemonte, Antica Casa, Stefano Belbo
72272 (v) $14.95
If you've never tried Moscato you don't know wine! Especially as a summer sipper, with its magical nuances of orange blossom, orange zest, melon, citrus and a subversive little spritz to tickle your tongue. Sip and smile, and pour a little over fresh fruit in a glass, too. Heaven can wait.
Rosé:
Malivoire Ladybug Estate Rosé '09 88
VQA Niagara Escarpment, Ontario
559088 (v) $15.95
Consistently fine pink stuff from Martin Malivoire and very good value. Fruit forward, mostly red currants and fresh Ontario strawberries with precise grapefruit acidity and
silky texture. Bring on the steak frites!
Peninsula Ridge Beal Vineyards Cabernet Rosé '09 87
VQA Beamsville Bench, Niagara Peninsula
177840 (v) $11.95
Amazing value: wild cherry and strawberry with lively nectarine-satsuma acidity. Crisp, dry and refreshing accompaniment for summer salads, hors d'oeuvres and tapas.
Château Routas Rouvière Rosé '09 88
AC Côteaux Varois en Provence, France
739128 (v) $14.95
From the ancestral home of delicate dry rosés, here's a good example of why the rest of the world's rapidly making the "pink shift" – because dry rosés are so darned tasty, food-versatile, and wildly refreshing. In this case, notes of acacia, orange blossom, cherry cola and dried herbs are the main attraction. Made from a varietal choir of the usual Mediterranean suspects: Cinsault, Syrah, Grenache and Cabernet Sauvignon. Clam risotto, anyone?

Dry Red Wines:
Domaine de la Seigneurie des Tourelles '08 88
Saumur, Loire, France
169664 (v) $12.95
Cabernet France and Cabernet Sauvignon give this soft but powerful red a spectrum of black and red berry aromas and flavors led by elderberry and blackberry, and the ability to hold in the cellar for 2-3 years. Fruity and fresh now and matchable with light summer salads, white meats and poultry.
Tandem Auction Block Pinot Noir '07 88
Sonoma Coast, California
58776 (v) $29.95
Powerhouse of a Pinot but with finesse in all its spicy-berry aromas and flavors: wild strawberries, black plums, raspberries and forest floor, summer hay fragrances. This New World take is a bright, fresh, food-friendly open knit Pinot that's impossible to dislike.
Tierra de Luna Alta Colección Cabernet Sauvignon '08 87
Bodegas François Lurton, Argentina
614644 (v) $13.95
Easy, fruity, silky Cabernet with soft tannins, rounded berry flavors and a pot-pourri of cassis, cherry, raspberry fruit flavors, geared to tonight's pizza, pasta, burger.
Kenwood Cabernet Sauvignon '07 90
Sonoma County, California
990440 (v) $22.95
Big smooth and blackcurrant, plum and blueberry fruity, easy to enjoy with some subtle spice notes and a tasteful amount of oak aging. Now with lamb stew, rare steaks and mellow cheeses.
Saurus Patagonia Select Cabernet Sauvignon '08 86
San Patricio de Chañar, Neuquén, Patagonia, Argentina
61986 (v) $15.95
From the Schroeder family, from the most southerly tip of South America, here's the latest example of tomorrow's great new wines; from terroir once inhabited by the early dinosaurs, here's organic wine of high quality. Berry driven, clean and fresh, with hints of chocolate and cocoa. Enjoy!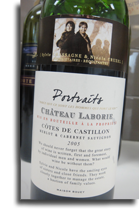 Château Laborie '05 Portraits 87
Sylvie Chassagne & Nicole Cruzel, Côtes de Castillon, Bordeaux
171116 (v) $13.95
Capably run by the Chassagne sisters, this is a good example of a small château performing well in a great vintage: loaded with ripe berry fruit, especially cassis, red currant, raspberry and mulberry framed in silky-smooth tannins, a little oak and dark chocolate on the finish. Great with grilled meats, rabbit or meat pies.
Séptima Malbec '08 90
Codorníu Argentina, Mendoza
686113 (v) $13.95
Imagine, a wine that's almost black, under a screwcap: bravo! A BBQ partner for serious carnivores, this beauty comes on strong with cherry, raisin and blackberry flavors, a whiff of licorice and new leather and moderate oak.
Botalcura Reserve El Delirio Syrah/Malbec '07 86
Maule Valley, Chile
18630 (v) $13.95
Marries the smoky raspberry-cassis of Sarah with the dense plum-blackberry of Malbec plus a dash of mocha, vanilla and subtle oak. Think grilled lamb chops, Chinese BBQ duck, marinated steaks and tomato-sauced pasta.

Jip Jip Rocks Shiraz '08 90
Padthaway. S Australia
673897 (v) $14.95
And it does! From the Limestone Coast in a cool vintage, ageable and elegant, fresh and sassy. Spicy with notes of lavender, violets and smoked meats, good for five years of aging abut ready to rack with today's barbie.
Blackwood Ridge Shiraz '08 88
Plunkett Fowles, Central Victoria, Australia
507277 (v) $19.95
Plunkett Fowles sounds like a recipe instruction but this bacony, jammy, peppery wine's a winner, showing Oz-character burnt rubber with crushed black peppers, intense cherry-plum-raspberry fruit, menthol and fine tannins. Weighs in at 15% alc and you feel it!
Evans & Tate Shiraz '07 87
Margaret River, W Australia
606905 (v) $19.95
Midweight and elegant from cool vineyards, packed with precise blackberry, elderberry and spicy plum flavor, moderate toasty oak, vanilla and underbrush. Enjoy with veal chops, roast chicken, feathered game.
Reverdito Barbera d'Alba '07 88
DOC Piemonte, Italy
161695 (v) $15.95
Stay me with flagons! A juicy, gulpable cherry-kirsch and wild strawberry blast with accents of dried herbs, cedar and summer woodlands. Ready now for grills, barbecues,
pizza, pasta, parties...
Giusti Piergiovanni Lacrima di Morro d'Alba '08 88
DOC Marche, Italy
180273 (v) $17.95
An Intriguing wine from a clone of the mysterious Lacrima di Morro (antecedents unknown) showing aromas and flavor nuances of roses, violets, chocolate, elderberry and strawberry with Earl grey tea and black cherry. Order pizza de luxe with everything.
Villa Girardi Bure Alto '07 88
DOC Ripasso Valpolicella Classico Superiore, Veneto, Italy
161844 (v) $17.95
Like a buffed Valpolly thanks to re-fermentation ("re-passing") on leftover Amarone grape skins, Ripasso has more of everything: body, flavor, silkiness. Nutty, slightly bitter, light and dry. For a true Amarone, Zonin has a 2006, 86207 for $39.95 that's rich, smooth as silk. Made from air-dried Valpolly grapes, long-lived and intense (90).
Baleno Pagnana Oro Chianti '06 87
DOCG Tuscany, Italy
165167 (v) $14.95
The "Bordeaux of Italy", Chianti's on a comeback as a go-to red with food. Midweight, elegant cran-raspberry and sour cherry aromas, slightly leathery with a healthy acidity and firm tannins leading to a creamy texture on the finish. Serve with Steak Florentine, roast lamb and gourmet sausages.
Alentex Premium '06 88
DOC Alentejo, Portugal
21527 (v) $14.95
Slightly leathery and rustic, but a vivid, charming sweetly ripe red from the local grape Trincadeira and from Aragonez aka Tempranillo in Rioja. Aged in American oak, it has a spicy toasty note, well integrated and mellow to match with spicy meat and game.
Bodegas Valdemar Inspiración '05 88
DOCa Rioja, Spain
166512 (v) $19.95
Tobacco, Asian spices, blackberries and wild strawberries are a Tempranillo grape signature and oak aging adds cinnamon-toasty vanilla as it softens this elegant, savory bottling in the grape's ancestral Spanish home. Enjoy with stews, grills and dry cheeses.
Fortius Reserva '04 90
Bodegas Valcarlos, DO Navarra, Spain
166611 (v) $16.95
This is a honkin' great Tempranillo/Cab with a kaleidoscope of savory red and black fruits led by cassis-plum, black raspberry and strawberry, with dried herbs and firm tannins. Steak à la minute, baby lamb chops, Iberico ham.

Sparkling Gems:
Mike Weir Sparkling Brut '07 87
Méthode Traditionnelle, VQA Niagara Peninsula
187294 (v) $24.95
Carefully made palate-pleaser with fine bubbles, fresh cinnamon bread dough and floral aromas, green apple and Bosc pear flavors and a crisp, appealing persona, kind of like its namesake! As always, proceeds go to Mike Weir's charitable foundation for kids in need.

Graham Beck Brut Rosé 86
Méthode Cap Classique, WO Western Cape, S Africa
175588 (v) $17.95
Think essence of sparkling wild strawberries with a lick of vanilla, fresh baked brioche and lemonade. Hold that thought for this dry but rounded, easy quaffing fizz. It's perfect with cold cuts, mango chicken or chicken marengo. Don't over-chill: 20 minutes in the fridge.
Brut Crémant de Bourgogne 87
La Maison du Crémant, Burgundy, France
127811 (v) $16.95
Bone dry with a whiff of white pepper, brioche, yeast and canteloupe, grapefruit and fresh butter, here's a Champagne lookalike for one quarter the price. Mostly Pinot Noir, some Chardonnay and a pinch of Gamay do the trick. Party on!

Aperitifs & Desserts:
Le Rieutort Blanc Moelleux '08 88
Château de Rieutort, Côtes de Gascogne, France
148700 (v) $15.95
Medium dry honeyed nutty-peachy apple, floral sipper from SW France, home of the Three Musketeers, to go with an apricot coffee cake or tarte tatin or enjoy contemplatively on its own. Almost out of stock, I'm afraid.
Inishowen Irish Whiskey 90
Andrew A Watt & Co
656017 (v) $37.95 700mL
Very peaty and smoky for an Irish dram, this is a lighter, milder version of an Islay malt and none the worse for all that. Showing some dried fruit, pudding spice and vanilla with a malty sweetness on the finish.




Take me back to the top of the page, please!