Value for money is what counts. You won't find any wines here that aren't worth buying. Feel free to scroll through this list and see everything we've been sampling but, if you're in a hurry (or very thirsty), you can just click on any of the following words to be whisked electronically to the category of your choice:
Everything Wine Express recommends is in the Liquor Control Board of Ontario's regular stores, unless marked (v) for Vintages stores, or (c) on Consignment, by the case through an importer.
Call the LCBO's Infoline 416/365-5900 for the store nearest you that has the wine. If your local store doesn't have it, the manager will order in the wine at no extra cost and notify you.
Oh, and by the way, if you need a refresher on our rating system (the ratings are in red), just flip back to the main Wine Picks main page for a quick refresher -- in helping you choose a refresher quickly!
Dry Whites:
Château de Chasseloir Muscadet de Sèvre et Maine '04 88
Chéreau-Carré, Loire, France
642637 (v) $13.95
Steely dry, stony, austere and elegant, a wine that couldn't spell oak if you spotted it two letters! Racy, fresh, with just a hint of pears and grapefruit, fantastic with oysters, mussels, or as an aperitif.
Lungarotti Pinot Grigio '04 88
IGT Umbria, Italy
372664 (v) $13.95
Apple skin, mineral, smoky, spicy and very fresh and crisp: a perfect aperitif, light, charming, well balanced and well priced.
Cuttaway Hill Estate Pinot Gris '05 87
Southern Highlands, New South Wales
661983 (v) $14.95
Baked apple, fig, pear fruit notes on the nose and palate, with a rich, creamy texture and a crisp, zesty finish. There's a typical but very pronounced salmon-pink color from this Pinot Grigio's heritage as a distant relative of the Pinot Noir grape. Versatile food wine, good price.
Enotria Cellars Inycon Fiano '04 86
IGT Bianco di Sicilia, Italy
670810 (v) $11.95
A very intriguing regional wine from the Fiano grape with an array of spicy, nutty (roasted filberts), stony-mineral, citrus, peach and elder flower notes. Great with seafood stews, clam chowder.
Wits End The Procrastinator Sauvignon Blanc '04 86
Chalk Hill Wines, Adelaide Hills, S Australia
661975 (v) $15.95
A very big, tropical Sauv Blanc, packing tons of ripe star fruit, nectarine and passion fruit lusciousness yet finishing bone dry. Not sure whether the name says more about the wine or the winemaker, Frenchwoman Emmanuelle Requin-Bekkers. Crowd pleaser.
Gustave Lorentz Riesling Medaille d'Or '03 86
Alsace, France
641639 (v) $16.95
Light, fresh yet intensely flavored floral Riesling with spicy pear, mineral, petrol and pencil lead complexity. Showing typical Alsace oily glycerol on the nose, ready to enjoy now with seafood, spicy Oriental dishes or on its own.
Schloss Schönborn Riesling Kabinett '96 88
Rheingau, Germany
710418 (v) $15.95
A pre-aged (1996!) classic, absolutely ready to rock... It's rare to get such a fine and noble wine, fully mature yet still fresh, pure and delicious, at such a good price. Aromas of peach, pear, apricot, petrol and pencil lead, all present and correct with a lively thread of racy acidity. Great on its own or with delicately spiced dishes.
Lingenfelder Hare Label Gewürztraminer '04 89
Pfalz, Germany
670778 (v) $14.95
Another charming "Vineyard Creature" from one of Germany very best winemakers, the delightful Rainer Lingenfelder: cf his Fox Label Dornfelder; Fish Label Mosel Riesling; Bee Label Morio Muscat; Bird Label Pfalz Riesling; and Owl Label Pinot Grigio -- all good examples of their grape variety and their region. The Hare is an elegant, fine and well made spicy Gewürz, exotic, subtle and well priced.
Stoney Ridge Charlotte's Chardonnay '04 90
Founder's Reserve Selection VQA Niagara Peninsula
497230 (v) $19.95
From that brilliant winemaker Jim Warren (his wife is Charlotte) here's a very muscatty Chardonnay that suggests some Musqué here: very lychee-spicy grapefruit and totally delicious. Great with oriental dishes. Now until 2009. Stoney Ridge's Bench Merlot '04 (88) is a blueberry-blackberry tour de force, lush, full and friendly, with a nice nose. Great with lamb, beef, veal, small game or pizza-pasta, $16.96.
Angove's Long Row Chardonnay '04 88
Estate bottled, S Australia
641779 (v) $13.95
Robust, fruity Chard with a core of ripe Bosc pear, lemony citrus with a hint of creamy vanilla and finishing on a tangy note of lemon drops. Ready for roast chicken, grilled salmon, paella or pork loin. There's also an '04 SE Australian Chard from Milburn Park, 440321 for $1 less that's lighter, simpler and pleasant (86).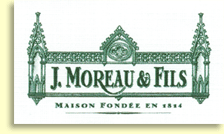 Chablis Moreau 2003 90
Burgundy, France
621763 LCBO $21.95.
Full, fat, rich, with intense phenolic development and racy mineral depth. Showing grace and elegance, like its winemaker, Pascale Brés, here's a triumph of delicacy considering the roasting summer of '03 in France. Under Stelvin screwcap closure. Think sea scallops and veal paillard. 100% Chardonnay, of course, but watch out also for Moreau's Aligoté, $15.45, coming in during April as a General Listing. These are the supporting cast for the more oaky-toasty Moreau single vineyard stars like Chablis Montmains Premier Cru (90), Croix St. Joseph Reserve (94) and Valmur Grand Cru (94), Classics Catalogue). Call 905/815-8865.
Dry Reds:
La Cetto Petite Syrah '03 89
Valle de Guadalupe, Mexico
983742 (v) $9.95
From the pristine southern tip of Baja California (serious whale-watching country), here's a soft and gentle yet intensely flavored dry red with mild elderberry, cinnamon, and vanilla complexity. Ready now and perfect with pizza, pasta with tomato sauce, fajitas and tangy cheeses. Great value!
Thierry & Guy Le Freak Shiraz Viognier '04 86
Vin de Pay d'Oc, France
672261 (v) $15.95
Truly behind the curve, here's the latest catch-up attempt from increasingly stressed out winemakers to merchandise Merrrcan-style... Succulent red Shiraz (Syrah) and spicy, elegant white Viognier -- hence the "Freak" -- are blended to good effect in this vin extra-ordinaire: blackberry, elderberry, cassis and pudding spices provide a food-friendly, affordable red.
L'Ostal Cazes Circus Shiraz '03 88
Vins de Pays d'Oc, France
673202 (v) $14.95
Great package with the Circus big top stripes on the capsule and all: light, fresh, smoky and very good value, also from France's Deep South and a new venture from the owner of snooty Château Lynch-Bages of Bordeaux. Food friendly and a bright, sunny spot in the dark of winter!
Mas des Aveylans Syrah Prestige '03 87
Vin de Pays du Gard, Château des Aveylans
673244 (v) $23.95
Still quite tannic and intense, this big red will reward cellaring or partnering with robust seasonal dishes. Sporting a licorice and peppery tang to the typical smoky raspberry/blackberry attack of Syrah, here's a chewy, well-priced keeper with wallet appeal.
Cave de Sarras Cuvée Champtenaud '00 92
Saint-Joseph, France
673145 (v) $22.95
Just a very together wine. Nicely integrated tannins, acidity, fruit and hints of oak framing tremendous flavors of bitter chocolate, raspberry, elderberry, fresh black pepper and walnut oil. Superb with rare beef, truffles, portobello mushrooms and furry game.
Delas Frères Les Launes '03 88
Crozes-Hermitage, France
701359 (v) $22.95
Cola notes and a firm tannic grip are evident here, along with new leather, black cherry and smoky black fruit/mineral character. Needs a little cellar time -- 2-3 years at least, and should reward the patient.
Rockbare Shiraz '03 89
McLaren Vale, S Australia
661991 (v) $16.95
Lean, sinewy and almost austere at first but revealing an opulent, sensuous alter ego as it opens up. Ripe, complex and inviting with blackberry/blackcurrant smoke and licorice notes and a good length. Good until 2010 but it will never last!
Ferngrove Shiraz '03 86
Frankland River, W Australia
694463 (v) $15.95
Fleshy, plummy, full of the flavors of black fruits, pepper and smoke, a broad-shouldered wine for stews, cassoulet, or chili. Drink or hold.
Tyrrell's Rufus Stone Shiraz '03 90
McLaren Vale, S Australia
542100 (v) $19.95
Taut, intense and racy, here's a thoroughbred from a good Oz stable: highly complex and exhibiting fresh raspberry, ripe plum, blueberry and smoky leather notes, silky tannins and good acidity. Good today, great tomorrow (2008-10).
Fetzer Bonterra Syrah '02 91
Mendocino, California
573709 (v) $19.95
Intense, flavorful, delicious -- and organic. Fruit-driven and pleasant, Fetzer's Bonterra range is one of the top organic lines in the world. Very low in sulphur, quite delicious in a black-fruit, berrylicious way. Party central or pizza perfect.
La Castella Syrah '04 84
IGT Sicilia, Italy
673186 (v) $12.95
As the price might suggest, Syrah Lite, slightly jammy and quaffable and nothing wrong with that. Hints of blueberry with spicy grace notes of black pepper and spices. Meatballs, shepherd's pie, pizza, KFC.
Banfi Colvecchio Syrah '01 91
DOC Sant'Antimo, Italy
710988 (v) $39.95
Pricy but good value: lip-smacking good. Thoroughly elegant and ready to impress your most demanding dinner guests. Complex, pure fruit notes and hints of expensive oak barrels frame a deliciously soft and hedonic wine experience. Now until 2016.
Joao Portugal Ramos Syrah '04 90
Vinho Regional Alentejano, Portugal
998682 (v) $20.95
Lush, plush, spicy blueberry-driven flavors with good tannins, nice acidity and great length, black pepper, and the requisite smokiness. Match with stews, chili, winter soups.
Il Conventino Vino Nobile Montepulciano Riserva '98 90
Tuscany, Italy
677963 (v) $20.95
Très élégant! A lovely, intense and finely poised red with an intriguingly complex array of assets: black cherry, new leather, bitter chocolate, spicy tobacco, cedar and oak. Good for the log haul, but very enjoyable, now with the best rare roasts or furry game. Bravo!
Serego Alighieri Valpolicella Classico Superiore Anniversario 650 Anni '00 88
Masi, Veneto, Italy
661306 (v) $28.75
A smidge pricy but, after all, it's the 650th anniversary (released in 2003) of the 1353 purchase of the property by Pietro Alighieri, son of the (Infernal!) poet Dante, 20 generations ago. The wine? Earth, leather, plum cake, black cherry and pudding spices. Very nice right now with a fine roast chicken, veal, or lamb.
Beronia Tempranillo '01 87
Rioja, Spain
723643 (v) $15.95
From the elegant Rioja grape Tempranillo (very low in tannins) specially aged in new American oak casks and exploding with vibrant red plum fruit, vanilla, licorice and toasty oak – yum! Food friendly and good for folks who "don't like" red wines!
Julian Chivite Gran Feudo Reserva '98 88
Navarra, Spain
479014 (v) $13.95
From one of the best houses in Spain, a whack of ripe red fruit, tannic grip, hints of dark chocolate and crème de menthe, succulent and delicious. Now to 2010 with pheasant, venison, or pizza!
Dessert Wines
Chaucer's Mead 84
California
674838 (v) $17.95
Only because I just read how good honey is for your stomach, etc. And it's one of the oldest fermented beverages in the world: floral, citrus, hints of hay and straw, alfalfa and sage with, of course, notes of honey. Actually interesting and delicious. Dessert sipper.
Quinta do Portal Vintage Port '03 90
Oporto, Portugal
597096 (v) $49.95
Entry level (half!) price for a fine Vintage Port, all plums and vanilla with a hint of oak. Ripe and lovely with a fine core of tannins to help it age, but approachable now. Buy a couple, try one and see if you want to lay down a few...
Pretty Bubbles:
Domaine du Viking Vouvray Sparkling 87
Methode Traditionelle, Gauthier Lhomme
650739 (v) $19.95
Great value in a smooth, silky, creamy Loire bubbly: citrus-melon, fresh-baked bread, honeyed mushroom, vanilla, and with a backbone of stony minerals. From Chenin Blanc grapes and great with white fish, scallops, or as an aperitif.