New Feature:
Click on labels and photos for even more information!


Value for money is what counts. You won't find any wines here that aren't worth buying. Feel free to scroll through this list and see everything we've been sampling but, if you're in a hurry (or very thirsty), you can just click on any of the following words to be whisked electronically to the category of your choice:
Everything WINE EXPRESS recommends is in the regular LCBO stores, unless marked (v) for Vintages stores, Boutiques, and Corners, or (c) Consignment, available by the case through the importing agent.
Call the LCBO's Infoline 416-365-5900 or go to www.lcbo.com for the store near you that has the wine. If your store doesn't have it, the manager will order in the wine at no cost and notify you.
Oh, and by the way, if you need a refresher on our rating system (the ratings are in red), just flip back to the main Wine Picks main page for a quick refresher – in helping you choose a refresher quickly!


Dry Whites:
Sella & Mosca Monteoro Vermentino di Gallura Superiore '09 86
DOCG Sardinia, Italy
203422 (v) $16.95
Floral with green apple and citrus notes and a crisp finish. An ideal seafood and shellfish partner for early enjoyment. From a large, consistent producer now owned by Campari. Vermentino has 41 aliases, across Italy, France, and more recently the US and Australia!
Varanda do Conde Alvarinho/Trajadura Vinho Verde '09 87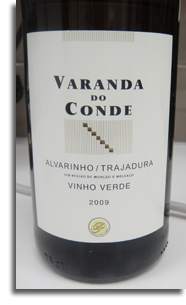 Provam, DOC Moncao e Melgaco, Portugal
966663 (v) %13.95
Pale gold color; flavors of stony-mineral, green apple, Granny Smith, white grapefruit and tangy citrus. A wine that's not been within a mile of oak casks! Made from two multisyllabic grape varieties, this "green wine" has a little spritz and is great with shellfish/seafood.
Agrícola Castellana Cuatro Rayas Verdejo '09 88
DO Rueda, Spain
194787 (v) $14.95
Rueda is a region of racy, crisp white wines, and this is one of them. There's an austere elegance to Verdejo thanks to its citrus acidity yet this is balanced with an orchard fruit component that keeps everything balanced. Fabulous aperitif, seafood/shellfish white.
Leira Albariño '09 88
Pazo Pondal, DO Rias Baixas, Spain
115816 (v) $16.95
Like Verdejo, Albariño is d-r-y and stony although showing more of a mineral, gun flint character with a vibrant grapefruit acidity. Steely is the descriptor that comes to mind. Pass the oysters, please!
Bollini Pinot Grigio '09 89
DOC Trentino, Italy
951319 (v) $16.95
A wine to go with your scallops, mussels and spicy shrimp pasta, fresh crisp and food friendly. You might like to taste it alongside Colmello di Grotta, another 2009 Pinot Grigio from Friuli, $14.95, which shows more melony, candied fruit and hazelnut style (89), perfect with sole amandine.
Eastdell Reserve Sauvignon Blanc '09 87
VQA Niagara Peninsula, Ontario
22274 (v) $17.95
Green gooseberry, green apple and fresh lawn clippings to the fore here in a well made style of Sauv Blanc somewhere between Kiwi-land and the Sancerre of the Loire Valley.
Ready now to enjoy with pan-fried sole or trout or crab salad.
Caves de la Tourangelle Grande Reserve Touraine '09 90
AC Loire, France
196733 (v) $14.95
The wine philosophy of this fine co-op is "fresh, fruity, easy, quaffable and pleasant". How bad can that be? This is all of the above. And great value, too. Fresh acidity, lemon and white currant fruit, and enough elegance to accompany freshwater or smoked fish, or goat cheese.
Domaine de Riaux Pouilly-Fumé '09 91
Bertrand Jeannot & Fils, AC Loire, France
200063 (v) $22.95
From a small family producer, full-bodied(13.5%) yet silky, rich, with a whiff of gun flint (from the local stone called silex), a core of citrus, cut grass and ripe gooseberries. This neighbor of Sancerre has much to offer, especially with Chinese and Thai, and seafood.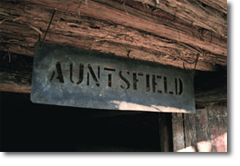 Auntsfield Long Cow Sauvignon Blanc '09 90
Southern Valleys, Marlborough, S Island, New Zealand
663286 (v) $19.95
Very good value, in your face New Zealand Sauv, with that familiar pungent asparagus, lemon grass and gooseberry attack, backed by lemon zest and fresh-mown hay. It's all there and more, including gun flint and stony minerals on the finish. Serve with lemon chicken, Thai dishes or smoked salmon.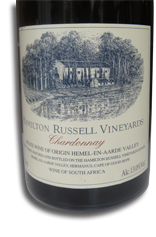 Hamilton Russell Chardonnay '09 87
WO Hemel-en-Arde Valley, S Africa
931006 (v) $29.95
Very tasty and attractive, pear, fig and date fruits with a fresh mineral acidity. Slightly over-oaked for some tastes but crisp and drinking well now to 2014. From the southerly seaside vineyards of a well-respected winery and one of the best cool-climate areas.
Wente Morning Fog Chardonnay '09 88
Livermore Valley-San Francisco, California
175430 (v) $16.45
Food friendly, especially with seafood, shellfish and Asian-spiced dishes, and well balanced in a green apple-Granny Smith goes tropical, subtly oaked kind of way, from an excellent vintage. Refreshing acidity thanks to the cool fog that rolls in daily through the Golden Gate into the Bay and beyond. It's a desirable micro-climate for Chardonnay growers.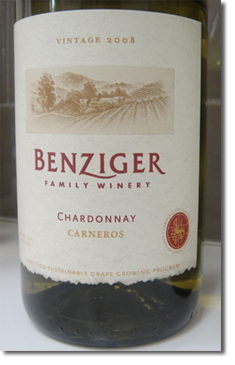 Benziger Chardonnay '08 89
Carneros, California
34777 (v) $24.95
Poised and polished from a reliable producer, this is one hefty oaky-toasty wine for the money, sporting the requisite vanilla, apple, butterscotch and citrus portfolio you'd expect from these here parts. Match with grilled salmon or sweet and sour pork.
Beringer Private Reserve Chardonnay '08 92
Napa Valley, California
26682 (v) $44.95
Big for its britches, this white thinks it's a red and needs serving with stewy or grilled red meats. It has lots of power, oaky intensity, length and an array of smoky, tropical fruits. Not exactly a sipper! Now to 2015.
Clos du Bois Chardonnay '09 86
North Coast, California
124867 (v) $18.95
Oaky to the max, Chateau 2 x 4, some say, for them as likes that style. The tropical fruit, peachiness and caramel pear nuances have their work cut out not to be upstaged. Serve at room temperature to help them out!
Kendall-Jackson Jackson Hills Chardonnay '08 91
Santa Barbara County, California
210146 (v) $34.95
Big vanilla, big oak, smoke, roasted hazelnuts and exuberant pineapple-tropical fruitiness, the archetypal warm-climate blockbuster we associate with the Golden State's wines – and that's great!
Cave de Hoen Riesling '09 89
AC Alsace, France
196782 (v) $15.95
A Gold winner in Paris, fresh, floral with aromas of petrol, apple skin and lemon zest. Racy and bone dry, it's a great food wine, with herbed chicken, pan-fried river fish, even moules marinières. Now to 2016.
Studert-Prum Riesling Kabinett '09 89
Qmp Wehlener Sonnenuhr, Mosel, Germany
970129 (v) $18.95
The Mosel, with its blue slate beds and thin top soils, grows the world's raciest Rieslings yet this one is off-dry, a rich sipper, mature and drinking well. Complex nuances of apricot, peach, pear, apple and limes dance on the palate and all's well with the world!
Lingenfelder Bird Label Riesling '09 91
Qba Germany
568634 (v) $13.95
From a great winemaker, Rainer Lingenfelder, (the winery goes back to 1520) another consistent high-value white: all peaches, nectarine and citrus with a vibrant acidity that marries well with the world's spicier cuisines.
Cave de Beblenheim Heimberger Gewurztraminer '09 90
AC Alsace, France
196642 (v) $17.95
Lovely ginger and white pepper spiciness with a whiff of white peach, lychee, rose petals and grapefruit zest – dab a little behind your ear! – rich and floral, exciting stuff. Nowhere does Gewurz better than Alsace and you can serve it happily with Chinese dishes and strong cheese.

Dry Red Wines:
Calamus Reserve Red '07 87
VQA Niagara Peninsula, Ontario
223990 (v) $19.95
Cabernet Franc-driven with Merlot, Cab Sauv and a little Syrah, this delicious red shows a range of rhubarb pie, black licorice, red plum and bing cherry notes supported by supple tannins and moderate acidity. Serve with BBQ steaks or gourmet burgers.
Grands Vins Ponciago '09 91
Bouchard Père & Fils, AC Beaujolais-Villages, France
207449 (v) $15.95
A lovely wine with a great bouquet, a bountiful blast of berry fruit, smooth and sexy, giving Gamay a whole new attractive look. Burgundy lovers will love this new venture from Bouchard, very sophisticated in its vinification and nothing like the bubble-gummy flavors of Beaujolais made with carbonic (whole cluster, anaerobic) fermentation. This could become a very trendy wine!
Inniskillin Winemaker's Series Montague Vineyard Pinot Noir '07 91
VQA Four Mile Creek, Niagara Peninsula, Ontario
997353 (v) $24.95
Another from the stellar Ontario 2007 vintage: showing chocolate, cocoa, blackcurrant, red cherries and raspberries. From the fine Montague Vineyard, so long an Inniskillin strength. BBQ salmon and any feathered game would be a good choice here.
Santa Barbara Wine Company Pinot Noir '09 88
Santa Barbara County, California
194332 (v) $19.95
Light, fresh, easy-drinking and fruity with vanilla and damson plum and raspberry notes. Here's a Pinot to sip or match with duck a l'orange. Your choice.
Beringer Founders' Estate Syrah '09 86
California
919654 (v) $19.95
An entry level to this fine winery outside its high-rent Howell Mountain bottlings. Nicely concentrated, tasty as can be, with a passel of flavors including cocoa, vanilla, ripe plums, cassis and raspberry. Enjoy with ribs, steaks, and anything BBQable.
The Foundry Syrah '05 89
WO Coastal region, S Africa
613331 (v) $29.95
Big and beautiful, fairly priced, drinking well now and not over-oaked. Subtle and silky with a peppery-spicy kick. Another secret weapon for the BBQ season.
D'Arenberg The High Trellis Cabernet Sauvignon '07 89
McLaren Vale, S Australia
943456 (v) $19.95
Spice, smoke and a basket of red berry flavors with some complex tobacco, licorice and cassis underpinnings. Drink now but will hold for 5 years.
The Watcher '08 89
Fetish Wines, Barossa Valley, S Australia
219196 (v) $19.95
Quaintly named and competently made: Sweet, ripe, lush, with hints of white pepper and blackberries, black plum and red currants. Some taste white chocolate here but it's one of the world's most useless web sites if you want to investigate further. Just a little too self-involved, perhaps.
Château La Fleur Terrien '08 90
Lussac Saint-Emilion, Bordeaux
199059 (v) $15.00
Black fruit in evidence now, especially blackberry and a hint of raspberry, soft tannins and a fresh fruitiness that comes with little or no use of oak barrels. This young wine will benefit from a couple of years in the cellar or serve now with a fine rare cut of beef. There's already a suppleness that comes with 75% Merlot backed by the two Cabernets. Skillfully crafted by the Chaignaud family which has deep roots in the region.

Avalon Cabernet Sauvignon '07 86
California
684399 (v) $15.95
Looking for a crowd-pleaser or wedding red? Search no more. Here's a surefire, relatively sophisticated wine to satisfy most palates: blackberry, blackcurrant and cherry lead the charge with some help from a cedary-minty oakiness. Red meat friendly.
Wente Southern Hills Cabernet Sauvignon '08 90
Livermore Valley, California
301507 (v) $16.95
Lush, fruity, easy-drinking yet elegant, made from the oldest Cabernet vine clones in California, imported from Bordeaux in the 19th C. Aged in older oak barrels for finesse not toastiness, and tannins, plum, black cherry and mocha notes flow through tastily. Now to 2016 with grills, stews and steaks.
Geyser Peak Cabernet Sauvignon '06 89
Alexander Valley, California
343467 (v) $21.95
Polished beyond expectations at this price, a lighter style with very harmonious meshing of blackberry, cedar and smoke with soft tannins. Speaking of polished, there's a new flight of uber Cabernets from Napa for the rich and would-be famous: Caymus Special Selection '08, 711663, $119.95; Dominus Christian Moueix '07, 212381, $119.95; Robert Mondavi Reserve '06, 670463, $134.95; and Opus One '07, 158063, $339.95.
Caymus is all cocoa-chocolate and black licorice (92). Dominus is new saddle leather, kirsch, Chinese spices and red fruit (92). Mondavi is mocha, black licorice, cassis and died herbs (92). Opus is expensive! Silky, opulent, yes, with tons of concentrated cassis, blackberry, sweet tannins and almost iridescent mouth feel (94). You pays your money...
Bodega Atamisque Catalpa Old Vines Malbec '08 88
Tupungato, Uco Valley, Mendoza, Argentina
194126 (v) $16.95
Violet-scented, opaque purple-red in color and ready to rock with an asado (barbecue to you! Preferably short ribs in this case). From 70-year-old vines at 4,500 ft in the Andes, yielding fresh and dried black berry fruit, slightly plummy with anise and white pepper, cushioned in soft tannins and a kiss of oak.
Colomé Estate Malbec '08 88
Calchaquí Valley, Salta, Argentina
194308 (v) $34.95
Cocoa, berries and dark chocolate, for starters on the nose, plum and vanilla in the mouth, ageable and sensuous with nuances of cloves, white pepper and violets. From the world's highest vineyards, up to 8,500 feet, combining 85% Malbec with Cabernet, Syrah and Petit Verdot and Tannat for complexity. Ageable and delicious.
Weinert Malbec '05 88
Mendoza, Argentina
556795 (v) $15.95
Weinert's an old faithful winery, source of solid, dependable value wines like one, once described as "Cahors and Burgundy having a baby!" And that's a good thing: blueberries, plums and tobacco to the fore, full-bodied and complex. Carnivores rule!
Henry of Pelham Reserve Baco Noir '08 87
VQA Niagara Peninsula, Ontario
461699 (v) $24.95
High-strung, vibrant red with a touch of thyme and lavender on the nose, a little gamey with black fruit, spiced plums and seductive hints of new leather. A wine to sip while you're fettling the barbecue for spring and some succulent BBQing of steaks and ribs. Very soon, honest!
La Crau de Ma Mère '07 92
AC Châteauneuf-du-Pape, Rhône, France
941740 (v) $46.95
Smoke, gun flint, black raspberry and kirsch are the entry point, complex and age-worthy, this is the top cuvée, made by Françoise Mayard and her sister Béatrice from 100-year-old vines. In tiny quantities, it's big, typical and a must for Provence fans.
Perrin & Fils Cornuds '08 89
AC Vinsobres, Rhône, France
566844 (v) $17.95
A cooler-climate Grenache-Syrah from northerly Vinsobres, food-friendly with a profile of black currants, blackberries, pencil lead, black licorice, fresh figs and tar with crushed black peppercorns. Break out the duck or cassoulet!
Tre Saggi Montepulciano d'Abruzzo '06 90
Talamonti, DOC Abruzzo, Italy
The Three Wise Men couldn't have done better than nice little red. A cousin of and often blended with Sangiovese, the backbone of Chianti, the Montepulciano grape produces soft, round and plummy early-drinking wines, in this case fairly well oaked.
Cascina Bongiovanni Dolcetto d'Alba '08 89
DOC Piedmont, Italy
203463 (v) $15.95
Dolcetto means little sweet grape but the wine is dry, slightly austere, full of brooding, dark juicy fruit, tending towards black cherry and blackberries, and somewhat of a rarity here. Ageable and will show best in a couple of years.
Vinosia Primitivo '08 90
IGT Salento, Italy
203950 (v) $14.95
Honest, well-made, delicious, typical of this ancient grape variety and very good value. Fruit forward with spicy cherry, vanilla and dried fruits on the palate. Serve with de luxe Friday night pizza.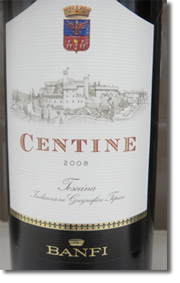 Banfi Centine '08 86
IGT Toscana, Italy
947440 (v) $16.95
Lightly oaked cherries, blackcurrants and Earl Grey tea on the nose of this easy-drinking Sangiovese, Cab-Merlot blend. Not a wine to furrow the brow over; serve it by the flagon and put smiles on your party guests' faces.
Spiaggiole Morellino di Scansano '08 90
DOCG Tuscany, Italy
203398 (v) $15.95
Smoke, gun flint, and a juicy explosion of red currants, blackberry and cassis from this Sangiovese (alias Morellino) from the village of Scansano in the Maremma, formerly the marshy coast of southern Tuscany. Fine value.
Cistus Reserva '07 88
Quinta do Vale da Perdiz, DOC Douro, Portugal
145052 (v) $18.95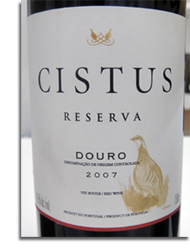 A fine dry table wine made from the classic grapes used for Port, Intense, sweetly ripe with spicy oak, mocha, a berry patch of fruit and supple tannins. Serve this now with rare beef or cellar for a while.
El Coto Crianza '06 88
DOCa Rioja, Spain
190504 (v) $14.95
A silky-smooth Tempranillo-based charmer with just a kiss of sweet oak and anise to enhance a palate-ful of strawberry-raspberry fruit, vanilla and espresso notes. This is well-priced and very food-friendly, especially with BBQ beef or pork or savoury stews. Now to 2016.
Viña Mayor Reserva '04 88
Antonio Barceló, DO Ribera del Duero, Spain
2090155 (v) $25.95
Ageable red from one of Spain's hottest wine regions, with moderate tannins, pleasing aromas of mocha, vanilla and blackcurrant jam, flavors of raspberry, strawberry and sweet grass. Ageable, but why wait? Now with stuffed pork tenderloin.

Rosé:
Prieuré de Montézargues Rosé Tavel 89
AC Rhône, France
216390 (v) $19.95
A super-elegant bone dry pink with a fragrance of sweet apple skin and ripe red berries, and crisp, herbal peach jam flavors, made from Grenache, Cinsault and Clairette grown by the folks who make Chateau La Nerthe in Chateauneuf-du-Pape. The beautiful Priory, with its sun-splashed sandy slopes, dates back to 1199.

Sparkling Gems: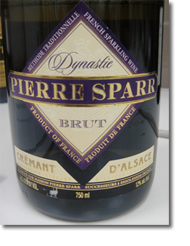 Pierre Sparr Dynastie Brut Crémant d'Alsace 87
AC Alsace, France
952796 (v) $17.95
Elegance in a glass at an economy price: brioche and toasted bread notes on the nose yield to and orchard fruit flavor profile, winter melon, and finally a refreshing white grapefruit acidity on the finish as the bubbles tickle your nose. Party starter, partner to freshwater fish and white meats.
Domaine Roger Luquet Blanc de Blancs Brut Crémant de Bourgogne 88
AC Burgundy, France
957894 (v) $19.95
Delicate, subtle, lively creamy-frothy fizz from pure Chardonnay grapes grown in southern Burgundy, dry with subtle bready aromas, a citrus core and a long fresh apple-pear aftertaste. Just don't tell anyone it's not Champagne!




Take me back to the top of the page, please!