(Hint: click on labels and photos for even more information!)


Value for money is what counts. You won't find any wines here that aren't worth buying. Feel free to scroll through this list and see everything we've been sampling but, if you're in a hurry (or very thirsty), you can just click on any of the following words to be whisked electronically to the category of your choice:
Everything WINE EXPRESS recommends is in the regular LCBO stores, unless marked (v) for Vintages stores, Boutiques, and Corners, or (c) Consignment, available by the case through the importing agent.
Call the LCBO's Infoline 416-365-5900 or go to www.lcbo.com for the store near you that has the wine. If your store doesn't have it, the manager will order in the wine at no cost and notify you.
Oh, and by the way, if you need a refresher on our rating system (the ratings are in red), just flip back to the main Wine Picks main page for a quick refresher – in helping you choose a refresher quickly!


Dry Whites:
Casa Do Valle Grande Escolha 2012 89
DOC Vinho Verde, Portugal
276220 (v) $15.95
Full-bodied and rich with a core flavor of white grapefruit, apple pie and ripe apricots, here's a wine with just the right heft for shrimp teriyaki or paella.
Trimbach Reserve Riesling 2010 89
AC Alsace, France
995316 (v) $27.95
Palate-cleansing crispness of Granny Smith apple paves the way for floral and herbal notes and a slate-mineral finish. This superior quality Riesling is dry, elegant and very well made.
The Foreign Affair Ex-Pat Riesling 2009 90
VQA Niagara Peninsula, Ontario
372326 (v) $16.95
Rich and mouth-filling with grippy acidity and flavors of lemon curd, key lime, and citrus peel, this Ontario producer just gets better with every vintage.

Rustenberg Chardonnay 2012 88
WO Stellenbosch, S Africa
598631 (v) $19.95
Easy to like, boldly oaked and ripe with full-bodied apple and vanilla complexity. Ready to enjoy now and very good value as an everyday pour.
Le Clos Jordanne Village Reserve Chardonnay 2010 89
VQA Niagara Peninsula, Ontario
33936 (v) $30.00
Delicately oaked with intense apple, lemon and mineral notes, here's a good example of Ontario's cool-climate suitability for the Chardonnay grape, somewhat understated but very precise and deliciously subtle.
Maison Roche De Bellene Vieilles Vignes 2011 88
AC Bourgogne Chardonnay, France
299867 (v) $18.95
Creamy, toasty everyday good Chardonnay from Burgundy: well priced and packing good concentration as an everyday quaffer. Think herb-roasted chicken or simple white fish dishes.
Marchand Tawse 2011 90
AC Meursault, France
285866 (v) $66.95
Canada's Moray Tawse also has vineyards in Argentina and Niagara, and he partners with Pascal Marchand in Burgundy, the source of this excellent Chard. Bright, lean and lively with a refined, balanced feel. Citrus, vanilla and a lightly oaked style.
Simi Russian River Valley Reserve Chardonnay 2011 92
Russian River Valley, Sonoma County, California
200881 (v) $31.95
The $5 premium over the Arrowood must be in the enormous bottle-weight! Another full-bore Chard in a similar lush, tropical style with plenty of heft and sunny ripeness in the mouth.
Wine By Joe Pinot Gris 2011 88
Oregon, USA
58651 (v) $20.95
Winemaker Joe Dobbes has coaxed this Pinot Gris into a fair imitation of a Cal Chard! Fruit forward with papaya, pineapple and ripe plums yet quite complex with anise, licorice and a Kirsch note, too. Very good value to enjoy now.
Fantinel Sant'Helena Pinot Grigio 2012 88
DOC Collio, Italy
310144 (v) $19.95
From the far northeast of Italy, a nicely made aromatic, light dry charmer with apple sauce-citrus, baking spice and floral character. Clean and crisp on the finish, for aperitif or especially with seafood.
Wingspan Sauvignon Blanc 2012 88
New Zealand
365403 (v) $17.95
Again, more of the tropical style, perhaps a little closer to the Loire in a warm year: papaya, pineapple and mango in the forefront with a whack of citrus peel to keep things balanced.
Domaine de Bellevue Sauvignon Blanc 2012 91
AC Touraine, Loire, France
251454 (v) $14.95
Another tropical version of the Sauv Blanc grape with papaya and star fruit amid the lemon-lime and mineral theme. Aromatic and lingering on the palate – a great match for Asian food and tapas.

Domaine Franck Millet 2012 87
AC Sancerre, Loire, France
297879 (v) $26.95
Grapefruit, melon and citrus-apple leitmotifs themes combine in this quintessential Loire white, full of character and depth. Screwcap, thank goodness, and very dry Sauvignon Blanc with a hint of asparagus flavor and a limestone minerality.
Maison Adrien Vacher Les Adrets Altesse 2012 90
AC Roussette de Savoie, France
365163 (v) $16.95
From a little known grape called Roussette, which has at least 19 synonyms and may or maybe not be related to Hungary's Furmint! However, it's a citrusy-herby fresh white with a dash of lemon drops and cinnamon-apple pie, if that's to your liking. It's mine!
Tiberio 2012 91
DOP Trebbiano d'Abruzzo, Italy
365478 (v) $15.95
Trebbiano, alias Ugni Blanc, is the main grape for Cognac and Armagnac, not swooned over but a workhorse for plain white wines. This bottle is zippy, fresh, with aromas and flavors of lime zest, pear, Granny Smith and rain-washed stone.
Pra 2012 87
DOC Soave, Italy
74534 (v) $19.95
From the local Garganega grape of the Veneto, a carefully crafted dry white with floral, stony mineral, melon-citrus and balanced acidity plus that delicate hint of bitterness typical of a good Soave. Sipping or shellfish.

Dry Red Wines:
Le Clos Jordanne Village Reserve Pinot Noir 2011 87
VQA Niagara Peninsula, Ontario
33894 (v) $30.00
A little slice of Burgundy in Ontario, this graceful Pinot has enough raspberry-violets and cassis elements to be confused with the original. There's even a hint of mocha and soft tannins to give great mouth feel.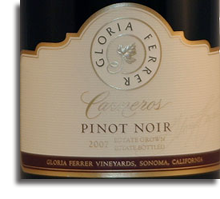 Gloria Ferrer Carneros Pinot Noir 2010 87
Carneros, California
925925 (v) $26.95
Sour cherry, Kirsch and ripe raspberries come right at you! Savory herbal notes trot right behind and they're all wrapped in nicely integrated tannins and a touch of toasty oak. Nice.
Sokol Blosser Delinea 300 Pinot Noir 2010 87
Willamette Valley, Oregon, USA
220368 (v) $24.95
An organic Pinot from Oregon, softly rounded with berry/vanilla and raspberry fruitiness and just a hint of pleasant sweetness in the aftertaste. Sip it while you chill out with Jazz FM.
Domaine Moillard Bourgogne 2011 91
AC Hautes Cotes De Nuits, Burgundy, France
356899 (v) $22.95
The Moillard family has been making fine Burgundy since 1789, the time of the French Revolution, and their skill is evident. This well-priced example shows plums, blackcurrants, white pepper, raspberries, cherries, beets – very fruit forward with moderate tannins and an elegant finish.
Roux Pere & Fils La Moutonniere 2012 88
AC Pinot Noir Bourgogne, Burgundy, France
365064 (v) $19.95
From this St-Aubin-based independent producer, a nicely oaked subtly tannic everyday Pinot (hard to put that in the same sentence for Pinot!). Strawberry, cherry and lightly floral, designed to be enjoyed now. Herb-roasted chicken comes to mind.
Jean-Paul Brun Terres Dorees 2012 91
AC Cote de Brouilly, Beaujolais, France
235127 (v) $20.95
Really like this herbaceous licorice-berry, bright-tasting Beaujolais. Perfumed and elegant (nothing like Beaujolais Nouveau!) it's cherry-mocha, earthy, black and red berry driven. Great with cheese dishes and white meats.
Dante Robino Bonarda 2011 87
Mendoza, Argentina
277640 (v) $14.95
Argentina's other big red wine grape, Bonarda, to the fore here: a little more rounded than Cabernet but opulent in ripe strawberry, Kirsch and bitter chocolate style. Break out the empanadas.
Santa Carolina Gran Reserva Petit Verdot 2011 88
Rapel Valley, Chile
7484 (v) $15.95
Plums, black fruit and a dusty chocolate note that reminds me of a good Beaujolais (I know it's a minor Bordeaux grape) with a lick of vanilla. Very likeable and food-friendly, well priced and ready to tango.
Cedarcreek Estate Cabernet/Merlot 2010 89
VQA Okanagan Valley, British Columbia
175604 (v) $24.95
Ripe fruit and tannins in a frame of red berry and chocolate flavors. Hints of crushed black peppercorns, pencil lead and sage. The ripeness is balanced and not cloying, to enjoy now and over the next five years.

Southbrook Triomphe Cabernet Sauvignon 2012 93
VQA Niagara-on-the-Lake, Ontario
193573 (v) $22.95
Organic and biodynamic, Southbrook excels with intensely flavored Cabernet that offers cassis, Kirsch, smoked meat notes and fruit forward pleasure. Tailor made for winter stews and rare roast beef.
Rockway Vineyards Small Lot Cabernet Merlot 2011 89
VQA Twenty Mile Bench, Niagara Peninsula
370346 (v) $15.95
Tons of blackberry and toasty oak complexity enhanced by dark chocolate undertones and elegant acidity that pairs well with hearty stews and grills. Love the name: Small Lot!
Chateau Pey La Tour Reserve Du Chateau 2009 87
AC Bordeaux Superieur, France
349308 (v) $19.95
From a very good year and a reliable producer, this 90% Merlot driven beauty is ripe with very delicate tannins and pure fruit flavors: redcurrant, blackberry and cassis to the fore. Late harvested and assembled from 84 batches of grapes.
Dry Creek Vineyard Cabernet Sauvignon 2010 87
Dry Creek Valley, Sonoma County
642207 (v) $25.95
It'll be Very Dry Creek this year with California's drought, but in 2010 the gods were kind to Cabernet-makers. Lush, full-bodied, not overripe and packed with blackberry, blackcurrant fruit notes. Sippin' pleasure.
Cicchitti Gran Reserva Cabernet Sauvignon 2004 89
Mendoza, Argentina
301465 (v) $21.95
A Cab that's pre-aged for you: 2004. An outstanding food wine that's perfectly mature and good for another 5 years still. Spicy cassis, toasty oak, pencil lead and blackberry jam meld into a lightly tannic treat for carnivore cuisine.
Finca Sophenia Reserve Cabernet Sauvignon 2011 90
Mendoza, Argentina
350090 (v) $17.00
Bramble jam and spicy red berry fruit aromas lead you into a palate-pleasing black fruit, white pepper and lightly tannic flavor experience. Ageable but can pair well now with rare steaks and roasts.
Angove Vineyard Select Cabernet Sauvignon 2010 87
Coonawarra, South Australia
361311 (v) $22.95
Dusty tannins frame the pure, ripe cassis and blackberry fruit, mellowing tannins and a whiff of eucalyptus. All very nice. Ready now with BBQ fare or a duck confit.
Dowie Doole Second Nature Cabernet/Shiraz/Merlot 2010 88
McLaren Vale, South Australia
361329 (v) $19.95
Elegant, Bordeaux-ish style if you'll excuse the Shiraz intruder! Juicy and friendly now with gentle oak and tannins and some nice savory aromatics. Elegant enough to serve for Sunday lunch!
Berthet-Rayne Tradition Cairanne 2011 90
AC Cotes du Rhone Villages, France
354100 (v) $17.95
If you've ever wondered about the tasting note "pencil lead" in a wine, here's a good example: it goes along with the ripe Bosc pear, apricot, raspberry and plum compote flavor mix that drives this along. Delicious with or without food.
Chateau Fontenelles Cuvee Renaissance 2010 86
AC Corbieres, France
148692 (v) $18.95
Gamey with violets, floral and cassis-cola notes chased by lemon drops, mocha and red berries. Exciting, affordable wine with good depth and lovely fruit. Very food friendly, especially with stews and confits.
Domaine La Fourmone Selection Maître de Chais 2009 88
AC Vaqueyras, France
362616 (v) $24.95
GMS as the Aussies call Grenache, Mourvedre and Syrah and that's a good thing! At the foot of the Montmirail mountain and from a rocky-sandy soil, here's a vibrant red to go with your lamb, beef stew or grilled anything.
Tanunda Hill Shiraz 2011 88
Barossa, South Australia
289983 (v) $18.95
From a historic winery, a classic full-bodied Shiraz with cocoa, coconut, smoky sweet ripe pineapple, Kirsch, and cedar middle palate. Calling for slow roasted lamb or Asian stir fry.
Easton Zinfandel 2011 88
Amador County, California
328377 (v) $24.95
A civilized Zin, i.e. not a jammy fruit bomb, that's still richly ripe, raspberry, cherry focused and stylishly balanced, with some herbal-spice subtleties. Leathery fleshiness tempers the heat.
Pico Maccario Lavignone 2011 88
DOCG Barbera d'Asti, Piemonte, Italy
365486 (v) $17.95
Perfect everyday red with lovely fruit, the right acidity and enticing notes of black cherry and blackberry to keep you interested. The acidity is fresh citrus and there's a subtle almond after-taste. Bravo!
Morgante Nero d'Avola 2011 89
IGT Sicilia, Italy
40816 (v) $16.95
Using Sicily's signature red wine grape, Morgante has fashioned a smooth, juicy blackberry and cherry cola sipper with sweet spice, toasty oak and sun-kissed earth. Delicious with grilled meat, roast pork, mature cheeses and cold cuts.
Castello di Querceto 2010 88
DOCG Chianti Classico Riserva, Tuscany, Italy
650754 (v) $29.95
Black fruit, vanilla and dark chocolate, smooth tannins and a lovely saddle leather character give this wine staying power and it will improve with a couple of years in the cellar.

Lungarotti Rubesco 2009 90
DOC Rosso di Torgiano, Umbria, Italy
368548 (v) $19.95
An old favorite returns: made from Chianti's Sangiovese, Canaiolo, Colorino grapes and showing anise, leather, sweet tobacco, violets and Kirsch character. Polished and well priced, to go with risotto, BBQ and mature cheeses.
Casa de Passarela Reserva 2009 87
DOC Dao, Portugal
365577 (v) $18.95
For wood fans, here's an oaky treat: plummy with a hint of raisins and wild berries, full-bodied, earthy and powerful, from Touriga Nacional grapes. Must be a supermodel 'cos Passarela translates as Catwalk…
Delaforce Touriga Nacional/Cabernet 2007 88
Vinho Regional Duriense, Portugal
358721 (v) $24.95
Blackberries and sweet marjoram leap from the glass pursued by tannins, oak and black licorice. Well, it feels like that! Port house Delaforce smartly applies its 200 years of making sweet wine to taking the dry approach.
Bodegas Balbas Ardal Crianza 2005 90
DO Ribera del Duero, Spain
167601 (v) $17.95
Spain's best red grape, Tempranillo, spiffed with 10% Cabernet for a more "international" style, and it works. Mulberry, cranberry and blackcurrant fruit notes with a smidge of vanilla from the oak aging.
Bodegas Olarra Anares Reserva 2006 91
DOCa Rioja, Spain
244723 (v) $19.95
Another good value, mature Spanish beauty, deeply delicious with smoky plum, polished oak and vanilla bean, medium weight heavy in drinking pleasure.


Sparkling Gems:
Pierre Sparr Reserve Brut Cremant d'Alsace 90
AC Alsace, France
173401 (v) $16.95
Fresh and lively bubbly with a core of pink grapefruit flavors melding into Anjou pear and a citrus-brioche aftertaste. It's dry and vivid and decently priced.

Just Desserts:
Lustau Solera Reserva Escuadrilla Rare Amontillado 94
DO Jerez-Xerez-Sherry, Spain
660324 (v) $19.95 375mL
Perhaps the best wine of this entire release, Lustau never disappoints. Nuances of toasted walnuts, dulse, apricots, salty sea spray and honey dance on the tongue, seemingly forever. Sip and sigh.
Take me back to the top of the page, please!