(Hint: click on labels and photos for even more information!)


Value for money is what counts. You won't find any wines here that aren't worth buying. Feel free to scroll through this list and see everything we've been sampling but, if you're in a hurry (or very thirsty), you can just click on any of the following words to be whisked electronically to the category of your choice:
Everything WINE EXPRESS recommends is in the regular LCBO stores, unless marked (v) for Vintages stores, Boutiques, and Corners, or (c) Consignment, available by the case through the importing agent.
Call the LCBO's Infoline 416-365-5900 or go to www.lcbo.com for the store near you that has the wine. If your store doesn't have it, the manager will order in the wine at no cost and notify you.
Oh, and by the way, if you need a refresher on our rating system (the ratings are in red), just flip back to the main Wine Picks main page for a quick refresher – in helping you choose a refresher quickly!


Dry Whites:
Dr Buerklin-Wolf Ruppertsberger Riesling 2012 91
Pfalz, Germany
394148 (v) $22.95
A dry, very food-friendly qualitatswein from south Germany that's refreshingly crisp, floral and textured. The iconic elegant "petrol" or Vaseline note of German Riesling is evident along with Bosc pear, lemon zest, honeycomb and nectarine. Delicious now or whenever.
Calamus Reserve Riesling 2012 90
VQA Niagara Peninsula, Ontario
180877 (v) $18.95
Different style from German, more fruit forward – apple-pear, lime zest and minerals, and less viscous on the palate. Fresh, slightly honeyed and drinking beautifully today to 2020. Pork with apple sauce comes to mind.
Malivoire Pinot Gris 2013 90
VQA Beamsville Bench, Niagara Peninsula
591305 (v) $19.95
Perfumed and stony at the same time with floral, peach, pear and melon riffs. A very silky mouthfeel and balanced acidity make this a fine versatile food match.
Stag's Leap Cellars Aveta Sauvignon Blanc 2013 91
Napa Valley, California
243162 (v) $29.95
The leap here is towards classic white Bordeaux styling and elegance. The Stag's first SB Aveta vintage and a bonnie baby. There's a grassy, melon, herbal theme with a whack of fresh lemon and lemon zest providing the harmony.
3 Stones Sauvignon Blanc 2014 87
Marlborough, S Island, New Zealand
207159 (v) $16.95
For all who loved the breakthrough Kiwi grassy-herbal Savvies of the early '90s: here's the classic style of tropical fruit, herbaceous aromas and bright citrus acidity – great with freshwater fish, Thai, and salade composée.
Jean-Max Roger Cuvée G.C. 2013 89
Sancerre, Loire, France
189126 (v) $27.95
With three first names it's hard to go wrong: Old World magic with Sauvignon Blanc, all lime zest, lemon-lime and grapefruit freshness. Think spring, here. And seafood, shellfish and Greek salad today.

Fielding Unoaked Chardonnay 2013 88
VQA Niagara Peninsula, Ontario
164491 (v) $14.95
For fans of unoaked, fruit driven whites: packed with crisp apple, Key lime, and melon character, ready today to be your aperitif or accompany white meats and seafood.
Jean Collet & Fils Montée de Tonnerre 2011 91
Chablis 1er Cru, Burgundy, France
405720 (v) $34.95
Tres elegant! A Chablis thoroughbred with the flinty, chalky mineral frame that one expects to house such hazelnut-lemon and floral finesse. A truly elegant and delicious addition to your collection.
Cave des Grands Crus Blanc 2013 89
Macon-Vinzelles, Burgundy, France
405795 (v) $17.95
Without a fanfare of oak, here's an elegant Chardonnay that's affordable, bold, exciting and delicious with an orchard of fruit, citrus-lime acidity and a rounded vanilla-tinged finish. It's already a medal winner.
M. Chapoutier Tournon Mathilda 2013 91
Victoria, Australia
401398 (v) $19.95
The thoughtful Braille label is always a Chapoutier tipoff and the Viognier/Marsanne blend delivers the tropical herbal spicy warmth you'd expect from this stellar Rhone-based winemaker. Ginger, fennel, juniper and pineapple all ace their lines in this vinous masterwork.
Joseph Cattin Hatschbourg Gewürztraminer 2012 93
AC Alsace Grand Cru, France
259770 (v) $21.95
A blast of spicy, floral, tropical fruit aromas with a core of apricot-pineapple and fresh-cut roses. Off-dry and silky with a luscious range of flavor layers that's quite striking. Think Asian, spicy seafood and any pork dish.

Dry Red Wines:
13th Street Gamay Noir 2012 88
VQA Niagara Peninsula, Ontario
177824 (v) $19.95
A bit of a stewed-fruit entry with sour cherry and black plum notes and a lovely lack of oak. Think Beaujolais, but the good kind – not Nouveau! Quite a lovely Gamay to be enjoyed now!
Keint-he Voyageur Pinot Noir 2012 89
VQA Niagara Peninsula, Ontario
373407 (v) $18.00
From prime Niagara fruit vinified carefully in Prince Edward County: cassis, raspberry and strawberry with cherry, earth, cocoa powder and smoky toasty barrique notes. Truly a hands across the Lake (Ontario) effort!
Sterling Pinot Noir 2012 88
Napa Valley, California
396150 (v) $29.95
Good value for any Napa label these days! The California vineyard real estate bubble is driving these babies through the roof! Think fresh bramble jam and brioche with vanilla and toasty oak and you're there.
Primarius Pinot Noir 2012 88
Oregon, US
402180 (v) $24.95
Lean for a vintage many are calling the best ever in Oregon, hotbed of great Pinot Noir. It has the raspberry, cassis and beets of a fine Macon red and there's a lovely balance of black tea and black cherry, too. Altogether a fine effort now or five years from now.
The Good Earth Cabernet Franc 2012 89
VQA Lincoln Lakeshore, Niagara Peninsula, Ontario
350751 (v) $20.95
Ontario's signature red: faster ripening than Cab Sauv, perfect for our cool climate and delivers BIG! Very European here with its savory, earthy sensual notes, red peppers and red plum especially. Very food friendly, crisp and delicious as a sipper or fine dinner wine.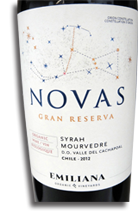 Emiliana Novas Gran Reserva Syrah/Mourvedre 2012 90
Colchagua Valley, Chile
399360 (v) $15.95
A lovely Rhone Valley blend with raspberry, black pepper, chocolate proclivities. Fresh and vivid flavors inspired by the constellation Orion shown on the label. Good value and restrained elegance.
Santa Carolina Specialties Dry Farming Carignan 2010 90
Cauquenes Valley, Chile
213520 (v) $17.95
Ultra-Mediterranean Carignan comes to the fore here. A late ripener heavily planted in southern France and Spain, where it originates, it rewards careful viticulture and can yield intense and fascinating reds. Cassis, black cherry and herbal garrigue notes lend depth and interest.
Harewood Shiraz 2011 87
Great Southern, Western Australia
401380 (v) $19.95
Black fruit and oak – a nice combo! Followed by good tannins and that's even better. Smooth and silky with a tarry-spicy nuance that you're sure to like. Now to 2020.
Zonte's Footstep Lake Doctor Shiraz 2012 87
Single site, Langhorne Creek, South Australia
72975 (v) $17.00
Smoky Shiraz with a bacony, campfire, briary appeal, hiding a hint of mocha and road tar (in a nice way) juicy and loveable now to 2023. With smoky campfire, barbie, carnivore fare.
Chateau d'Emeringes Vieilles Vignes 2013 88
Pierre David, Beaujolais-Villages, Burgundy, France
405787 (v) $14.95
Band-Aid, cherry candy, pencil lead and sour cherry lead the way here – a typical Beaujolais, n'est-ce pas? Light and quaffable, cheery and fun. Don't let those old vines fool you, this is a really NOW kind of fresh red.
Chateau Tour Salvet 2009 89
Haut-Medoc, Bordeaux, France
403766 (v) $23.95
Smoke, oak and tons of mulberry, red currant and black plum fruit in a sophisticated, savory and elegant package, of course. Hints of older oak, don't you know, with a smoky, slightly tarry aftertaste. Delish!
Vincent de la Remondiere 2012 90
Marsannay, Burgundy, France
405738 (v) $29.95
Sweet spicy fruit with light oak and elegant nuances of beets, raspberry and cassis, of course. The tannins are silky and the acidity is perfectly balanced. This wine rocks!
Domaine Lafage Cuvée Authentique 2012 89
Cotes du Roussillon, Languedoc, France
400341 (v) $16.95
A spicy fruity, savory 15% charmer! From ancient vines call Grenache, Syrah and Carignan, here's a voluptuous old world standard – food-friendly and uncomplicated. Gotta love it! Garrigue herbal influenced and black plum nuanced.
Runkel Pinot Noir 2012 87
Qualitatswein, Rheinhessen, Germany
395954 (v) $18.95
Germany is a great red wine making country. Nobody as yet has figured out what they're doing! The pinot Noir is kind of beets, and spicy with the subtle elegance of Burgundy. However, they're trying, and this is a good example of something you'd serve with a mushroom risotto. Stay tuned!
Pan Reserve 2010 91
Montepulciano d'Abruzzo, Italy
395004 (v) $19.95
Savory, earthy with a fruity attack of blackcurrant, fig and raspberry. Quite complex with anise and licorice threads among the mocha nuances. Very food friendly and delicious now.
Tenuto Rocca 2008 91
Barolo, Piemonte, Italy
395103 (v) $37.95
Savory, elegant, restrained and charming: the grainy tannins enhance the black cherry, sandalwood and black olive notes. Serve with your finest steaks and roasts. Now!
Bertani Ripasso 2011 88
Valpolicella, Veneto, Italy
395087 (v) $17.00
Savory, light, fresh and easy on the purse. Everyday pleasure without a brow-furrowing moment! Here's a simple fruit forward low tannin quaffer nobody could dislike. Go for it!
Convento de Tomar Reserva 2011 88
DOC do Tejo, Quinta do Cavalinho, Portugal
404434 (v) $17.95
Gamey, herby, berry fruit and cassis on the attack. Not bad! Hints of its wood aging and a layer of fine tannins to tantalise your interest in further aging. Why not put some down for a 2020 BBQ?
Baron de Ley 2008 91
Rioja Gran Reserva, Spain
642496 (v) $29.95
Old leather, oak vanilla, smoke, vanilla and berry compote are the first deliciously sensory notes on tasting this ancient Rioja. French and US oak are the aging vessels of choice and they do a good job here. Enjoy now to 2020.
Olivares Altos de la Hoya Monastrell 2012 90
DO Jumilla, Spain
163154 (v) $13.95
A flavor bomb with below the radar subtlety and a range of fruit/herbal depths. Lavender and garrigue herbal nuances buttress the potent red fruit core. Be among the first to grab this treasure.

Chateau Saint-Roch Chimeres 2012 92
Domaine Lafage, Cotes du Roussillon Villages, France
119354 (v) $18.95
Very good value with savory-spicy fruit character from ancient vines, high flavor concentration and a whopping 15% alcohol that you scarcely notice because of the fine balance of fruit and acidity. A blend of Grenache, Syrah and Carignan grapes that's voluptuous and sensual and ready to drink now or hold five years.
Le Cirque Grenache Noir/Syrah/Carignan 2013 91
Cotes Catalanes, France
277079 (v) $16.95
The same classic southern French grape trio ripened to perfection beside the Mediterranean, potent, sappy and velvety with red and black berry flavors and a savory touch of tapenade on the palate. Tomato-based dishes like pizza and pasta come to mind. Great value again.
Beronia 2007 91
Rioja Gran Reserva, Spain
940965 (v) $39.95
A medal-winning well-aged Rioja that's served its time in American oak barrels and taken on that toasty vanilla, spicy and slightly minty overtone alongside the softly rounded berried fruit flavors. Very mellow tannins and gently rounded curves to enjoy now! It is 8 years old after all. Think lamb for Easter.
Finca la Emperatriz Reserva 2008 88
Rioja Reserva, Spain
359927 (v) $32.95
Again Tempranillo competently takes centre stage with a little help from Garnacha, Viura and Graciano grapes. The American oak aging has contributed old leather, fresh mint, and black licorice notes to the strawberry, raspberry and golden apple nuances of the fruit. Well made, well priced. Bravo!
Notte Rossa Primitivo di Manduria 2012 87
Puglia, Italy
395095 (v) $17.95
The deep south of Italy's equivalent to California's signature red Zinfandel for a fraction of the price. Less of a fruit bomb and more savory with a tasty whiff of smoked oysters, anise, licorice and lashings of raspberry jam.

Sparkling Gems:
Marie-Pierre Manciat Brut 91
Cremant de Bourgogne Methode Traditionelle, France
402362 (v) $24.95
Fabulous value from Burgundy, just south of Champagne. From 100% Chardonnay showing biscuity-toasty aromas and intense lemon zest, lemon oil and vanilla on the palate. Toast the newlyweds without breaking the bank!
Bisol Desiderio Jeio Colmei Extra Dry 91
Valdobbiadene Prosecco Superiore, Veneto, Italy
30601 (v) $16.95
The world's hottest bubbly, Prosecco, made here by one of the greats and way more complex and satisfying than your average version – packing an orchardful of fruit, honey and hay with a mineral underpinning. Here's to you!
Jacquart Mosaique Brut 92
Champagne, France
664672 (v) $47.95
Mouth-filling and elegantly satisfying full-bodied Champers with a whiff of wood smoke and roasted nuts, tingling citrus and lemon curd/lemon meringue verve. A celebration in a glass.

Just Desserts: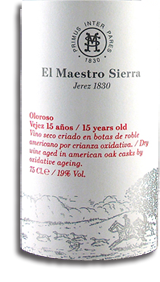 El Maestro Sierra 15-Year-Old Oloroso 93
DO Jerez-Xeres-Sherry, Spain
330571 (v) $13.95
Decadent pleasure at an absurd price! Dry yet redolent of toasted hazelnuts, dried and candied fruits, honeycomb, vanilla and church pew oakiness. One of the world's great (as yet) undiscovered wine treasures. Save some for me!
Le Pere Jules 93
Pommeau de Normandie, France
402131 (v) $39.95
Like the best apple cider you ever had, on steroids! Aged five years or more with local French Calvados, gorgeous with a touch of oak and a kiss of sweetness. A cider of meditation or an aperitif sipper.
Burmester Late Bottled Vintage 2009 92
Port, Douro, Portugal
400697 (v) $24.95
The poor man's Vintage Port, bottled after 4 years in cask, offering an exciting minty, blackberry, blackcurrant and floral nose and intense fruit/vanilla pleasures on the palate. Drinking now and will age 10 years.
Take me back to the top of the page, please!