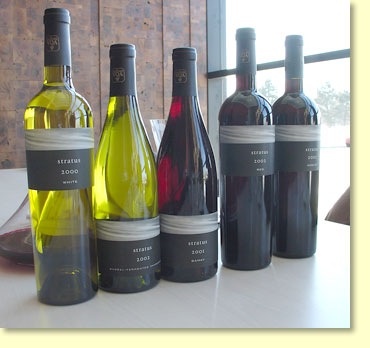 Stratus, Canada's newest super-winery, is pure function.
It's Opus North: a winemaker's paradise of stainless steel and fine French oak.
Opus One, the Mondavi-Rothschild showcase in Napa, cost tens of millions. No one's saying just how much Stratus cost, but think Formula One BMW engineering here.
Outside, it looks like a high-tech shoe box but, boy, the substance inside!
Orchestrated in design/function by Peter Gamble, founding executive director of the VQA, who also worked at Chateau Pichon-Baron, Stratus's goal is Bordeaux-style vins de garde, using only French oak. "Close to 40% of the wine won't make the cut and will be declassified, although it will still be VQA," he says.
The conceptual question posed to top winemakers worldwide was: "If you had your druthers, what would you want at your next winery? Stratus has it all.
Gravity everything for gentle wine-handling, a four-storey tank elevator with a unique kid-glove nitrogen system to push, not pump, the wine, (the elevator column alone weighs 18 tons and Opus doesn't have one!) And peristaltic backup pumps, the gentlest in the world, that softly squeeze the hoses...
Naturally, there are roto-fermenters, Burgundian open-top oak fermenting vats à la Domaine de la Romanée-Conti, gleaming tanks of every shape/size, eco-friendly everything, twenty-two (22) different ways to sort/select the grapes, easy-clean steel conveyor belts.
And, it goes without saying, computerized everything, connected to the home of the winemaker, Jean-Laurent (J-L) Groux, ex-Hillebrand Estates and a master of the Bordeaux blend. Born and raised in the Loire, he studied in Burgundy and Bordeaux.
Gamble is a strong proponent of blending, citing the 12 grape varieties in Châteauneuf; the five in Bordeaux; six in Port; the Pinot Noir/Meunier and Chardonnay in Champagne; Tempranillo and Garnacha in Rioja; Sangiovese, Merlot, Cabernet, Syrah in the Super-Tuscans, and so on.
Among the other tools J-L has at hand are interior misting systems, ozonators (to eliminate Brettanomyces), fans among the vines to blow away any threat of frost, a geothermal glycol system drilled 250 feet deep for winery heating/cooling.
There are eco-friendly hybrid-fuel winery vehicles and even waterless urinals...
A stone's throw across the vines from the also-impressive Jackson-Triggs winery on the Niagara Stone Road, Hwy 55 into Niagara-on-the-Lake. The north-south vine rows (for equal sunlight both sides) are stand on well-drained, vigorous soils, analyzed every 50 feet on the 62 acre property, with 52 acres of grapes planted. Ripe grapes hand-picked, naturellement!
The first vintage is the 2000, using brought-in fruit, but from here on in, it's estate grown only. Down from 11 tonnes per acre to 1.5 tonnes! Stay tuned!
The wines: Stratus White 2000, $40, a blend of Chard, Sauvignon Blanc, Semillon, Riesling, Viognier, is creamy, tropical and elegant (89). The Barrel-Fermented Chardonnay '02 (92) is huge, Meursault-ish and a keeper, $32. The Gamay '01, $26, is big, fat and smoky with a whiff of bacon and red berries (93). The 2002 Red, $38, is very St-Emilion-style, with blackberry, plum, vanilla and a hint of chocolate (92). The '02 Merlot, $55, 100% estate fruit, is rich and well-structured with licorice/blackberry notes and a good concentration (94).
Stratus has won LEED certification (Leadership in Energy and Environmental Design), the first building in Canada and the first winery worldwide.
"We've worked without compromise to develop a winery model that is capable of producing world-class, hand-crafted wines in an environmentally-responsible manner," says J-L.
Primary features include the geothermal technology; recycled materials in construction and design; resource/energy efficient electrical and plumbing systems; toxin-free waste management; and a landscape plan that's organic and based on indigenous grasses and plants.
A Hot Vintage On The Rhine

It's time for a close new look at German Rieslings now that the historic 2003 vintage is arriving: They're the most opulent and ripest in decades. And perhaps the most atypical.
Perfect for summer, the low-priced Kabinetts are outstanding value and the noble late harvest sweet Beerenauslese (BA) and Trockenbeerenauslese (TBA) are some of the finest ever.
The greatest 20th Century vintage, 1921, had 176 fewer sun-hours than 2003 and the Rheingau had its hottest summer since 1860, with the highest day and night temperatures ever. Water levels reached an all-time low, with sandbars in the Rhine, and drought cut the grape crop by 20%.
The 2003 wines show a intense tropical fruit character, rich and lip-smacking, with peach, apricot, mango, guava and passion fruit to the fore, while maintaining typical minerality and acidity. Atypical in the sense of less racy acidity than "regular" years, perhaps, but enjoyable now and for the shorter term.
The grapes were picked at late-harvest sweetness levels and the regular QbAs and Kabinetts are actually declassified Spatlese and Auslese, rich and luscious. Spatlese in '03 is the equivalent of normal Auslese. Meanwhile, raisining of the grapes, rather than the noble rot (botrytis), produced the enormous concentration of the noble sweet wines.
Which wines to try? Make a beeline for Balthasar Ress, Gunderloch, Josef Leitz, Lingenfelder, Markus Molitor, Reichsrat Von Buhl, Schloss Schönborn, Studert Prüm Maximinhof, and St. Urbans-Hof.
Leitz is a rising Rheingau star, reducing yields, using only natural yeasts and stringent hygiene to ferment wines slowly on their lees, fruity and dry, full of aroma. Look for the Magdelenenkreuz and Berg Roseneck.


Sassy South Africans Strut Their Stuff

After years of underwhelming Canadian wine buyers following the lifting of apartheid sanctions, South African producers are finally starting to show their stuff.
A lack of international capital, thanks to the destabilizing influence of Mugabe's Zimbabwe hasn't helped (Chile, Australia and California look a whole lot safer), but quality-conscious family wineries like Jordan/Jardin and Weltevrede are bearing fruit anyway. So are the excellent Graham Beck and Delheim.
Weltevrede ("well satisfied" in Afrikaans) is a Chardonnay specialist, capitalizing on its three terroirs of limestone/shale/alluvial soils, and a light touch with new French oak. The Oude Weltevreden is rooted in limestone, the Place of Rocks in broken shale and River's Edge in alluvial. Based in Robertson, the winery was top S. African producer at Chardonnay of the World 2005 in Burgundy. The Gewurz and Tricolore Reds and Whites are available through Hobbs & Co at 416-694-3689.
Graham Beck, with estates in Robertson, Franschoek and Stellenbosch, has a peppery 2002 Shiraz Coastal in Vintages at $17.95, with tons of grip and freshness, spice, smoke and big fruit from 25-year-old vines. Beck's Brut Sparkling recently blew through but there may still be a few of the vanilla-citrusy Chardonnay, $15.95 (v).
Delheim, in the lovely Simonsberg Valley of Stellenbosch, home of the Sperling family and their countless Jack Russell terriers, is offering two rosés at Vintages, one made by Canadian cousin and Malivoire winemaker Ann Sperling, the other by Delheim's Nora Sperling. Both are elegant, from Pinotage grapes with just 6 hours of skin contact, one dry and one off-dry. Delheim's Shiraz is lush and bright, with berry and bacon fat notes (89).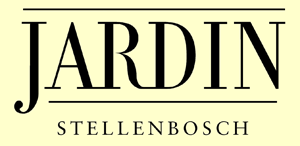 Jordan sells as Jardin because of the California brand but husband/wife team Gary and Kathy Jordan produce killer wines. For the moment, order their $18-$20 range Sauvignon Blanc, Chardonnay, Merlot and Syrah through Abcon at 416-766-8235, although Vintages may soon offer the Sauvignon and Chardonnay.
An excellent crisp Stellenbosch white I've been sipping for weeks is the Chenin, Semillon, Sauvignon blend Donatus White, from Dornier (v) $18.95. Lovely floral/mineral character (90).


Vive La Nerthe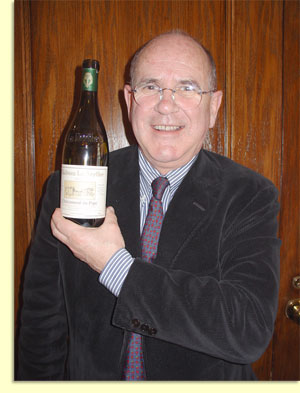 La Nerthe is a Châteauneuf-du-Pape estate comme il faut, with 90% of its wines red rather than the old 50/50 red/white split, with not a drop going to bulk up Burgundies or Bordeaux.
However, there's a La Nerthe white In-Store Discovery, the '02, $54.95, that's a little treasure: spring flowers, stoney minerals, ripe pears and winter melon, very dry and food friendly – lobster, seafood, white meats – (91) from Grenache, Roussanne, Bourboulenc and Clairette grapes.
The 2001 red Chateau La Nerthe, $58.95 (v) from 45-year-old Grenache, Mourvèdre and Syrah vines, reflects its unique terroir through great color and lush flavors of red and black berries, a whiff of violets, barnyard, vanilla, oak and stone (90).
The Cuvée Cadettes Rouge '99 (v) and '01 (Classics Catalogue) are collectibles in the $115-$1199 range, age-worthy and complex.
The winery pre-soaks special high-density corks to seal its 25,000 bottles each year. Vineyard manager Alain Dugas says: "Every part of the vineyard is analyzed before harvest to determine the ripeness and polyphenols of the grapes, the tannins, color and acidity. And we believe that 10-20 years of aging is normal for our wines."
Please take me back to the top of the page!