(Hint: click on labels and photos for even more information!)


Value for money is what counts. You won't find any wines here that aren't worth buying. Feel free to scroll through this list and see everything we've been sampling but, if you're in a hurry (or very thirsty), you can just click on any of the following words to be whisked electronically to the category of your choice:
Everything WINE EXPRESS recommends is in the regular LCBO stores, unless marked (v) for Vintages stores, Boutiques, and Corners, or (c) Consignment, available by the case through the importing agent.
Call the LCBO's Infoline 416-365-5900 or go to www.lcbo.com for the store near you that has the wine. If your store doesn't have it, the manager will order in the wine at no cost and notify you.
Oh, and by the way, if you need a refresher on our rating system (the ratings are in red), just flip back to the main Wine Picks main page for a quick refresher – in helping you choose a refresher quickly!


Dry Whites:
Chateau de la Bretesche 2013 88
AC Muscadet Sevre et Maine Sur Lie, Loire, France
412163 (v) $12.95
From the vines of Jeremie Huchet, close to the ocean, and you can inhale the salinity and freshness of this razor-sharp dry white. Dry without being tart but deserving of great shellfish or seafood partners. Crustaceans are wasted without a Loire classic such as this, and for a mere $12.95!
Loosen Bros. Dr. L Riesling 2013 90
Qualitatswein, Mosel, Germany
599274 (v) $13.95
A sober 8.5% alcohol but a full-flavored and delicious entry-level tipple from the famous Ernie Loosen (no pun harmed here!). It's a wine for everyone at a no-brainer price. There's lime-lemon fruit and limestone minerals and a core of ripe white peach-white pear to satisfy the soul.
Chateau Bela Riesling 2012 88
Egon Muller, Muzla, Slovakia
410951 (v) $24.95
From the banks of the Danube in the old eastern Czechoslovakia, here's an elegant Riesling that has a familiar heritage – created by Rieslingmeister extraordinaire Egon Muller of Scharzhofberg (in the Saar/Mosel) fame. Very Germanesque in a good way.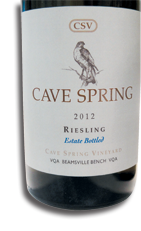 Cave Spring CSV Riesling 2012 92
VQA Beamsville Bench, Niagara Peninsula
566026 (v) $29.95
Top notch, complex Riesling from older Cave Spring Vineyard vines, with lovely pear-herbal aromatics, elegant grapefruit acidity and intense citrus flavors reminiscent of Germany's world-beating Mosel Rieslings. Worth buying by the case.
Henry of Pelham Estate Riesling 2012 89
VQA Short Hills Bench, Niagara Peninsula
557165 (v) $17.95
A dusty lemon-melon version of Riesling, slightly off-dry in a fresh and appealing style. Nicely fruity and elegant, the perfect aperitif or with a salade composée now and over the next 3-5 years. Preferably now because it's that good.
La Joya Gran Reserva Viognier 2014 90
Bisquertt Family, Colchagua Valley, Chile
168542 (v) $15.95
True to type Viognier with its characteristic apricot/tropical peach core and elegant acidity. Good value in a terrific wine for mildly spicy dishes, vegetable curries and Thai food. Makes a fine aperitif, too.
Featherstone Gewurztraminer 2013 88
VQA Twenty Mile Bench, Niagara Peninsula
64592 (v) $19.95
Lemon meringue pie in a glass – with a touch of white pepper and tropical fruit! In other words, your typical Gewurz from a warm year and thanks for that! Dry and elegant and very food friendly – think Thai or spicy Chinese, especially.
Drouhin-Vaudon Mont de Milieu 2013 93
AC Chablis 1er Cru, Burgundy, France
411827 (v) $49.95
A truly memorable first growth Chablis with all the boxes checked: limestone minerality from the shellfish fossil vineyard soils, smoky toastiness that hints of new barrel aging, steely acidity and a core of green apple, pear fruitiness, intense, elegant and brooding in its length on the palate. Bravo!
Burning Kiln Cureman's Chard 2011 87
VQA Ontario
310243 (v) $21.95
Full bodied and rich Chardonnay from this must-see winery overlooking Lake Erie. Go for the wine and food and stay for the camping, zip-lines and star-gazing observatory: nicely balanced Chardonnay with fresh lemony acidity, good minerality and hints of orchard fruit. Food friendly, too.
Norman Hardie Niagara Unfiltered Chardonnay 2013 89
VQA Niagara Peninsula
184432 (v) $39.00
Never quite sure why Norm Hardie is still using fruit trucked from Niagara when he's in The County, but the results are always good, even if a tad pricey. This toasty Chard is in his typical Burgundian mode, buttery with apple-melon nuances and a crisp citrus acidity with a hint of residual sugar although it's listed as extra dry. With richly sauced fish or white meats.
Cannonball Chardonnay 2013 88
Sonoma County, California
311563 (v) $22.95
Big toasty tropical typical modern California Chard with pineapple, Meyer lemon, vanilla and Bosc pear flavor trails. Affordable and competently crafted with an eye towards grilled white meats and herb roasted chicken – and smiles all around!

Dry Red Wines: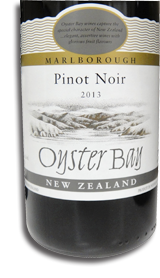 Oyster Bay Pinot Noir 2013 94
Marlborough, South Island, New Zealand
590414 (v) $19.95
I know. A 94 point score for a 20 buck wine. However, this is a very special Pinot that exceeds most people's expectations in elegance, ripe fruitiness and complexity. It's disappearing fast but try to snag a case for yourself. Cherry, wet earth, smoky barrel influence and light, ethereal aftertaste.
Michel Prunier et Fille Bourgogne 2012 91
AC Hautes Cotes de Beaune, Burgundy
409391 (v) $25.95
Light, ethereal black fruit aromas and a solid core of plum, cherry and raspberry flavors on the palate, integrated with supple tannins and a fine balancing acidity. Incredibly well priced for a Burgundy. Why wait?
13th Street Merlot 2013 90
VQA Creek Shores, Niagara Peninsula
270504 (v) $17.95
Funky earth and truffle notes float out of the glass and yield to hazelnut and cherry pie flavors that conjure up unlit cigar aromas and that's a good thing! Very good value and absolutely delicious now, this will keep for half a decade or more.
Frenchie Napoleon Cabernet Sauvignon 2013 90
North Coast, Boisset Collection, California
409094 (v) $24.95
The Frenchie here is Jean-Charles Boisset, scion of one of Burgundy's most respected families and hubbie of Gina Gallo (yes, that Gallo). The wine's named for his French bulldog and it's full of the sweet briar and black berry fruit we all love in Cali Cabs. This guy is the next Robert Mondavi in promoting French and US wines and this one is a worthy project.
McManis Family Vineyards Syrah 2012 90
California
658104 (v) $19.95
A widely sourced blend of Cali grapes and a fine chocolate-blueberry sleeper from the 2012 vintage. Geared to grilled and roasted red meats and summer BBQ living, it's a value drink or hold everyday standby.
Pedroncelli Bushnell Vineyard Zinfandel 2011 90
Dry Creek Valley, Sonoma County, California
463026 (v) $24.00
One of the most consistent and honest Cali Zins, Pedro is an elegant rather than in your face Zin, and that's just great. Big fruit-forward yet still elegant, balanced and very food friendly. Bring it on!
Chakana Estate Selection Malbec 2012 93
Mendoza, Argentina
219261 (v) $26.95
Wonderful pure fruit flavors pour out of the glass in this Gold Medal Decanter Awards winner. It's suppler than most rather tannic Malbecs and offers chocolate, blueberry and charry notes that call for BBQ partners ASAP.
Le Cirque Grenache Noir/Carignan/Syrah 2013 90
IGP Cotes Catalanes, France
277079 (v) $16.95
Not yet sold to China, this particular Cirque is a wine from the ample soleil of France's Midi and it is full, plump, juicy and meaty with a spectacular peppery plum, black berry, meaty chocolate-nuanced appeal that calls for red meats, pizza, tomato-based pasta and black olives.
M. Chapoutier les Vignes de Bila-Haut 2013 90
AC Cotes du Roussillon Villages, Rhone, France
168716 (v) $15.95
From much further south than the Chapoutier base in Chateauneuf-du-Pape, this Rhone beauty has many of the same grapes and the same sure touch. Black olives, black pepper, raspberry and black plums, for example. All for a very fair price, indeed. Rack of lamb, slow roasted red meats and any kind of sausage, please step forward.
Michel et Pompilia Guiraud les Cerises 2013 88
AC Saint-Chinian, France
400721 (v) $15.95
From Domaine Boissezon Guiraud, a name to conjure with, here's a full-throttle fruit-forward red to quicken the pulse and flank big time beef dishes and BBQ. Massive plum, cherry, wet earth and herbal onslaught with supple tannins and a gentle finish. Power to the people!
Chateau de Beaucastel 2012 94
AC Chateauneuf-du-Pape, Rhone, France
711317 (v) $89.95
Perfect balance of black fruit, raspberries, rare roast beef and garrigue-floral notes that last and last forever on the palate showing hints of violets and licorice, too. A stunning wine that will keep for a couple of decades if you let it. Serve it with Sunday dinner.
Famille Perrin la Gille 2012 92
AC Gigondas, Rhone, France
906073 (v) $29.95
From the same family from Beaucastel but grown a little further to the south, using Grenache and Syrah and offering more of a dried meat, leather and Kirsch profile. Perfect with casserole, cassoulet and your favorite sausage dishes.

Antinori Badia a Passignano Gran Selezione 2009 93
DOCG Chianti Classico, Tuscany, Italy
384552 (v) $44.95
One of the top Chiantis, officially: that's the GS designation for the top 10% and it means here that it's 100% Sangiovese (lit. blood of Jupiter, love that!) one of Italy's greatest red grapes. Vivid and electric tension and acidity with black cherry, new leather and cedar-tobacco notes. Ageable or to be served with your finest steaks and roasts – not just pizza!
Antinori Solaia 2011 95
IGT Toscana, Tuscany, Italy
987586 (v) $251.95
One of the first ever SuperTuscans, ground-breaking and collectible. Of course, you should buy five of the Passignanos instead and you'll still be ahead. But you won't have a Sassicaia! The pinnacle of Tuscany's aristocratic reds. Cellar for a few years, please.
Carpineto 2012 90
DOCG Chianti Classico, Tuscany, Italy
356048 (v) $19.95
New leather, oaky notes, clean and fresh, say my tasting notes. What better for an affordable Chianti that's dying to be served with your best pasta dishes. There's a full complement of zippy cherry, earth, and herbal notes to flatter anything Italian.
Castello di Querceto 2012 90
DOCG Chianti Classico, Tuscany, Italy
680496 (v) $24.95
Balsamic, dried meat and salumi spring forward on the palate here with undertones of cherries and blackcurrants. There's a fine acidity and food-friendly presence and it's drink or hold for another half decade. Tasty!
Montemercurio Messaggero 2008 90
DOCG Vino Nobile di Montepulciano, Tuscany, Italy
385393 (v) $29.95
Fleshy tannins and berry-forward, complex and intriguing, a wine with a back story (Sangiovese softened with Merlot) aged in huge old casks for maturation without too much oakiness. Easy drinking.
Poeira Dusty 2010 88
Jorge M Nobre Moreira, DOC Douro, Portugal
405100 (v) $19.95
Chunky in a good way with deep juicy black and red berry flavors, inviting fruit pie aromas and a pleasantly chewy feel on the palate. Barbecue friendly and a reliable everyday red for the patio.
Condado de Haza Crianza 2010 90
DO Ribera del Duero, Spain
963349 (v) $24.95
From the much lauded region of Ribera del Duero, home of muscular sunburned reds, comes a full, rich and reliable Tempranillo-based beauty. Think cherries, chocolate, a whiff of road tar and vanilla – all good! Well priced and tasty.
Miguel Torres Altos Ibericos Crianza 2012 90
DOCa Rioja, Spain
381046 (v) $16.95
Another good Rioja from the increasingly diversified and admired house of Torres (Penedes, Ribera del Duero, Priorat, Chile, Russian River Valley). In this case, dark chocolate, roast meat, baking spices, light, toasty oak and supple tannins. Exceptional value.
Torres Celeste Crianza 2011 91
DO Ribera del Duero, Spain
210872 (v) $20.95
Crushed black pepper, black licorice, blackberries, cherries and dark chocolate charge out of the glass in this lush Ribera classic, again from Torres family. Full and fruity, supple and addictive.

Pretty in Pink
Flat Rock Pink Twisted Rosé 2014 89
VQA Niagara Peninsula, Ontario
39974 (v) $16.95
A true crowd-pleaser blended from Syrah and Pinot Noir on the Niagara Escarpment, pinky-red and full of bramble patch berryness, especially raspberry and red currants, citrus fresh acidity and sheer spicy joie de vivre. Pretty as a picture.
Pere Ventura Tresor Brut Rosé 88
DO Cava, Spain
400796 (v) $19.95
Coming by its pinkness honestly, this bubbly comes from Spain's Catalonia and a workhorse local red grape called Trepat, blended with Mourvedre, Merlot, Cabernet, Grenache, and Tempranillo – spicy, lightly wild strawberry in flavor and very wallet-friendly. ¡Arriba Espana!
Muga Rosé 2014 88
DOCa Rioja, Spain
603795 (v) $13.95
Fresh, crisp and food-friendly, the prettiest of pinks and irresistibly priced, here's a no-brainer to stash by the case for the duration of the summer – doling out bottles very regularly with the planked or BBQ salmon, the veggie burgers and grilled fish.
Sparkling Gems:
Cave de Hoen Mausberg Blanc de Blancs Brut 88
Cremant d'Alsace, Methode Traditionnelle, France
171785 (v) $17.95
Refermented in the bottle just like high-priced Cham-pagne not too far away from this tiny Alsace village, here's a fabulous value that's dry and crisp with a peach-apple core and a refreshing lemon finish. Great as an aperitif or toast to the bride and groom.
Pol Roger Vintage Extra Cuvée de Reserve Brut 2004 93
AC Champagne, France
411793 (v) $94.95
A touch pricey but you're worth it! Wonderfully sculpted bubbles deliver precision minerality, the regulation baked bread and brioche aromas and razor-sharp tangerine-pear acidity on the palate. From the family winery that kept Winston Churchill happily lubricated into a grand old age. He always said he was easily satisfied: "Just give me the best!" There's also a more red-fruit driven 2006 Rosé version for an extra ten bucks for a hint of strawberries and gorgeous pink hue

Especially Desserts: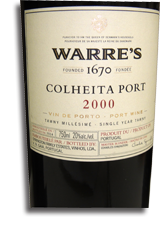 Warre's Colheita 2000 93
DOC Tawny Port
411702 (v) $39.95
Amber beauty that's spent its whole life in wooden casks, at least seven years, unlike much fruitier Vintage Port, bottled at two years. Tawny is famous for its roasted hazelnuts, dried fruits and ethereal subtleties versus Vintage's full frontal red and black fruit attack. To enjoy now or sip for another decade or two.
Armagnac de Montal Hors d'Age 93
AC Armagnac, France
286518 (v) $89.95
Probably the best known and loved Armagnac in France: Montal is rich and heart-warming for relaxed sipping after dinner, or before. If you love Cognac, you'll appreciate this kissing cousin – think brown sugar, honeycomb, roasted nuts and vanilla.
Take me back to the top of the page, please!