(Hint: click on labels and photos for even more information!)


Value for money is what counts. You won't find any wines here that aren't worth buying. Feel free to scroll through this list and see everything we've been sampling but, if you're in a hurry (or very thirsty), you can just click on any of the following words to be whisked electronically to the category of your choice:
Everything WINE EXPRESS recommends is in the regular LCBO stores, unless marked (v) for Vintages stores, Boutiques, and Corners, or (c) Consignment, available by the case through the importing agent.
Call the LCBO's Infoline 416-365-5900 or go to www.lcbo.com for the store near you that has the wine. If your store doesn't have it, the manager will order in the wine at no cost and notify you.
Oh, and by the way, if you need a refresher on our rating system (the ratings are in red), just flip back to the main Wine Picks main page for a quick refresher – in helping you choose a refresher quickly!

Dry Whites:
Château de la Bretesche 2014 88
AC Muscadet Sevre et Maine sur Lie, Loire, FR
412163 (v) $13.95
From winemaker Jeremie Huchet comes a super-dry, super-zesty floral and mineral-rich white from the edge of the Atlantic where it meets the mighty Loire River. This is the wine to offer to friends who bluff that they love really dry wines – and watch them pucker up! No oak, no anything but big lime zest and lemon flavors. Great with fresh seafood or as a palate cleansing aperitif.
Quinta de Couselo o Rosal 2014 89
DO Rias Baixas, Spain
440362 (v) $23.95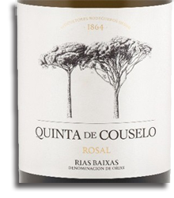 Lime zest and Meyer lemon greet you on the nose and the palate along with delicate wild flower aromas, dried herbs and apple-pear on the mid-palate. Perfect with white fish, shellfish and oysters.
Jean-Michel Sorbe 2014 89
AC Quincy, Loire, France
608877 (v) $21.95
A tropical blast of passionfruit, white grapefruit, white pepper and ripe guava with a codicil of Golden Delicious apples from this Sauvignon Blanc grown in the upper Loire Valley. The acidity is fresh and mouth-watering with white fish, shellfish or as an aperitif. Ready to go now.
Monchhof Robert Eymael Riesling 2014 93
Qualitatswein, Mosel, Germany
349431 (v) $21.95
Classic Mosel, stony, spicy, mineral-driven with a streak of amazing, almost electric acidity from Riesling grapes grown at the edge of northern viticulture. Medium sweet, racy and layered with apple, grapefruit peach, pear and lemon nuances.
Vincent Mothe 2014 89
AC Chablis, Burgundy, France
390468 (v) $26.95
By-the-book Chablis: Chardonnay grown on the fossils of ancient limestone ocean beds and underpinned by fresh minerality, crisp acidity and lovely floral apple-pear and grapefruit top notes. Simply pure and beautiful.
Fielding Estate Bottled Chardonnay 2014 87
VQA Beamsville Bench, Niagara Peninsula
355842 (v) $21.95
A little oaky for me but great for fans of a more oxidative style of Chard. There's a ton of nice apple and citrus on the palate but I'd tend to serve this mainly with grilled dishes of the fish, chicken or red meat kind.
Meiomi Chardonnay 2014 90
Monterey, Sonoma & Santa Barbara, California
410712 (v) $26.95
A beautifully blended Chard from three fine regions that offers a consistent and pleasing melange of buttery toasty oak, vanilla, melon, pear-apple and pineapple magic that will please everyone. Drink now until Hillary wins.
A To Z Wineworks Chardonnay 2014 89
Dundee, Oregon
269258 (v) $24.95
A very Burgundian-style white that's elegant and fine-boned with just enough new oak to support floral and apple flavors and mineral-citrus backbone that makes a perfect partner with fine seafood, shrimp, chicken and grilled veggies.
Columbia Crest Grand Estates Chardonnay 2013 88
Columbia Valley, Washington
366542 (v) $17.95
For you there with a taste for vanilla, ice cream and a little butter! Ripe pears and a touch of Key lime citrus give the perfect counterpoint to this deliciously sippable Chard. Great alone or with grilled fish or white meats. Now to 2022.

McGuigan Bin 9000 Semillon 2015 90
Hunter Valley, New South Wales, Australia
444554 (v) $14.95
Hunter Valley Semillon has a deliciously oily-buttery lanolin texture and big, fresh grassy-citrus character that always makes my mouth water! One of the two classic Bordeaux white grapes (with Sauvignon Blanc), it thrives in the Hunter with nicely concentrated crisp wines that love to pair with shellfish, white fish and herb-roasted poultry. Enjoy now to 2020.
Château de Treviac 2014 87
Arnaud Sie, AP Corbieres, France
438747 (v) $17.95
A quite austere and rare dry white from heavily red-wine Corbieres district, beside the Mediterranean. Lemony with hints of peach and pear, quite intense mid-palate. From the local Marsanne, Roussanne, Bourboulenc and Macabeu varieties, none of them a household name outside of Corbieres. No matter. Good wine!
Montes Outer Limits Sauvignon Blanc 2015 89
Zapallar, Aconcagua Valley, Chile
389642 (v) $19.95
Lemongrass, mineral and wet stone greet you in this delicious, tangy and refreshing white from Chile. The influence with cool Pacific breezes is strong and contributes a fresh, clean and crisp character with grapefruit, nectarine and hints of tropical fruits to the symphony.
Anne de Laweiss Vieilles Vignes
Gewurztraminer 2013 91
AC Alsace, France
141226 (v) $20.95
From the Cave Vinicole Kientzheim-Kayserberg, here's a classic spicy ginger-lychee mouthful of Alsace Gewurz. Lovely! Perfect with Thai dishes or any spicy Oriental cuisine or as a wonderful aperitif with almonds, walnuts or samosas.
Vignerons de Buxy Les Chaniots 2013 88
AC Montagny 1er Cru, Burgundy, France
159020 (v) $24.95
Toasty oak, warm brioche and a whiff of vanilla, and that's not a bad start to a white Burgundy, thank you. Yes, there's that limestone note, of course but the fruitiness and hazel-nut top notes carry the day. Crisp, fresh acidity and lovely balance. Bravo!

Pretty & Dry in Pink:
Gassier Sables d'Azur Rosé 2015 90
AP Cote de Provence, France
33621 (v) $15.95
Pale salmon pink and dry as a bone, this aperitif or food-friendly favorite, with citrus-nectarine and summer meadow notes, has the power to handle smoked or planked salmon, white fish, grilled poultry or mixed vegetable platters. Enjoy chilled (you and the wine!) this summer!
Saint Aix Rosé 2015 91
AP Coteaux d'Aix en Provence, France
451906 (v) $22.95
Charmingly floral, slightly hazelnutty with a touch of dried apricot on the nose. On the palate, raspberry-Kirsch with a mineral-citrus core. Sound good? Great with your Mediterranean Diet patio meals or as a party aperitif. No need to cellar this one!

Tawse Sketches of Niagara Rosé 2015 87
VQA Niagara Peninsula, Ontario
172643 (v) $16.95
The tannins and dryness of a red wine: the wild strawberry fruitiness of its Pinot Noir and Merlot birthright make this a serious food wine. The juice is drawn from the big two reds during fermentation to increase their concentration, and the result is this super-Rosé. Pair with chorizo, gourmet burgers and grilled chicken. No need to cellar.
Domaine Maby La Forcadière Tavel Rosé 2015 88
AC Rhône, France
701318 (v) $18.95
Wildflower aromas dance out of the glass and waltz with a compote of fresh strawberries, red currants, sweet peppers and red cherries on the palate. Solid and muscular for a pink, ready to tango with planked salmon or grilled chicken, herbed chicken or turkey sandwiches.
Gabriel Meffre Saint Ferreol Tavel Rosé 2015 90
AP Rhône, France
450866 (v) $19.95
From the heartland of fine rosé, crafted from Grenache, Syrah and Carignan, the top trio of the Rhone, this robust offering is complex, savoury, intense and more than ready to handle Thai, tomato-sauced pasta or hot Italian sausage. Dry and elegant.
L'Ostal Cazes Rosé 2015 92
IGP Pays d'Oc, France
450809 (v) $14.95
Owned by Jean-Michel Cazes of Medoc superstar Ch. Lynch-Bages, this 150-hectare estate near medieval Carcassonne is one of the finest in the Languedoc, close to the ancient Roman port of Narbonne. The wine has a magical duality of peachy-citrus finesse with a savoury garrigue underbrush top note. Super value with seafood, shellfish and chicken salad.
Château la Tour de l'Eveque Rosé 2015 89
AC Cotes de Provence, France
319392 (v) $19.95
Certified organic, chemical-free, horse-plowed and hand-harvested, this delicate wine should be drunk around 14°C. Winemaker/owner Regine Sumeire suggests its zesty apricot-citrus-peachy style as aperitif or with poultry, veal, prawn, scallops, fish, smoked salmon, cheese soufflés and Asian.
Zonte's Footstep Scarlet Ladybird Rosé 2015 90
Fleurieu Peninsula, South Australia
408476 (v) $15.95
The Aussie owners rightly call this a "seriously fun pink drink. Deep, dry and smelling of roses". There's spiciness with a lick of wild strawberry and black plum. It's named for the ladybirds that protect the vines from aphids and help yield healthy berries.
Vida Organica Malbec Rosé 2015 87
Mendoza, Argentina
271015 (v) $13.95
Dry and tangy (tango-y?) this Malbec-based charmer has a red fruit aroma and a flavor orchestra featuring raspberry, cran-apple and pomegranate soloists. Easy-drinking and a real crowd-pleaser that plays nicely beside BBQ and spicy party foods.
Villa Maria Private Bin Rosé 2015 90
Hawkes Bay, North Island, New Zealand
234377 (v) $17.95
If you crave (as I do) the ethereal flavors of wild strawberries and guava napped with fragrant herbs and baking spices, here's your well-earned reward. Bone-dry, smooth and ripe with mineral, citrus zest crispness. Sip and smile.
Dry Red Wines:
Willakenzie Estate Gisele Pinot Noir 2013 92
Yamhill-Carlton, Oregon
452656 (v) $36.95
From Oregon's star red variety, midweight elegance and subtle intensity blending savouriness and beautifully ripe fruit crafted lovingly by great winemakers. The earthy-sweet beetroot and cherry notes are as precisely calibrated as a fine Burgundian red. Uncork 2018-2025.
Tabali Reserva Especial Syrah 2012 92
Limari Valley, Chile
213538 (v) $17.95
Far from its old home in the Rhone, this Syrah puts on a good show. That's why it's Especial! Meaty and smoky-savoury with tons of dark red and black berry flavors and smooth tannins. Throw something red on the barbie, please!

The Hedonist Shiraz 2013 92
McLaren Vale, South Australia
90191 (v) $21.95
Well, you are what you drink, apparently. So jump right in and enjoy this oh-so-smooth Syrah, oh, sorry, Shiraz, mate! More tarry and smoky here in Oz, like road tar on a hot day. There's blackberry, cassis, cream and cherry to move things along.
Yalumba The Strapper GSM 2013 88
Barossa, South Australia
295873 (v) $19.95
Big, brawny, tannic and unapologetic. Probably the go-to drink of the Aussie Rules crowd and that's good if you enjoy all things BBQ. Meaty, fruity, smoky, nicely acidic to refresh the hungry palate between bites of anything from the grill.
Château de Gaudou Renaissance 2012 92
Cuvée Boisée, AC Cahors, France
364786 (v) $25.95
A suppler style of the "black wine of Cahors" showing ripe blackcurrant, cracked black pepper, saddle leather, toasty oak, damson and mulberry jam notes thanks to its Malbec grape origins in the Lot Valley north of Toulouse. Cries out for BBQ, chili con carne. Can be stashed for five years or enjoyed this weekend.
Château des Demoiselles 2011 90
AC Cotes de Bordeaux, Castillon, France
348755 (v) $17.95
A fresh bouquet of mulberry, strawberry and bramble lays the groundwork with savoury tannins, light oak and a core of berry fruits on the palate. Midweight and good until 2022 or delicious now with fine red meats cooked rare. Classic claret.
Château les Tourelles 2011 89
J. Darriet, AC Bordeaux, France
426247 (v) $16.95
More floral than Demoiselles and equally well priced, Tourelles is ripe, crisp and fresh with red fruit, blueberry and wild strawberry on the mid-palate. Drinking now to 2023.
Mas Janeil 2009 86
François Lurton, Cotes du Roussillon-Villages, FR
992800 (v) $17.95
From the Deep South, good everyday stuff that's intense with black plum, cherry and mocha and hints of lavender and violets on the nose. A nice rusticity to go with pizza, pasta or peanut butter sandwiches.
Le Gravillas Plan de Dieu 2014 90
AC Cotes du Rhone-Villages, France
264648 (v) $17.95
One of the top Villages wines, a notch behind Châteauneuf and Rasteau but making full-bodied, smooth reds in the same vein, ageable, intense and full of smoky, earthy black fruit that match barbecued anything, chili con carne or casserole. Rounding into form now and for a decade.
Château Bouscasse Vieilles Vignes 2006 93
Alain Brumont, AC Madiran, France
132415 (v) $38.95
Vieilles here refers to the Tannat vines, over 150 years old, lending concentration, power and length to a wine that's rich, racy and should partner serious meat courses. Even with almost 10 years in bottle it has years to go, with silky tannins supporting its black plum attack.
Hogue Genesis Meritage 2012 90
Columbia Valley, Washington
443135 (v) $18.95
The red Bordeaux varieties combine smoothly to produce a mellow, brambly, blackberry rich flavor harmony that charms as it partners grilled red meats, stews, pizzas and BBQ. Now to 2024.
Seven Falls Cabernet Sauvignon 2012 92
Wahluke Slope, Columbia Valley, Washington
360222 (v) $19.95
Chocolate and mocha aromas meld with flavors of Bing cherry and blueberry jam framed by supple tannins that remind you of delicate black tea on the palate. Rich and delicious now to 2025.

Sordo Giovanni Rocche di Castiglione 2008 93
DOCG Riserva Barolo, Piemonte, Italy
442004 (v) $49.95
Not cheap but huge value, right in the mix for Barolo. Old leather, balsamic fragrances, crushed black pepper and roses, cherries and a hint on menthol. Small secondary notes of black licorice and thyme sneak up on the aftertaste. Complex and endearing. Now to 2030.
Layer Cake Primitivo 2012 90
IGT Puglia, Italy
384065 (v) $24.95
Looking for something to go with your Black Forest cake or braised honey-garlic ribs? Stop right there. This lip-smacking Zinfandel style fruit bomb with its peppery-spicy truffle, espresso earthy notes will more than fill the bill. Now to 2025.
Grillesino Ceccante Cabernet Sauvignon 2013 93
DOC Maremma Toscana, Italy
440768 (v) $24.95
Lovely nose! This ageable Cab from coastal Tuscany offers value and gustatory pleasure with cassis, buttery vanilla bean, mulberry and black plum hot buttons. With beef, lamb, spicy dishes and veal. Now to 2025.
Lornano 2009 90
DOCG Chianti Classico Riserva, Toscana, Italy
208447 (v) $26.95
The typical new leather, black cherry and wet earth notes of a good Chianti are front and centre: crushed black peppercorns and forest floor fragrances frame a mineral rich core of sophisticated sensuality. Now to 2030. Carnivores converge on this.
Italo Cescon Pinot Noir 2014 91
IGT Veneto, Italy
439737 (v) $21.95
Better known for smooth fruity Valpolicella, Veneto also comes up with fascinating Pinot Noir, too. More earthy, herbaceous and fruity than the Burgundian take on this delectable grape but fine for all that. Rustic but has a quiet charm. For early drinking.

Take me back to the top of the page, please!